Hi there! Today I'm excited to share a release blitz and review for some yummy M/M romances from Eli Easton. THE TROUBLE WITH TONY is the first book in the Sex in Seattle series and features a PI working undercover to get info about a woman's murder…but this time he's pretending to need the services of a sex therapy clinic because the sexy director is a prime suspect. I have loved all the Eli Easton books I've read, including MERRY CHRISTMAS MR. MIGGLES, her HOWL AT MOON books, SECOND HARVEST, FIVE DARES, and Daddy Dearest books: FAMILY CAMP and ANGELS SING.
Scroll down to catch a review of the first book in this series and to enter the giveaway for a $25 Amazon GC.

About the book:
As part of the investigation into the murder of a young woman, Seattle P.I. Tony DeMarco poses as a patient of Dr. Jack Halloran, the therapist who treated the victim at a Seattle sex clinic. This isn't the first time Tony has gone undercover, but it's the first time he's wanted to go under cover with one of his suspects. He can't help it—Jack Halloran is just the kind of steely-eyed hero Tony goes for. But he'll have to prove Halloran's innocence and keep the doctor from finding out about his ruse before he can play Romeo.
Dr. Halloran has his own issues, including a damaged right arm sustained in the line of duty as a combat surgeon in Iraq and the PTSD that followed. He's confused to find himself attracted to a new patient, the big, funny Italian with the puppy-dog eyes, and Tony's humor slips right past Jack's defenses, making him feel things he thought long buried. But can the doctor and the P.I. find a path to romance despite the secrets between them?
My Review:
Tony DiMarco is a private eye investigating the suspicious death of Marilyn White. The coroner said she OD'ed on prescription drugs and wine, her husband's alibi was rock-solid, yet Marilyn's parents don't believe that Marilyn would kill herself. The detective who handled the case, an old buddy of Tony's when he was on the force always had a sneaking suspicion about the sex therapist Marilyn had been seeing, Dr. Jack Halloran.
Casing the doc's "bedside manner" Tony is stunned to find the doc irresistibly tempting sexually, but he can most assuredly rule the doc out as a sexual partner of Marilyn's. Turns out this decorated war veteran isn't only a sensitive physician, he's also gay. Now Tony has to figure out if the cause of Marilyn's death was as simple as it seemed.
Jack Halloran is damaged goods. The scars of his tours in Iraq as a battle surgeon are emotional, as well as physical, and he's sure no gay man will have him. Worse, he's unmistakably attracted to his newest erectile dysfunction patient, Tony DeMarco. He's determined to get a handle on Tony's dysfunction–and not just in the medical sense. Except, doing so would be a gross misconduct on his part.
Both men struggle with their attraction, Tony pursuing Jack as much as he is answers for Marilyn's parents. When he finds out the truth behind her death his resolve to become more than a patient to Jack is high on the To-Do list, but a chance encounter ends up shattering their Doctor-Patient relationship. Will it also dash any chance of happiness for them?
The pace of this novel is perfect. The alternating point-of-view satisfied, with intimate glimpses of both Tony–and his deep family ties–and Jack, with his deep commitment to duty. Both men struggle to feel whole in the face of lost careers and physical shortcomings. The resolution of the crime investigation is concise and clear, as is the attraction and escalation of their relationship. I really enjoyed the tension, and the physical developments between Jack and Tony–who was terrified and surprised of his feelings for Jack, at first.
There were some delicious sexytimes, and an HEA now that Tony's sexual dysfunction seems cured.
Interested? You can find THE TROUBLE WITH TONY on Goodreads and Amazon.
You can also find book 2, THE ENLIGHTENMENT OF DANIEL, on Amazon.
Or, check out THE MATING OF MICHAEL on Amazon.
****GIVEAWAY****
Click on this Rafflecopter link and enter for a chance to win a $25 Amazon GC.
Good luck and keep reading my friends!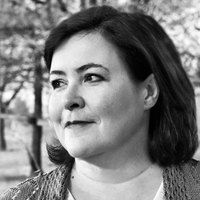 About the Author:
Having been, at various times and under different names, a minister's daughter, a computer programmer, a game designer, the author of paranormal mysteries, a fan fiction writer, and organic farmer, Eli has been a m/m romance author since 2013. She has over 30 books published.
Eli has loved romance since her teens and she particular admires writers who can combine literary merit, genuine humor, melting hotness, and eye-dabbing sweetness into one story. She promises to strive to achieve most of that most of the time. She currently lives on a farm in Pennsylvania with her husband, bulldogs, cows, a cat, and lots of groundhogs.
In romance, Eli is best known for her Christmas stories because she's a total Christmas sap. These include "Blame it on the Mistletoe", "Unwrapping Hank" and "Merry Christmas, Mr. Miggles". Her "Howl at the Moon" series of paranormal romances featuring the town of Mad Creek and its dog shifters has been popular with readers. And her series of Amish-themed romances, Men of Lancaster County, has won genre awards.
Catch up with Eli on her website, Facebook, and twitter.