Hi there! Today I'm so excited to share a review for a new contemporary M/M romance from Eli Easton. FIVE DARES is not a sports romance, per se, but the two main characters are athletes and daredevils, and their predicament makes them nearly acrobatic in the bedroom. I have loved all the Eli Easton books I've read, including MERRY CHRISTMAS MR. MIGGLES, her HOWL AT MOON books and most recently DESPERATELY SEEKING SANTA. FIVE DARES is another new adult romance, this time between two best friends who secretly love each other, but have to go through hell to connect physically.
About the book:
Andy Tyler has been the class daredevil since middle school. Over the years, he's convinced his best friend, Jake Masterson, to perform some dangerous-looking stunts with him. But the dare they attempt on the night of their college graduation goes sideways. The firecrackers explode too soon and both of them end up with badly burned palms.
But hey, nothing gets the "terrible two-o" down for long, and they recuperate in style at Andy's family cottage in Cape Cod. As the weeks go by, both Andy and Jake grow frustrated over the inability to use their hands for all sorts of daily activities—including getting off. So Andy begins a new series of dares that don't just cross the friendship line, they obliterate it.
But what might be mere sexual relief to Andy is serious business to Jake, who only recently got over years of secret pining for his straight best friend. Inevitably, the burns heal, summer ends, and hearts are broken. To fix things, Andy will have to face the greatest dare of all.
My Review:
Andy and Jake have been best friends for a decade or more. They grew up together in the Boston area, went to school together and have been roommates for four years now at NYU, from which they've just graduated. As kids and adults, Jake has had a secret crush on Andy, the wild and charismatic son of an esteemed lawyer and a financial planner. Andy has a penchant for planning outrageous dares that Jake has been a part of as well, either as the front man egging him on and ginning up the crowd (at Andy's behest) or as a co-participant. Jake gets a thrill out of being Andy's closest confidant, but he's wanted more for a long time now. Jake's anxious to move to the west coast, knowing that he'll leave Andy behind, so that he can maybe get the space he needs to find a boyfriend who can love him, unlike Andy who he believes is happily heterosexual.
Andy plans a spectacular dare for a big graduation party–and for once it goes horribly wrong. Andy and Jake end up with second degree burns on their palms, and Jake's unable to leave for his new job; they both need eight weeks of rest to allow their skin to heal. Andy's father is frustrated that Andy pulled another stunt, one that sabotaged his summer internship before he starts Harvard Law school in the fall, but Andy's somewhat thrilled. He gets his father to let him and Jake their family cabin on Cape Cod in which to recuperate. They have daily nurse visits, and the cabin caretaker's willing to make some meals for them while they both remain bandaged and a bit surly through recovery. Andy didn't want to see his best friend leave, and this affords them a chance to have some uninterrupted time together before the next phase of their lives begins. Andy's known that Jake is bisexual, at the very least, for more than a year, and he doesn't understand why Jake never told him. Doesn't Jake trust him? Doesn't Jake want him? Should Andy want Jake to want him? It's a hornet's nest of jealousy, in Andy's mind.
As the days and weeks pass and the boredom sets in, Andy comes up with a new dare, one that will scratch his itch for Jake's undivided attention: that they combine forces to get each other off. They have no other sexual outlet, and can't use their own hands to do the deed, not with all the bandages in the way, but some careful positioning might just allow for physical release. Jake's not down with it, though, because he's already too in love with Andy, and doesn't want his heart smashed just for some experimental fling. The thing is, Jake's been well-trained to go along with Andy's dares, and this time he's going to get more than a rush out of it. They only have a handful of weeks left together. And they make the most of it…until the next dare: falling head over heels in love.
This is such a sweet friends-to-lovers story. They history is carefully added in a series of vignette flashbacks that really demonstrate the bond between Andy and Jake, a bond Andy didn't recognize was love until he'd almost lost Jake, and himself, in his new and lonely future. Andy's father is a stern taskmaster and Andy can't see veering of the path they outlined years ago, when Andy was still just a teen. But he's not happy, and he misses Jake terribly. Their summer of love ended too soon, and his heart can't take the thought that Jake will move on without him. Andy hadn't considered himself bisexual, at all, until their summer together, but he's miserable when Jake moves on to his new job. Jake isn't doing much better, even though he likes his job and reconnecting with his sister, with whom he now lives. That said, he's moping over the separation, and had to cut all contact with Jake in order to heal his busted heart. Naturally another dare brings them back together–not a good one, actually, but the more they chat the more Andy recognizes the reason for all his dares, stemming for the very first one, was gaining Jake's attention and admiration. From then it's just some career-plan gymnastics to reunite this couple for real.
There's so much tenderness on the page, and some really steamy bits, too. We get both Andy and Jake's point of view, so we can see all the internal anguish they manage as their relationship morphs. It was cool how Andy reached out to his mom for help, and advice, and how their conversation allowed Andy to re-evaluate his life goals and tailor them to his current dreams. He's always been super athletic, and the branch of law he'd initially chosen wasn't suitable to his outgoing and active personality. Plus, what's the point of playing it safe all the time? For a dare-master like Andy it's go big, or go home. And he's never just gone home. It's probably why he and Jake fit so well; their mutual love of the thrills in life. It's a happy ending all around.
Interested? You can find FIVE DARES on Goodreads, Amazon, Barnes & Noble, iTunes and Kobo. I read a review copy provided by NetGalley.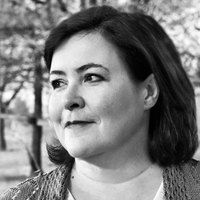 About the Author:
Eli Easton has been at various times and under different names a minister's daughter, a computer programmer, a game designer, the author of paranormal mysteries, a fan fiction writer, an organic farmer, and a long-distance walker. She began writing m/m romance in 2013 and has published 27 books since then. She hopes to write many more.
As an avid reader of such, she is tickled pink when an author manages to combine literary merit, vast stores of humor, melting hotness, and eye-dabbing sweetness into one story. She promises to strive to achieve most of that most of the time. She currently lives on a farm in Pennsylvania with her husband, two bulldogs, several cows, and a cat. All of them (except for the husband) are female, hence explaining the naked men that have taken up residence in her latest fiction writing.
Eli currently publishes with Dreamspinner Press and has a few self-pubbed titles as well. She also publishes thrillers under the pen name: Jane Jensen.
Catch up with Eli on her website, Facebook, and twitter.
THanks for popping in and keep reading my friends!