Hi there! Today I'm excited to share a review for a new M/M Christmas romance from Eli Easton. ANGELS SING is a contemporary romance that features a gay coach falling for the young gay father who owns the local bookstore. This is the second book in her Daddy Dearest series, right after FAMILY CAMP. I have loved all the Eli Easton books I've read, including MERRY CHRISTMAS MR. MIGGLES, her HOWL AT MOON books, SECOND HARVEST, FIVE DARES and ROBBY RIVERTON: MAIL ORDER BRIDE.
About the book:
Jamie Bailey has not had such a wonderful life. He gave up his dreams of Harvard at 18 to raise his sister's unwanted baby, and later a prized job to help a sick friend. Now the father of six-year-old Mia, and assistant manager at Raven Books, Jamie's dreams are dashed once again when Uncle Billy admits what dire straights the bookshop is in.
Stanton Potter, son of the most notorious businesswoman in Bedford Falls, loves his job teaching at the local elementary school. But he's less than thrilled when he is forced to put together a Christmas pageant with first-graders, including Mia Bailey.
When Stanton meets Jamie, angels sing. Jamie's gender-bending fashion sense, and sweet aura, have Stanton suffering through the worse crush he's had since he was a teen. But can there be any hope for them when Jamie and Mia's lives are about to be uprooted?
This Christmas, its Jamie's turn to receive a little help from heaven.
My Review:
Jamie Bailey is a an out-gay 24 year old father to his adopted niece, Mia. He runs Raven Books, a bookstore in tiny Bedford Falls, Oregon, where he also lives in the upstairs apartment. Jamie went to college while caring for Mia, and had good prospects for jobs, but he stayed at Raven Books to care for its proprietor, Uncle Billy, who'd helped with Mia's care for years now. Uncle Billy promised to sell the store to Jamie, but he's been unwilling to turn over the reins completely.
Having been literally raised in Raven Books, Mia's as big a part of the bookstore as her father, and she helps corral kids for the highly attended story times. She struggles to connect with kids her own age, however, and is really attached to her first-grade teacher–who is placed on emergency bed rest due to issues with a pregnancy. Jamie is nervous Mia won't get along with the substitute teacher, Coach Stanton Potter.
Stanton is in his mid-30s and not-exactly out. His mother is a businesswoman, owning many properties in Bedford Falls–now that they sold the family hockey-stick manufacturing plant. Bedford Falls has slowly declined in prosperity over the last few decades, with the loss of good quality jobs and younger people migrating to nearby cities for employment. She's got a plan for the refurbishment of main street Bedford Falls, but it involves shutting down Raven Books. Stanton loves living and teaching PE in Bedford Falls, but he's not excited for the huge change being handed down from his principal: cover the first-grade class for his sick colleague and get the kids ready for the annual Christmas pageant. A day into the job, Stanton realizes he's way out of his depth and head to Raven Books to find books on classroom management. Mia's a skeptical observer of her new teacher, but she's always willing to help–and getting Jamie involved seems to assist Stanton in emotional, professional and physical ways.
Jamie and Stanton have immediate chemistry–and neither has a lot of options for partners, but it's professionally questionable for Stanton to have anything but friendship with a student's parent. Still, Stanton is drawn to Jamie, and when Jamie has a great plan for the Christmas pageant, Stanton is more than willing to accept his help. Unfortunately, they both know whatever might develop between them has an expiration date. Raven Books is in trouble financially, due to increases in rent outstripping their sales. Without the store, Jamie will have to move–and this will likely happen by the end of December.
I really loved the sweet and tender love story that develops between Jamie and Stanton, who willingly comes out in his efforts to help Jamie save Raven Books. Stanton didn't realize his mother was involved in pushing Raven into bankruptcy, but he makes heroic efforts to bring in enough business to keep Jamie in Bedford Falls. The Christmas pageant is a hit, and Mia's happy to have some new and caring people in her life. She's a precocious child, with observation and literacy skills that surpass the usual for a 6 year-old, but she's not horrible, or bratty. I enjoyed her simplistic viewpoint, even as I knew the shenanigans of her class were exaggerated for effect–as were Stanton's shortcomings. The end is happy, with a nice small-town neighbor-helping vibe that I enjoyed.
Interested? You can find ANGELS SING on Goodreads and Amazon.
If you're interested in more of the Daddy Dearest series, you can find FAMILY CAMP on Goodreads and Amazon.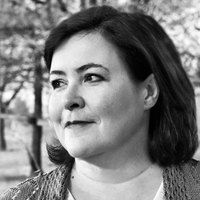 About the Author:
Having been, at various times and under different names, a minister's daughter, a computer programmer, a game designer, the author of paranormal mysteries, a fan fiction writer, and organic farmer, Eli has been a m/m romance author since 2013. She has over 30 books published.
Eli has loved romance since her teens and she particular admires writers who can combine literary merit, genuine humor, melting hotness, and eye-dabbing sweetness into one story. She promises to strive to achieve most of that most of the time. She currently lives on a farm in Pennsylvania with her husband, bulldogs, cows, a cat, and lots of groundhogs.
In romance, Eli is best known for her Christmas stories because she's a total Christmas sap. These include "Blame it on the Mistletoe", "Unwrapping Hank" and "Merry Christmas, Mr. Miggles". Her "Howl at the Moon" series of paranormal romances featuring the town of Mad Creek and its dog shifters has been popular with readers. And her series of Amish-themed romances, Men of Lancaster County, has won genre awards.
Catch up with Eli on her website, Facebook, and twitter.