Hi there! I'm so excited to share a review and giveaway for a new contemporary M/M romance from Eli Easton. I've loved her books, including HOW TO HOWL AT THE MOON, HOW TO WALK LIKE A MAN, and HOW TO WISH UPON A STAR, so I couldn't wait to read A SECOND HARVEST, a tumultuous, yet delicious, pairing of opposites.
Catch my review, an excerpt and get in on the $25 GC or book giveaway below!
About the book:
David Fisher has lived by the rules all his life. Born to a Mennonite family, he obeyed his father and took over the family farm, married, and had two children. Now with his kids both in college and his wife deceased, he runs his farm alone and without joy, counting off the days of a life half lived.
Christie Landon, graphic designer, Manhattanite, and fierce gay party boy, needs a change. Now thirty, he figures it's time to grow up and think about his future. When his best friend overdoses, Christie resolves to take a break from the city. He heads to a small house in Lancaster County, Pennsylvania, to rest, recoup, and reflect.
But life in the country is boring, despite glimpses of the hunky silver fox next door. When Christie's creativity latches on to cooking, he decides to approach his widower neighbor with a plan to share meals and grocery expenses. David agrees, and soon the odd couple find they really enjoy spending time together.
Christie challenges the boundaries of David's closed world and brings out feelings he buried long ago. If he can break free of the past, he might find a second chance at happiness.
How about a little taste?
It was Saturday and the idea of doing more cleaning held little appeal. What else did he have to do with himself? Nothing. The temptation to go into Lancaster or Harrisburg was there, to seek out a gay bar, or even get on Grindr. Gay men had to exist out here. But… that wasn't why he moved here. He came here to get away from all that for a little while.

His mind made up, he went to the grocery store in town with a long list. It was a big-chain grocery store, and he was pleased to find nearly everything he needed. The October day was bright with crisp leaves and a blue sky. When he got back home with his sacks of goodies, it was still early afternoon. He opened the windows in the kitchen—struggling against the one over the sink that stuck—turned up the music on his iPhone, and started dancing around, organizing his supplies and digging out pots and pans.

He made the curried carrot ginger soup, a lovely dish with fresh peas, green onion, and radishes, some savory cheese-and-herb swirled biscuits, and a basic herb-roasted chicken. He truly did love to cook, though the past few years, it never seemed worth the effort. There were so many great takeout places in the East Village. Plus Kyle was such a picky eater. He basically ate pizza and stripped-down salads, and that was it.

It occurred to Christie while he was prepping this meal that it was going to be a beautiful repast, and it was a shame he didn't have anyone to share it with. He could freeze some of it, but it wouldn't be the same. He thought of David next door, living alone, and of his TV dinner. Would that be weird? That would be weird, right?

Pushing it from his mind, Christie spent the rest of the afternoon jamming to tunes in the kitchen and working his way through the recipes, having fun and dancing in his stocking feet.

When everything was ready, Christie decided the meal deserved some pomp and circumstance. His aunt had a drawer of tablecloths, but they were not quite his style. He used a white linen towel for a place mat and put each dish on the table in the best china dishes he could find. He used a red cut glass for his water and lit a candle in an old silver candlestick he found in the cupboard.

He looked at the table and chewed his lip. Everything looked beautiful. It smelled amazing too. He sucked some chicken juice from his thumb—yum. It almost seemed like a waste to eat it. He wished someone were here to share the meal with him. Anyone, really. The idea he'd avoided thinking about while cooking poked its head out again.

Well. He'd never been exactly shy. If he was going to do this, he had to do it quickly. The food was getting cold.

With a nervous shake of his head, Christie decided. He cut the roast chicken in half and put it on a large plate with a little bit of everything else, covered it with aluminum foil, and ran out the back door.

He hadn't been to the Fisher's farm before, and it turned out to be a longer trip down the gravel lane than he anticipated, maybe a quarter mile. He kept up a jog, worried about the food getting ruined. Between that and his nerves, he had a fine sheen of sweat when he got there.

David's farm was beautiful. The white barn Christie had seen from a distance was huge and picturesque. It made Christie's fingers itch to draw it. The farmhouse was fieldstone with black shutters. Electric candles in the windows gave it a cozy Colonial air and made Christie realize how dark it was getting outside. Why hadn't he grabbed his coat? It was fucking freezing. He was an idiot—a shivering idiot at the moment.

Determined to drop off his gift without further delay, he marched to the back door and firmly knocked.

Enthusiastic barking commenced. More than one dog—two or three. Christie felt a little nervous. He liked dogs, but these farm dogs might be territorial. And he was holding a plate of chicken. He might as well have bathed in bacon grease.

A deep voice silenced the dogs and the door opened. David's face looked stern and worn for a moment, but when he recognized Christie, a smile softened it. "Oh, hi."

"Hi. Sorry to bother you, but I spent the day cooking, and I made all this food. No way can I eat it all, so I thought I'd bring you a plate. You know, to make up for causing you to burn your dinner the other day, fixing my smoke detector and all." God, he was overdoing it! Shut up, Christie.

"Oh." David looked surprised. He glanced at the foil-covered plate in Christie's hand. "You didn't have to do that."

"I was bored." Christie's shrug turned into a shiver. He held out the plate. His mouth was dry. He was starting to wish he hadn't done this.

There was a reserve about David, a way he kept himself at arm's length. Christie sensed that when David stopped by his house, but he put it down to the fact they were strangers. The vibe was stronger here, on David's turf. Christie felt like an intruder standing at the back door. David was looking at the plate with an unreadable expression. Please just take it.

Then the wind shifted and a delicious aroma billowed up. David's face grew curious. "Roast chicken?"

"Yeah. It was from a Thanksgiving magazine. I made some sides too."

Suddenly David moved. "Heck, you must be freezing. Come inside."

"Thanks. I can't stay. I just wanted to drop this off." But Christie was stepping inside as he spoke, welcoming any relief from the cold air.

"River. Tonga. Sit." David shut the door. The dogs sat obediently. One was a golden retriever and the other a large furry black mix of some kind.

"Tonga?" Christie asked.

"It's an island," David said with an adorably bashful duck of his head. He took the plate from Christie and raised the foil, looked at it, and smelled. "This looks really good. You made this?"

"Sure. I just followed the recipes." But David's words made Christie feel infinitely better about bringing it by. "Well. I'll leave you to eat it before it gets cold. I have mine back at the house."

"Thanks. It beats the heck out of frozen food." David sounded sincere. He put the plate on the counter. "Hang on." He opened up an accordion door in the hall, revealing an overstuffed closet with a collection of coats, hats, and shoes. He selected a black woolen pea coat with large buttons and pulled it out. "You're going to freeze to death."

"It was stupid not to wear my coat. I didn't realize it was so far over here."

David got an amused smile, but he wasn't looking directly into Christie's eyes, so he still seemed uncomfortable. Instead of handing Christie the coat, though, he held it open and moved behind Christie.

Christie blinked. He couldn't remember the last time anyone had helped him into a coat. He held back his arms and let David slip the coat onto him. It fit in the shoulders okay, but it was big around the waist and hips. David turned Christie in a matter-of-fact way and started doing up the buttons.

Christie's eyes widened, and he swallowed hard. What the hell? Did David think he was a child? But there was something titillating about being taken care of, or maybe it was David's proximity, his handsome face focused on his task, his rough hands so close to Christie's body.

Yes, it was definitely the proximity. Wow, David was a good-looking man. Who knew rugged could be so hot? And to think of all the money Christie had spent on grooming!

There were only five buttons, and when David finished the last of them, just below Christie's chin, he looked up and saw Christie's face. He suddenly blushed, his nose and cheeks going red. He dropped his hands and took a step back. "Sorry. That was… sorry."

"I didn't mind." Oh God, Christie's voice had dropped in register and sounded rumbly to his own ears. That was a smexy voice! What the hell was he doing? "Um… thanks for the jacket, David. I'll bring it back later."

"No hurry." David was avoiding his gaze again.

Christie yanked the door open, escaped the house with a silly little wave, and walked fast back to his aunt's place.

Once inside he found his own food was only tepidly warm, but still flavorful and delicious. The herb glaze on the chicken was to die for, and it went beautifully with the floury-cheesy biscuits and the curried soup. He hoped David liked it too.

He kept the coat on while he ate, snuggling into the fabric and holding the collar close under his chin. It smelled of earth and hay, a slight trace of motor oil, and the smell of a working man—piney, sweaty, and altogether appealing.

He remained in the coat all through dinner. But only because he was cold.
My Review:
David is a Mennonite farmer in rural Pennsylvania. He's 41, a widower, and lonely. His two children are at college and he works long hours in solitude. His daughter wants him to remarry. His minister wants him to remarry. Women from his church want him to remarry–and David refuses. He'd rather be alone than yoked into another marriage he doesn't want.
Christie is a svelte out-gay man living and loving in Manhattan. He's thirty and jaded, unhappy with the same old party scene, but this all changes when his roommate and bestie, Kyle, nearly dies of an overdose. They vow to live life to the fullest, and while Kyle marries a man who'd long chased him, Christie decides to take six months to clear out the house his aunt left to him. There isn't much to do in Pennsylvania Amish Country, and Christie's excess energy soon finds an outlet in gourmet cooking. Kinda a pain cooking for one, though, and his silver fox of a neighbor is single. He strikes a bargain–they split the cost of groceries, and David can stop existing on TV dinners.
Soon, David and Christie are sharing more than dinner. They converse, they jog, they work David's farm, a bit, together. Christie is falling deep into like, and David's thrilled to be the center of someone's attention for the first time in his life. He loves how Christie seeks out recipes from far off lands, places David has studied via National Geographic and always longed to visit–but never could. Their camaraderie is not unnoticed, and David's theology-student son, in particular, is deeply troubled.
David had never suspected Christie was gay, and Christie never mentioned it–mostly because he was afraid to lose David's friendship. It's a big kerfuffle when David learns, but it's not the end. Nope, it's a new beginning.
I really loved the quiet and slow-burning romance here. It's really tender, and lovely. Christie isn't vamping for a man, he's building a friendship with a man he never intends to have relations with, only to learn that David's not averse. David has walked paths laid out by others his whole life, and he finds himself very unhappy. Should he continue to suffer in silence to appease people–his elderly mother and children–who are barely part of his life? It's not a hard choice to make, on the surface, but can David trust that beautiful, talented Christie truly wants a middle-aged farmer hick, like himself? Outing himself would separate him from his entire Mennonite community, and could easily spell financial ruin, but in the end, David's just not willing to live a life without love, and die early and unhappily like his father.
There are some really harrowing moments, and emergency services are necessary more than once. I was nearly beside myself with concern, and was glad that those scenarios turned out positively. I thought the small cast of supporting characters was all rendered very solidly on the page. I think I might have liked a bit more background on the Mennonite experience. David's nearly estranged from his faith at the time we meet him, so it's not so hard for him to pull farther away. I honestly didn't learn much about Mennonites, and that was a shame, for me.
That said, I love the story, and I adored both David and Christie. That they found love together was kismet.
Interested? You can find A SECOND HARVEST on Goodreads, Dreamspinner Press (eBook or Paperback), Amazon, Barnes & Noble, Kobo, iTunes and AllRomance.
****GIVEAWAY****
Click on this Rafflecopter giveaway link for your chance to win a $25 GC (Int'l) and signed paperbacks of HOW TO HOWL AT THE MOON, and HOW TO WALK LIKE A MAN (US, Canada only).
Good luck and keep reading my friends!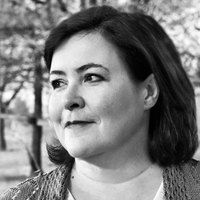 About the Author:
Having been, at various times and under different names, a minister's daughter, a computer programmer, the author of paranormal mysteries, a game designer, an organic farmer, an avid hiker, and a profound sleeper, Eli is happily embarking on yet another incarnation as a m/m romance author.
As an addicted reader of such, she is tinkled pink when an author manages to combine literary merit, vast stores of humor, melting hotness and eye-dabbing sweetness into one story. She promises to strive to achieve most of that most of the time. She currently lives on a farm in Pennsylvania with her husband, three bulldogs, three cows and six chickens. All of them (except for the husband) are female, hence explaining the naked men that have taken up residence in her latest fiction writing.