Hi there! I'm back over on Joyfully Jay with a review for a contemporary romance newly released by Edie Danford. UNCOVERING RAY is a "questioning" romance in that the audience is meant to question Ray's gender, sexuality and motivation throughout.
The author gives good misdirection and calls on the reader to sort out all the stereotypes. I enjoyed it.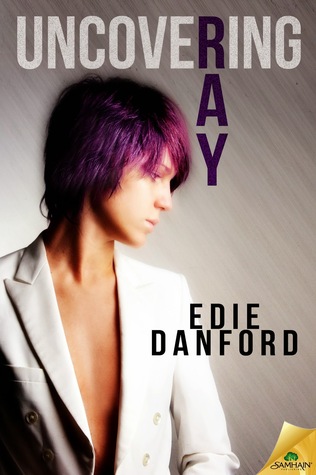 About the book:
When the right love uncovers the wrong secrets…
"Hey, man–you a chick or a dude?" Dealing with the same old boring question is a downer for college drop-out Ray Fayette, especially when it's asked by the low-tipping, over-privileged students at the Ellery Diner.
When six-foot-five, muscle-bound straight arrow Wyatt Kelly publicly smacks down a fellow frat bother for caveman behavior, Ray's interest is sparked. Wyatt's not-so-subtle attraction sparks a few other things too.
But getting to know Wyatt proves dangerous. His sexy smiles and smart questions slide under even Ray's prickliest defenses. Worse, his academic mentor happens to be Ray's ex-stepfather, the dictatorial jerk who just kicked Ray out of his house. Again.
Wyatt suggests a housing arrangement that has surprising appeal—there's space available at his frat house—but he's unaware just how complicated Ray's "identity issues" are. Ellery College kicked out Ray for a reason—a reason that could deep-six Wyatt's academic career and Ray's newly hopeful heart.
Please head on over to Joyfully Jay to see my full review.
Thanks for popping in and keep reading my friends!