Hi there! Today I'm chatting about a two-book contemporary M/M series from Jay Northcote. THE DATING GAME and THE MARRYING KIND are two sweet romances featuring Owen and Nathan, young men who find love when they didn't expect to.
My Review of THE DATING GAME:
4.5 stars for this quickie, British, New Adult M/M romance.
Owen and Nathan went to Uni together and had mutual friends but were never close. Owen, out and loving it, had a crush on (supposedly) straight Nathan, but never toyed with Nathan because why bother? Plenty of gay mates were available. That was then.
Now, Nathan has returned to Bristol and is out with Owen and his good friends, Simon and Jack, who are a committed couple. Owen decides to risk hitting on Nathan, having just learned Nathan is gay. Well, Nathan may find Owen sexy, but he's not up for a one night stand.
No, if Owen wants to be with Nathan, he needs to work for it. Owen's thrown off by Nathan's insistence on not one, but FIVE sex-free dates. Try as he might, Owen can't remember ever going on a single date with a bloke. (He is, admittedly, a tart.) But there's something in this challenge that strikes a chord with Owen and he agrees.
They set up their dates for Saturdays, and over the course of the first few weeks develop a rapport. Calls, texts, and of course their shared time on the dates pull both Nathan and Owen in closer than either had imagined. Their make-outs resulting in aborted physicality ups the stakes, too. Funny how quickly they take to phone sex!
This is really a sweet read with two men who find a connection they didn't anticipate. Nathan didn't want to be a conquest, and Owen couldn't imagine finding a boyfriend. It was a rewarding short read with plenty of titillating moments and a couple hot scenes. The two POV narrative worked for me because I was able to find both men charmingly vulnerable and hoped that they'd decide that five dates just wasn't enough…
Spoiler: It wasn't. HEA all the way.
Interested? THE DATING GAME is currently on sale for $.99 at Amazon, regularly-priced on AllRomance, and Barnes & Noble.
The sequel, THE MARRYING KIND is really just delicious. Owen and Nathan have stuck together for two years, and despite Owen's great misgivings over marriage, he proposes. Then, he learns he's on the downsizing list for his job. His lukewarm feet start feeling colder by the minute… Let the drama begin!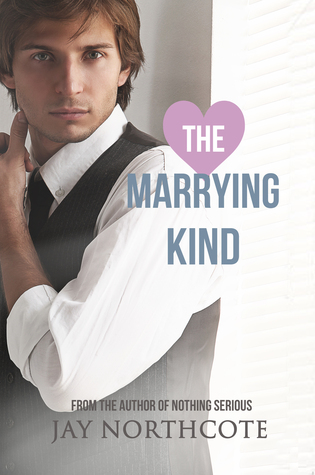 About THE MARRYING KIND:
Nathan wants to put a ring on it, but is Owen the marrying kind?
Two years on from their first date, Owen and Nathan are living together and life is good—except they're not on the same page about marriage.
A traditionalist at heart, Nathan wants it all: the wedding, the vows, and a pair of matching rings. Owen, on the other hand, believes marriage is old-fashioned and unnecessary. They don't need a wedding to prove their commitment to each other. Love should be enough on its own.
All it takes is one moment of weakness on a night out to force the issue. Owen finds himself engaged after a half-drunk proposal, and Nathan's enthusiasm sweeps him along. But as the big day approaches, the mounting tension finally combusts.
If he's going to save their relationship, Owen will need to decide once and for all if he's truly the marrying kind.
Feel free to check out my full review for THE MARRYING KIND over on Joyfully Jay.
Thanks for popping in, and keep reading my friends!