Hi there! Welcome one and all to the Cephalopod Coffeehouse, a cozy gathering of book lovers, meeting to discuss their thoughts regarding the tomes they enjoyed most over the previous month. Pull up a chair, order your cappuccino and join in the fun.
As part of the Coffeehouse I'm sharing the best book I read this month, and it was the concluding book in Allen Zadoff's Unknown Assassin series, I AM THE TRAITOR. Last summer I read both I AM THE WEAPON (originally published as BOY NOBODY) and I AM THE MISSION, and found the fast-paced stories about a 16 y/o government assassin to be pretty kickass. I was offered an advanced reviewer copy of this book, and I devoured it.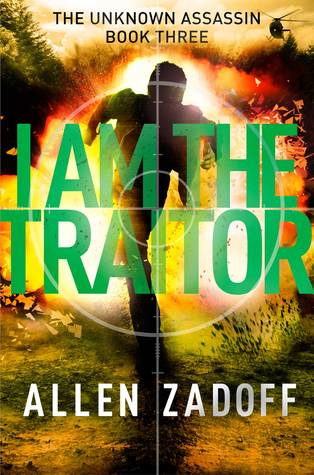 About the Book:
In the third and final installment in the Unknown Assassin trilogy, Boy Nobody is on the run from The Program and uncovers a secret about his past that forces him to decide where his loyalties lie.
The Program has sent Boy Nobody on countless missions, instructed to kill whichever target he was given. But now, after going rogue, he is on his own mission to rescue his friend Howard who was captured by The Program. Boy Nobody manages to free Howard as well as Tanya, a mysterious girl who was being held with him. Howard and Tanya help Boy Nobody collect information about his father, eventually revealing a dangerous secret that teaches Boy Nobody a valuable lesson — he can't trust anyone.
My Review:
This is the third book in a series, and books should be read in order.
This book picks up where I AM THE MISSION left off, with Zach still trying to determine if his father is dead, and to hunt down and recover his friend, Howard. Howard became friends with Zach in book one of the series, and helped him run his op in book two–all without the knowledge or consent of The Program, the government agency that procures, trains and manages this group of elite teen assassins to which Zach has belonged for five years. Ever since his father was killed.
Over the course of the books, Zach's confidence in The Program–and his handlers Mother and Father–has slipped. Howard was Zach's safety net, one outsider who could attest to his existence in the event that The Program tried to scrub him, but The Program learned about Howard and has taken him into custody. Zach knows they will kill him–and he's determined to ensure that won't happen.
Naturally, Mike–Zach's field commander, is up on the score. Not only does Mike know where Howard is, he has a new mission for Zach: eliminate Howard. A good soldier would follow orders, and Zach knows this mission is a test–he fails it spectacularly, not only rescuing Howard but also a girl who is imprisoned with him, Tanya.
As with everything in Zach's world, nothing is what it seems. Two things remain true, however: Zach wants to find his father, and Howard is sure he is still alive. Together, Tanya, Howard and Zach search for inroads into The Program's files to learn the truth behind Zach's father's story. They investigate the news story regarding Zach's parents' deaths. They hijack a terminal at a high security research lab. Dogging their steps is Mike, who is equal parts ally and hunter.
It is a thrill ride, sure to keep readers turning the pages. I loved both previous books in this series, and Zach is a fascinating sociopath. Somewhere in this morass of murder and mayhem he has grown the conscience The Program believed it had snuffed out. His decisions are no longer guided by a faulty directive, and his quest to save his father and friends renders him inarguably human.
I had expected both of the big twists–with no lack of enjoyment–and gloried in Zach's triumphs. The big themes, government intrusion, research ethics, mind control, and the growth of the industrial military complex, are all present, but are far overshadowed by Zach establishing trust, redeeming himself, putting others before his own mission. As a conclusion to this series, it is excellent.
Some readers may balk at the teen assassin aspects of this book, and how otherworldly capable The Program's agents are, but it was akin to The Bourne Identity, for me. The pace of the book is extraordinarily fast, with not a spare word to be found. I have a hard time imagining there will be a reader over age 12 who takes more than a day to finish this book.
Interested? You can't get I AM THE TRAITOR just yet, but it can be preordered in advance of it's 6/9 release at Amazon, Barnes & Noble, Kobo, and iBooks. Or try your local library mid-June. I received a review copy via NetGalley.
Hope you have a chance to hop around to my fellow Coffeehouse reviewers and find a book to intrigue you! Thanks for popping in, and keep reading my friends!