Hi there! Today's book is another YA adventure–of the killing sort. Yeah. I know. V…where's the romance? Patience, grasshopper. I AM THE WEAPON, first published as BOY NOBODY, is a G-force thrill ride, a 7 on the Richter scale, and an F6 Tornado. It freaking blew me away.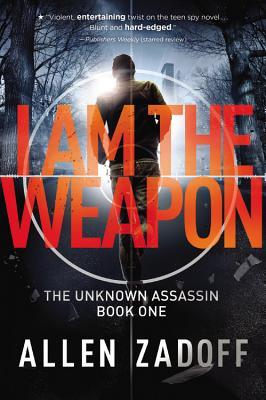 About the Book:
They needed the perfect assassin.
Boy Nobody is the perennial new kid in school, the one few notice and nobody thinks much about. He shows up in a new high school in a new town under a new name, makes a few friends, and doesn't stay long. Just long enough for someone in his new friend's family to die-of "natural causes." Mission accomplished, Boy Nobody disappears, moving on to the next target.
But when he's assigned to the mayor of New York City, things change. The daughter is unlike anyone he has encountered before; the mayor reminds him of his father. And when memories and questions surface, his handlers at The Program are watching. Because somewhere deep inside, Boy Nobody is somebody: the kid he once was; the teen who wants normal things, like a real home and parents; a young man who wants out. And who just might want those things badly enough to sabotage The Program's mission.
In this action-packed series debut, author Allen Zadoff pens a page-turning thriller that is as thought-provoking as it is gripping, introducing an utterly original and unforgettable antihero.
My Review:
Zach Abrams is a 16 year old spook. That's right, he's a trained assassin, working for The Program, neutralizing threats by befriending the children of his targets before taking them out. (I'm going to call him Zach as that is his actual name–Ben is his cover name for this mission…)
I was simply astounded. The calculating precision by which Zach infiltrates his targets is clear, and his lack of a moral compass is a learned behavior–one that developed in the two years after his parents are murdered by another operative–Mike, who wormed his way into Zach's home. Mike also inducted Zach into The Program when he was only twelve. Two years later Zach had graduated, and–in the two years since–he's notched six authorized kills.
Now, Zach has new orders and the tightest timeframe yet. As "Ben", Zach will befriend the daughter of NYC's mayor. He has five days to take the mayor down. And Zach never fails.
Problem is, memories from Zach's previous life–when he was just a normal kid–keep intruding. The mayor is extraordinarily similar to Zach's dad, and Zach can't help being attracted to Sam. She lost her mother a couple of years past, in an attack while visiting Israel, and she and Zach can commiserate on that level. Plus, she's gorgeous and challenging. She won't take any crap–and sees through Zach's attempts at ingratiation. It doesn't mean there is no attraction, however. Zach's no stranger to sex, but he's never had an emotional attachment to a girl before Sam. Also, it seems one of Sam's ex's is an Israeli commando. Oh, and he might just be following Zach…
Zach is messing up the mission, wanting to be close to Sam–and her Dad–prompting some tough love from The Program. Mike has been called in to ensure the job gets done–even if Zach can't do it.
Of course, when the mission target changes to Sam, Zach's turmoil reaches a breaking point. He's never killed a kid before. How can he kill the girl he connects to? Zach does something he never has before–he gets outside help. And, hopefully, the computer whiz kid he enlists can help him keep Sam safe.
I thoroughly enjoyed this antihero. Zach has not questioned his role, or his job, since becoming a member of the Program. The internal battle he experiences as he chooses how to proceed with his mission is real and honest–even if Zach is a trained liar. I loved how he questioned authority, and I REALLY loved the twist about his own father–something I had expected and was delighted came to fruition. Mike, in this book, seems to be a great foil. I am hopeful that these two boys will become allies down the road. The pace is blistering. Not a spare word in the entire novel. I almost hesitated using the toilet, unable to set my pad for even that long…. Cannot wait to read the next book! I received a review copy of this book via NetGalley. And I loved every page of it!
Interested?  You can find I AM THE WEAPON on Goodreads, Amazon and Barnes & Noble. I'm also pretty sure you can find BOY NOBODY on you local library shelves. I'm prepping to read the sequel,  I AM THE MISSION, which is newly released….stay tuned for that review in a week or so.
About the Author:
Allen Zadoff is the author of the new thriller series, The Unknown Assassin which earned starred reviews and has been optioned for a feature film by Sony Pictures and Will Smith's Overbrook Entertainment. His YA novel, Food, Girls, and Other Things I Can't Have won the Sid Fleischman Humor Award and was a YALSA selection for Most Popular Paperbacks of 2012. His second novel was My Life, the Theater, and Other Tragedies, the story of a techie hiding from life after a family tragedy. His third novel Since You Left Me is set in Los Angeles and tells the story of a religious school student who doesn't believe. He also wrote the memoir for adults, Hungry:Lessons Learned on the Journey from Fat to Thin.
Allen is a graduate of Cornell University and the Harvard University Institute for Advanced Theatre Training. Visit him on his website, Goodreads and twitter.
Thanks for popping in, and keep reading my friends!