Hi there! Today, I'm joining the blog tour for CENTER ICE, a contemporary YA romance featuring a hockey phenom and the girl who could not care less… 😉
I love sports romance, and Cate Cameron has nailed this one! Check out other stops on the tour here, and don't forget to enter the Amazon Gift Card giveaway below.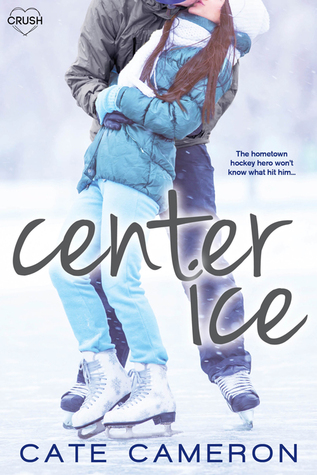 About the book:
The hometown hockey hero won't know what hit him…
Karen Webber is in small-town hell. After her mother's death, she moved to Corrigan Falls to live with strangers—her dad and his perfect, shiny new family—and there doesn't seem to be room for a city girl with a chip on her shoulder. The only person who makes her feel like a real human being is Tyler MacDonald.
But Karen isn't interested in starting something with a player. And that's all she keeps hearing about Tyler.
Corrigan Falls is a hockey town, and Tyler's the star player. But the viselike pressure from his father and his agent are sending him dangerously close to the edge. All people see is hockey—except Karen. Now they've managed to find something in each other that they both desperately need. And for the first time, Tyler is playing for keeps…
My Review:
Karen's a 16 y/o girl from Toronto who has just moved into her father's plush home in Corrigan Falls, a small town filled with gossips. Is it her fault she was conceived by a man cheating on his then-pregnant wife? Nope. Was it her fault her mother died in a car wreck, forcing her to move in with her dad–whom she had never met–his wife and their three kids? Nope. But, not being to blame doesn't make living with them any easier.
Tyler's weeks away from his 18th birthday and high on the prospect ladder for the NHL draft. He plays for the Corrigan Falls Raiders, a team well-known for producing excellent players, and has lived with host families for the past three years, sacrificing his own family time to give everything to hockey. He's on the cusp of realizing all his (father's) dreams and this all seems beyond his reach. No matter how good he does, his helicopter father–and his agent–are ringside waiting to tell him how he needs to step up, work harder, do this, do that. Meeting Karen while on his morning runs is a breath of ultra-fresh air. Here's a girl who just is. She wants nothing from him–not even his attention. It's catnip for Tyler, who has, for the past three years, been aggressively pursued by "puck bunnies" girls (and women) who want to bag a rising star for a bit of horizontal distraction. Tyler loves just being a "normal" guy with Karen, but that mystique wears off quick–especially so when Karen finds out one of the horde of Tyler's sexual partners is her own half-sister, and mean girl extraordinaire, Miranda.
While Tyler and Karen take fledgling steps toward coupledom, the complicated plot gets murkier. Her parents are finally acknowledging the serious problems in their marriage. There had long been rumors of infidelity, but Karen is a physical testament to them. Clashes between Karen and Miranda aren't just verbal cattiness–blows get thrown! Tyler's parents are pressuring him to take out loans to support them–and his agent is working every angle to box Tyler into a contract that is not in his best interest.
I liked the plot dynamics, and Karen's stepmother, Natalie, is a really great character. Her life is no picnic, raising four kids with a skirt chasing husband has to be really trying, yet she makes good decision for her kids, and her family. I wanted to kick Karen's father right in the neck, on several occasions, but he is extremely human, and is kind and attentive to his children, and even to Natalie–despite his infidelities. Karen is likable, if a bit impulsive. She owns up to her frailties, and makes more good choices than bad. Tyler is a great guy, one I think readers will enjoy. This is a redemptive story for him, and he succeeds at being honest and decent.
The growing pains in both families felt very real, and approachable. This is an upper teen read, perhaps, due to frank discussions about sex, and the MC's do have a physical relationship. The descriptions are all very soft and off-the-page, however. I did like this one, for its realism and its honesty. A solid YA romance.
Interested? You can find CENTER ICE on Goodreads, Amazon, Barnes & Noble, Kobo Books, and iBooks. I received a copy of this book via NetGalley.
****GIVEAWAY****
Click the Rafflecopter link below for your chance to win a $20 Amazon Gift card
a Rafflecopter giveaway
Good luck and keep reading my friends!
About the Author:
Cate Cameron grew up in the city but moved to the country in her mid-twenties and isn't looking back. Most of her writing deals with people living and loving in small towns or right out in the sticks – when there aren't entertainment options on every corner, other people get a lot more interesting!
She likes to write stories about real people struggling with real issues. YA, NA, or contemporary romance, her books are connected by their emphasis on subtle humor and characters who are trying to do the right thing, even when it would be a lot easier to do something wrong.
You can find Cate online on her website, Goodreads, Twitter, and Facebook.