Hi there! Today I'm sharing my review for the newly-released M/M fantasy novel SACRATI by Kate Sherwood. I really loved her contemporary M/M romance, MARK OF CAIN, and was eager to see how Ms. Sherwood wrote fantasy. I stepped into a richly-textured world of war and strategy, with a delicious slow burning romance.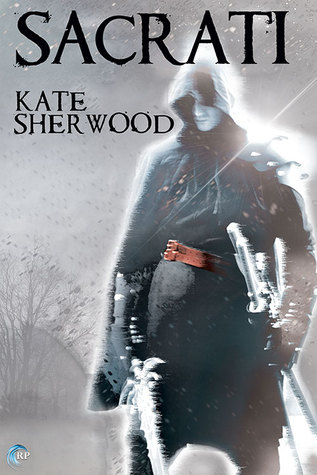 About the book:
As an elite Sacrati fighter in the mighty Torian military, Theos is blessed with a city full of women who want to bear his children, and a barracks full of men proud to fight at his side and share his bed. He has everything he needs—until he captures Finnvid on a raid.
Finnvid is on a secret mission to prevent the Torian invasion of his homeland Elkat. Being enslaved by Torian soldiers wasn't in his plans. Neither is his horrified fascination with the casual promiscuity of the Sacrati warriors. Men should not lie with other men—and he should not be so intrigued when they do. He definitely should not be most intrigued by the leader of the soldiers who captured him and plan to invade his home.
For Theos, everything would have been easier if the infuriating, lying, bewildering Elkati had never come into his life, but he can't stay away. When betrayal and treachery threaten both their nations, they must work together to stop a war that could destroy their homes forever—even as they begin to question everything they're fighting for.
My Review:
4.5 stars for this intriguing M/M fantasy romance.
Theos is a Sacrati, the fiercest of warriors in the Torian army. Torian society is communal–the men fight and conquer new lands, and protect the women and children who live within sheltered cities in a collection of valleys in this world. Men and women do not marry in Torian society, they meet rarely for procreation, but otherwise are separate. The prized warriors, like Theos, have many invitations to copulate with women, to produce offspring, but most of the time, the men are game to take care of their sexual needs with their comrades (as do the women!).
As a sacrati, Theos is above a lot of the menial army business. His warlord, however, has been acting mighty shady. Under Theos' command, a band of Elkati men are captured well within the Torian borde. It is clear they were attempting to return to neighboring Elkat valley, but Theos knows the value of a good captive–his men will all get a cut for selling them as slaves. And, Theos has the right, as commander, to choose a slave of his own from the captured. Not that he plans to, however. Keeping a slave is expensive and he would do better to claim the slave's selling price for himself.
Only, it doesn't go that way. The leader of the Elkati, a fair man called Finnvid, is a healer and a scholar. Theos is especially wary of the strange way his warlord watches Finnvid, and desires him. His suspicions are further augmented when the warlord is enraged by Theos' decision to keep Finnvid, rather than let him be transported through a mountain pass for sale at the onset of winter. Finnvid is not like the men Theos knows. He is verbally opposed to the idea of men having sex with each other–in Elkat such a thing is despised. Moreover, Elkati have monogamous marriages, and this seemingly random copulation within Torian society is as foreign to him as Chinese is to me. It turn out that Theos has 46 children, with more than a dozen women in the city–and more on the way. Finnvid = Mind Blown.
Still, Finnvid is a secret keeper of the highest order, and the most significant is his BROTHER is the Elkati King. Returning him to Elkat is imperative, but there are so many secrets and lies, that the politics is nearly as dangerous as the winter mountain passage.
There are double crosses, and double standards and murder most foul. Throughout, Finnvid must come to terms with the most hated part of himself–the part that desires men sexually, and Theos in particular. I was fully engaged in this fantastic world. I felt like I was taking icy steps through the snowy mountains, or sweating in the ice huts and soaping up in the bath house. All the secondary characters are beautifully detailed, having real experiences that impact the story. The political machinations were fascinating, and I really found myself drawn into the story–hoping that Finnvid and Theos would find themselves alive, and together, when the final page came.
While this is not a traditional romance, and not even a traditional 'slave' romance, there is a constant expectation that Finnvid and Theos will work things out between them. In the meantime, I was rather relieved with how decent Theos was–he had no dearth of sex partners, and he never forced Finnvid to become one of them. They spend a significant amount of time together, and the rapport that develops is quite natural feeling, as are the experiences of regret and loss when they are separated. Still, I had to laugh at how stubborn they both were.
The book ended in such a way that I don't anticipate a sequel, but man! I'd like to see how all change in Torian society shakes out…
Interested? You can find SACRATI on Goodreads, Riptide Books, Amazon, and Barnes & Noble. I received a copy of this book via NetGalley.
About the Author:
Kate Sherwood started writing about the same time she got back on a horse after almost twenty years away from riding. She'd like to think she was too young for it to be a midlife crisis, but apparently she was ready for some changes!
Kate grew up near Toronto, Ontario (Canada) and went to school in Montreal, then Vancouver. But for the last decade or so she's been a country girl. Sure, she misses some of the conveniences of the city, but living close to nature makes up for those lacks. She's living in Ontario's "cottage country"–other people save up their time and come to spend their vacations in her neighborhood, but she gets to live there all year round!
Since her first book was published in 2010, she's kept herself busy with novels, novellas, and short stories in almost all the sub-genres of m/m romance. Contemporary, suspense, scifi or fantasy–the settings are just the backdrop for her characters to answer the important questions. How much can they share, and what do they need to keep? Can they bring themselves to trust someone, after being disappointed so many times? Are they brave enough to take a chance on love?
Kate's books balance drama with humor, angst with optimism. They feature strong, damaged men who fight themselves harder than they fight anyone else. And, wherever possible, there are animals: horses, dogs, cats ferrets, squirrels… sometimes it's easier to bond with a non-human, and most of Kate's men need all the help they can get.
After five years of writing, Kate is still learning, still stretching herself, and still enjoying what she does. She's looking forward to sharing a lot more stories in the future.
You can catch up with Kate online on her website, Facebook, and twitter.
Thanks for popping in, and keep reading my friends!