Hi all! Today I'm sharing on a review on a bundle of novellas that is guaranteed to touch your heart, and your naughty bits!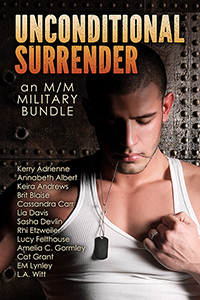 About the Book:
Strong. Sexy. Sizzling.
There's nothing like a man in uniform, and thirteen of today's hottest gay romance authors are celebrating military heroes and the men brave enough to love them.
These brand-new novellas feature all branches of the service and offer something for every reader. Almost 300,000 never before published words!
My Review:
This collection of novellas has a little something for anyone who loves M/M romance and/or military men. Many of the stories are of active duty professional soldiers, in all branches of the military, but there are some with retired veterans, as well.
First Connection stories:
LA Witt, EM Lynley, Kiera Andrews, and Lucy Felthouse all offer stories of first connection between men active in duty with fellow soldiers. Witt's FLIGHT RISK showcases two gay airmen: Pilot Bennett McKinley and RIO Aaron Austin as they begin a tenuous partnership. Aaron had a bad ejection a few years back, and still suffers the pain of severe spine trauma. He's been interested in Bennett for a long time, but afraid to commit to anything with the state of his injury—and the requirement of no pain meds within 72 hours of flight time. Bennett wants more than a hook-up, but will Aaron be fit for that kind of duty? (Spoiler: yes.)
Lynley's IRRESISTIBLE FORCES Army Ranger Brody Mitchell is retrieving three fellow Rangers being held captive by Taliban forces. How could he know that one of them was Logan Flynn, his Battle Buddy in Ranger school? Brody harbored more than friendship back then—but can they connect now? Logan is devastated by the loss of his fellow Rangers—and reconnecting with Brody, the man who lives in his fantasies, is earth-shattering too. As Logan recovers from his physical and emotional injuries Brody helps, and then pulls back, afraid he'll out himself. Even in a post-DADT army, it's dangerous to be gay. On leave, however, their connection rekindles and it's steamy, not just because of the bathhouse…
Andrews' ARCTIC FIRE homes in on national guard activities in Canada. Captain Jack Turner suffers for the deceit he made which killed his fellow soldier and lover in Iraq.  On assignment to inspect the Norther Rqngers back inCanada, he meets Ranger Kin Carsen, an Inuk man who is proud of his heritage, even if he knows his family would reject him for his sexuality. On a scouting trip to tour the Artic Station, a blizzard descends trapping these strangers in a cocoon of sensuality. Kin reaches out for the connection he'd denied himself for years–and the result is a more fulfilling experience than he could have wished for.
Felthouse's DESERT HEAT gives us British Army Captain Hugh Wilkes, wrapping up operations in Afghanistan and his translator, Rustam Balkhi, an Afghan native who put his college education in England on hold to help build peace in his homeland. The attraction is fierce, but the mission is imperative—get out safely. This may be easier said than done for Balkhi; his fellow interpreters are often targets for insurgents for assisting the "Infidels." While both Wilkes and Balkhi struggle to keep their desires in check, the connection they make is too overwhelming. It's a complex pairing, and an interesting story.
Home, but not really…
Brit Blaise's STORM OUT puts PTSD-riddled John "Cowboy" Kale on a hero's path to saving Sam Dooley. On medical leave, Cowboy sets up a sort-of vision quest to find his center on his family's estate in Alaska, he encounters a guide battered and left for dead in a white-out. The hunters he'd led poached a musk ox from Cowboy's land–and if that doesn't get Cowboy riled, Sam's honesty about his dismal upbringing sure does. Poor Sam has been left in the cold more than once, and Cowboy's finally ready to face his fears over coming out to his family and his fellow soldiers.
Kerry Adrienne's CRUISE CONTROL shows hoe two men can connect in the worst of circumstances. Former soldier Blake Best struggles for acceptance in this family–well, what remains of it. His late father was a raging homophobe and his sister carries in this ignoble tradition. Shame that Blake and his sis are co-owners of Best Pharma. En route to a board meeting in Atlanta, Blake's Mazarati breaks down and the nearest service station can't repair the vehicle for days. Of course, the garage owner and  chief mechanic, former airman Parker Montieth, offers to drive Blake to his meetings–wanting nothing in return. Parker had been heading to Atlanta anyway to meet some bankers for a business loan. Encountering Blake's sister's hate is more than Parker had bargained for, especially as he and Balke hadn't even share a kiss. But that unquestioned acceptance is all it takes for Blake to find the happiness he'd always lacked with a virtual stranger.
Life-Building Partnerships:
Rhi Etzweiler's BLOOD AND PEYOTE was an excellent look at post-combat frailty and the need for compassionate care. Apisi Howling and Chartreuse Beaudrou are battle buddies/mission partners. Their last mission went FUBAR and left both men in dire situations. Apisi is a First Nations man—with Medicine Man training from his tribe. When not on active duty, he seeks to return to the earth, curating natural resources projects for DNR conservation. He and Char have a deep connection, though they were never physical with each other in the field. Char goes missing one day—only to turn up in Apisi's truck. Apisi takes Char home, and they work through the pain and suffering of their losses together, with the help of some peyote, some rune and native mysticism and some well-applied TLC.
Anabeth Alberts' RESILIENT HEART really explores the dynamics of recovery from combat injury–both for an amputee and his teammate and partner. Xander and Mackey were lovers on the down-low since enlistment. Xander only wanted Mackey, but Mackey (being bi) was more open. On mission, their dynamics went even further closeted, but Xander's injury clarified everything for Mackey:  he'd love any part of Xander which survived. As an amputee, Xander's unwilling to accept Mackey's love–he wasn't good enough whole, and he won't accept his guilt-tinged affection, now. Their struggles had such angst and guilt, and love and faith. A fantastically real story.
Cat Grant's THE ONE WHO CARES looks at family building in the post-combat couple. David and Josh are Navy SEALs. Well, Josh is. David was too injured in his last mission to return to active duty, so he is seeking training as a therapist—specializing in treating enlisted men with emotional issues. Josh is returning to his group and will participate in active missions. They are a married couple awaiting a child by adoption. While David struggles with his own career losses, he build a support group for soldiers in need. He assists with the local shelter for abused children of soldiers, which is how he first meets Cassie, a pregnant 19 y/o girl. Her boyfriend is enlisted, on psych leave, and is becoming more than a threat. Josh is on a mission and the escalation of violence toward Cassie sends her on the run, so David takes her in. In the end, we get a whole lot of good feels. I MAY have shed a tear on this one…
Kinky Missions:
Looking for some BDSM? CIVILIAN MASTER by Cassandra Carr and THE HOUSEBOY: INITIATION by Amelia C Gormley will not disappoint.
CIVILIAN MASTER: Army Ranger Clay Benson is headed home after a failed mission. He's on six weeks of forced vacay, and has it in mind to try out some of this BDSM stuff he's heard so much about. Perhaps some punishment will clear the horrors from his mind. He's also anxious to reconnect to the one person he regrets leaving behind: his BFF Flynn. How could he have suspected the "supposedly straight" Flynn would be the biggest Dom in a local D/s club? Or, that Flynn was gay? It's a steamy, albeit short, training for Clay—but one he doesn't forget. Especially when Flynn is so willing to keep Clay in his life…forever.
THE HOUSEBOY: INITIATION: Okay—THIS story is NOT for the BDSM squeamish! Bryce is eighteen and kicked out of his home for being gay. He's rescued by a sympathetic man who puts Bryce into the path of veteran Fowler Vale. Vale is willing to keep Bryce, and pay for his college education, for…nothing. Well, not nothing. Bryce has to run Vale's errands and cook meals, keep the house tidy, etc. No sex, however, is part of this arrangement. It drives the virginal Bryce a bit mad, actually. He kinda likes the idea of a Daddy. And, his fantasies, well, is XXXXX a thing, or do they stop at three X's? 'Cause I think Bryce added an extra X when he learned Vale was a Leatherman. And, I KNOW they added another X when Vale made all Bryce's fantasies come true. Holy smokes.
Reconnection stories:
HOMETOWN HERO by Sasha Devlin brings local war hero, Colin Shellford, to his longtime crush, Jeremiah "JJ" Josten, in the quiet Nashville suburbs. Colin has never shared his sexuality with his family or fellow soldiers. Before he enlisted, he knew his sister's gay friend, JJ, had a crush on him. JJ is a stalwart community member; always looking to help out veterans and homeless animals. He even wrote letters—weekly—to Colin while he was away from home, catching him up on all the goings-on of their community. Colin savored each and every one of those letters, plus the gossipy updates on JJ from his sister. Now retiring from active duty Colin's prepared to claim JJ as a partner. Much to JJ's complete surprise. It's a funny, touching story.
HIS GUARDED HEART by Lia Davis. Agent Judd Wolfe may no longer be in the active service, but his skills are still valuable in Homeland Security. Especially when he's tasked with guarding his former JAG attorney, Senator Beau Beckett, from an assassination attempt. Beau is bisexual, but hasn't been with a man since long before his wife died and he assumed care for their infant daughter. The swaggering Judd catches his eye, just as he had years before, and now they are both single. But not for long…
This bundle is available for $.99 for release week. I highly recommend it. Go on and pick it up here: Amazon US, Amazon UK, ARe, iTunes, B&N, and Kobo.
And, you can join tomorrow's FACEBOOK PARTY for giveaways, galore.