Hi there! Welcome one and all to the Cephalopod Coffeehouse, a cozy gathering of book lovers, meeting to discuss their thoughts regarding the tomes they enjoyed most over the previous month. Pull up a chair, order your cappuccino and join in the fun.
As part of the Coffeehouse I'm sharing the best book I read this month. In truth, the best book I read was part of a blog tour–CARRY THE OCEAN–and I had agreed to post that review on Monday. It's about two young adults (they are 18 and 19 y/o boys) with depression and autism, respectively, who find love with each other. Frankly, it's hands-down fantastic. Please check out that review–the book is a life-changer.
For my Coffehous post, however, I'd like to share my review of an irreverent contemporary teen romance, KISSING TED CALLAHAN (AND OTHER GUYS) released earlier this month from Amy Spalding. I highly recommend it to people who enjoy teen romance and rock band swooniness.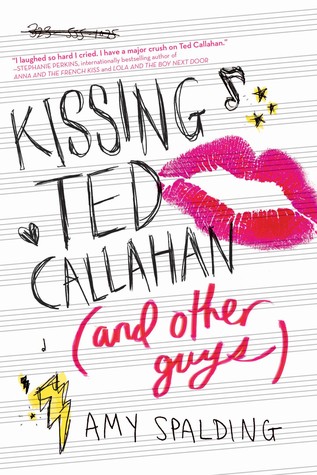 My Review:
I really enjoyed this teen coming-of-age read.
Riley and Reid, both juniors at the same private high school in So Cal, decide to find willing kissing (or more!) partners upon learning that their fellow band mates Nathan and Lucy are "together." Riley–who had been BFFs with Lucy–was really hurt that Lucy kept her messing around with Nathan a secret, and she leans on Reid a lot allowing a small distance between her and Lucy to grow canyon-sized.
Still, Riley and Reid are committed to the plan of finding the perfect boy/girlfriend, and they keep track of their romantic plans and forays in a notebook which they continually update. Riley is set on Ted Callahan a slightly awkward boy in their class who she's secretly crushed on for a long time. Reid is interested in a girl who works in the local SPCA. They each try to make first (and second) contacts with their crushes, sometimes with good results. It's a very interesting and self-deprecating read. The story is mostly told from Riley's POV, but Reid's journal entries are some excellent segues.
Along the path to finding the right guy/girl, there are mishaps. Riley finds her chem partner to be interested in more than their classroom experiments, and a fellow record store rat makes a lot of the right moves. Soon there are three guys who don't mind kissing Riley, and she's not sure if this is okay, but she's rolling with it. Reid's naked attempt to engage his dream girl (by feigning interest in a pet adoption) leads to troubles of the four-legged variety.
I think Riley was a very interesting character. The story is shamelessly honest–about fake ID's, sneaking out, and finding the absolute right place for carnal activities. It felt very real and approachable in a way that teens will likely appreciate. Riley's enthusiasm for life, her band and her boyfriend quest is engaging and fun. She doesn't take herself too seriously, and she's wiling to admit to her mistakes in love–especially when the journal is suddenly…missing. I thought the end was a bit sappy, but not too much. I was in the right mood for a feel-good read and this one hit the high notes very well. I received a copy of this book via NetGalley.
Interested? You can find KISSING TED CALLAHAN (AND OTHER GUYS) on Goodreads, B&N, Amazon, or IndieBound.
Please take a trip to visit my fellow Coffehouse presenters. Their book reviews rock! And, as always, keep reading my friends!