Hi there! Today I'm sharing a review for JA Huss's dark romantic suspense novel, THREE TWO ONE. I've liked Huss's work in the past, and I know I'm going to get a story that bends romance out beyond the norm. Always filled with broken people who spackle their hearts back together and triumph over some fearsome histories, Huss is who I read when I want something truly different.
(Bonus, there's also a good bit of sex–not that it's all sexy…)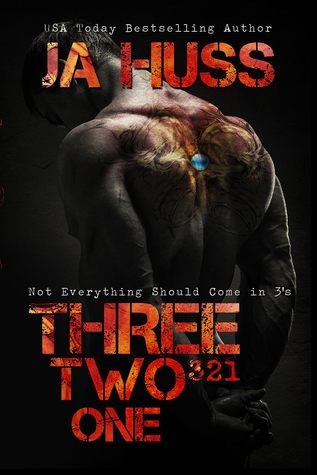 About the book:
ONE GIRL
Battered, barefoot, and huddled under a bookstore awning in the pouring rain, Blue only knows one thing. After fifteen months of captivity, finally… she is free.
TWO FRIENDS
Self-made millionaires JD and Ark are not out to save anyone when they stumble upon a wet and shivering girl one early Sunday morning. But when you sell sex for a living and salvation rings your bell… you answer the call.
THREE SOULMATES
After years of searching, love lifts the veil of darkness, and three people—with three very big secrets—find themselves bound together in a relationship that defies the odds.
Or does it?
Love. Lust. Sex.
This trinity might be perfection… but not everything should come in 3's.
WARNING: This is a STANDALONE non-traditional M/F/M ROMANCE with a non-traditional ending.
My Review:
This is a sexually-explicit dark romance which features a M/F/M menage and some brief M/M elements.
Ark and JD are two men who collect public sex acts on tape for porn websites. They have been business partners for four years, having met the first night Ark stepped off a bus in Denver and rescued JD from a 4-on-1 beat down. JD is the star of the public sex tapes, and they recruit only legal, disease free women to perform. Ark is a master videographer and runs all the logistics of their operation. They have made millions of dollars in porn over the past four years, but it hasn't been easy. JD has a dark past which includes a (recovered) drug addiction, a dead girlfriend and a missing daughter. They are weeks away from the culmination of their plan to open their own porn website when they meet a half-naked, shivering woman sitting in the rain on an early October morning.
Unable to score their required quota of public sex tapes for the week, JD attempts to cajole the woman into starring in their movie–she clearly needs cash–and she accepts. But, it's raining and she's freezing and looks strung out. They end up taking her to their penthouse around the corner, and that's when Ark knows his life is about to change.
The woman, who they call Blue on account of her blue eyes, has been through extreme trauma–her body bears the welts and scars of beating–tell-tale scars of BDSM/rough trade sex play. When she becomes cognizant she confesses running away from a cult which had kept her as a captive sex slave for the past 15 months. Blue had been attempting to help her childhood friend escape from an baby-selling ring but got sucked into it, instead. She is broken and unwilling to attempt to return to her past life, afraid to embarrass her high-profile parents. Ark agrees to give her sanctuary in the condo he and JD share, but the attraction between them is magnetic. JD has no compunction about his interest, but Blue wants more than JD, she wants Ark, too, and Ark's not down for a menage. At first. Ark is more than interested in Blue, but he's not a "sharer" and he's seen JD in action with women–he's rough which is not Ark's style even if it plays well in porn. Blue's extreme agorophobia is unsettling, and the brand on her neck sends JD into a dark headspace–his girlfriend was branded just the same way, and their baby stolen, sold to adoptive parents. The questions about Blue's history begin to be revealed, and mutual connections in the porn industry start answering JD's long-desired inquests regarding the whereabouts of his daughter.
As the time winds, Blue and JD are able to entice Ark into committing to a menage. Ark is, himself, always slightly removed from the emotional aspect, and he fears that JD will hurt Blue–he's seen it before. JD enjoys very rough sex, and Blue's emotionally frail. But the shoe really drops when Ark arrives home to find some very abusive kink happening in his absence.
The mystery of JD's guilty past, Blue's quest for justice and Ark's absent history all resolve in the final 10% of the book. It's a carefully revealed mystery, with plenty of misdirection. There is a lot of sex, but little of it felt erotic. I think this was because scenes told from Ark's POV were lacking emotionally, which was in line with his character. He was obsessive and controlling and holding too many secrets (of his own and JD's) to allow for a full connection between himself, JD and Blue for a very long time. That isn't a criticism. I enjoyed the way the characters interacted, and how the subtle foreshadowing built up to a seriously good payoff. This is a book that keeps the reader guessing, and waiting, and knowing that something REALLY REALLY bad is coming and hoping that it will all just work out.
Spoiler: it doesn't. Not exactly.
There is a positive resolution where the baddies are brought to justice, and the guilty are punished, but it's not a sunny, hearts and flowers ending. The intrigue and twistedness of the characters is fascinating, however. And though the end isn't sunshine and rainbows, it's honest and real and good. I'd highly recommend.
Interested? You can find THREE TWO ONE on Goodreads, Amazon and Barnes & Noble.
About the author:
JA Huss is the author of the Amazon bestselling Rook and Ronin series, the epic science fiction I Am Just Junco series, and hundreds of kid-friendly science books in subjects such as biology, physics, anatomy and physiology, astronomy, and forensics. She has an undergraduate degree in equine science and a master's degree in forensic toxicology. She has never taken a creative writing class and she hopes she never will.
You can connect with JA (Julie) on Goodreads, Facebook, twitter, her website, her blog or via her newsletter.
Thanks for popping in, and keep reading my friends!