Hi there! Today I'm so excited to share a review and giveaway for a new M/M romance from Eli Easton. FAMILY CAMP is a contemporary romance that features a closeted pro baseball player and a single gay man raising two foster kids. These guys turn out to be soulmates, and their growing love is sweet and sexy to witness. I have loved all the Eli Easton books I've read, including MERRY CHRISTMAS MR. MIGGLES, her HOWL AT MOON books, SECOND HARVEST, FIVE DARES and ROBBY RIVERTON: MAIL ORDER BRIDE.
Scroll down to catch my review and enter the $25 GC giveaway!
About the book:
When Geo signs up for Family Camp, he envisions nature hikes, s'mores, and a chance to win over his recalcitrant new foster kids, Jayden and Lucy. He's tried to become a dad for so long, and he hopes the three of them can be the family he's always wanted. What he doesn't anticipate is the prickly and gorgeous camp counselor who constantly comes to his rescue.
Travis spends a week every year at Camp Evermore, the camp his adoptive parents own. As a pro baseball player, his presence guarantees a full campground and excited campers. He has one rule: never, ever mess around with anyone at camp. His profession demands he stay in the closet. But one sweet and funny new dad is about to test all his resolve.
Sparks fly for Geo and Travis, and not because of the nightly campfire. Having been a foster kid himself, Travis is drawn to Geo's sincerity and big heart and to his kids. The four of them just fit. But will this be a summer romance? Or can they find a way to be a family long after Family Camp is over?
How about a little taste?
Sixth inning. Geo was ready for the game to be over. It was fucking hot on the ball field, all open and exposed, the sun baking down. And he was also not sure how much more Travis-watching he could take—him with his silky burgundy gym shorts and a sweaty Camp Evermore green shirt stretched over those muscles. His long legs were tanned and well-defined from hours at the gym.

Those thighs could fucking crack walnuts. Dude.

Damn, but that was one fine-looking man. Geo knew he should lay off, though. Travis had made himself clear.

Only he hadn't. At all. One minute, Travis seemed into him him. He sought out Geo's company, like the way he kept coming by the cabin at night. And the next minute, he'd put distance between them, ignoring Geo or closing himself off behind a granite-like expression and those eye-hiding shades. And Travis had laid a clear line in the sand. Not at camp. Not gonna happen.

Yup. That was fine. Sure, Geo hadn't been mutually attracted to a guy that hot in ages. Or ever, really. But Geo hadn't come to camp to fool around. He had other priorities.

It did make him wonder though. Bridget had said Travis wasn't out. A quick Google search last night had confirmed that. In fact, Geo had been shocked to discover there'd never been an out baseball player in the major leagues. Like, in the history of American baseball. Which was tragic. No wonder Travis was in the closet. It had to suck monkey balls living like that. Especially with all the women who threw themselves at him constantly. There were a dozen women on the sidelines right now that looked ready to have his babies. That had to be weird for a gay guy. Didn't it?

Geo himself was always super uncomfortable when women came on to him. He felt compelled to blurt out "I'm gay!" in the first five minutes. It was just too weird otherwise.

Then again, Travis's love life was none of Geo's business. Maybe the guy was bisexual. Maybe he liked dating women just fine.

Jayden came up to bat. Geo focused on his son, clapping hard. "Come on, Jayden! You've got this!"

Jayden took a wide stance beside the plate, both hands gripping the bat, choked up a little. Travis had spent a few minutes with Jayden at the start of the game, showing him how to stand, and Jayden copied him exactly. The kid was a great mimic. He'd been nervous at first, tense and defensive. But by now he just looked focused. He stared, narrow-eyed, at Frank as Frank pitched an easy ball.

Geo loved that about this game, that everyone tried to give the kids easy wins, and no one took the competition seriously.

Jayden hit the ball hard. It flew through the air a short ways then plonked to the ground and skipped along fast. It was heading right down the center line, though a bit more towards third base and Travis's side of the field.

"Go Jayden! Go!" Geo shouted. He went after the ball. In his peripheral vision, he saw Jayden round first base and keep running.

Travis was going after the ball too, dodging low. He scooped it up. He was going to throw it to third base, keep Jayden back on second. Geo couldn't let that happen.

He dove in front of Travis, crowding him, holding an arm out to block Travis from throwing the ball.

Travis snorted, bemused. "What are you doing? You're on my team." He backed up, trying to get away from Geo.

"Blood before bros, man," Geo said with fake seriousness. He kept up with Travis, step for step, grabbing Travis's right arm in a firm grip so he couldn't raise the ball.

"Stop it!" Travis laughed. "Dork. That's not legal.

"Don't care."

They took three steps back, like they were dancing. Geo held Travis's right arm, staring him down. Travis met his gaze, a goofy smile on his lips. Back and back they stumbled. Suddenly, Travis got a sparkle in his eyes. He wrapped his left arm around Geo's waist and picked him up, swinging him around so he ended up behind Travis.

Geo was still finding his feet as Travis drew back his arm and sent the ball sailing.

Right to home plate. But Jayden got there first. Umpire Cindy made the motion with her hands, safe.

Geo laughed and raised his arms in triumph. "Yeah, baby! Great job, Jayden! Home run, whoo!"

Then he realized everyone was staring at them. On the sidelines, there were a dozen cameras raised, filming.

Oh. Er. Hmm. Geo wiped his face, feeling sheepish.

That's when a piercing scream rent the air.
My Review:
Geo is determined to be a good father–with or without a partner. He's out, and he has a good job as a middle-school history teacher. After years of applications, interviews and preparation, he's finally building a family, with Jayden, a pre-teen boy, and Lucy, a 5 year old girl. Both of these kids have emotional scars and Geo is trying his hardest to get them to open up. He's had foster custody for about 6 weeks, but his plan is to adopt them, if he can wrangle the legal hoops.
Travis is a pro baseball pitcher who knows his years in the big leagues are coming to an end. He's gay, but closeted, even to his family. Travis was adopted as a teenager, and has a complex about losing the love of his large adoptive family if he comes out–plus there are no openly gay players in the pros, so he doens't want to be a standard bearer. He works the family camp week at his family's camp–as it falls during the all-star break and he likes to lend a hand.
Travis and Geo meet en route to the campsite, when Travis rescues Geo who's car had run out of gas. He gets that Geo's a new foster dad, and he's irrationally angry with his misapprehension of the situation. Still, while Travis might think Geo's just his type, believing that he's not in parenthood for the long haul tweaks all Travis' childhood apprehensions. Travis goes out of his way to be cool to Jayden and Lucy, but give Geo the coldest of shoulders.
On the campground, however, they strike up a tentative truce, which crackles with mutual attraction. Travis' older sister notices and she confronts him–setting this man "straight" on some home truths he'd long forgotten. I really loved the women in this story who each have texture and personality, beyond the "confidante" sketch. Jayden, who is often belligerent, warms to kids at the camp, and listens to Travis' counsel about how much Geo cares about him. Having a role model who understands the foster system allows Jayden to build a strong relationship with not only Geo (who is over the moon!) but also kids his own age, and Travis. Little Lucy, who is emotionally delayed, makes big strides toward connecting with Geo and others–thanks to Travis' sweet dog. THe kids, like the female characters, are well written and feel like whole people–who've survived trauma and are afraid to be hurt yet again. Travis and Geo both connect well with these two, and their entire dynamic during the week appears more than friendly–which makes space for the night time interludes Geo and Travis are soon angling to pursue.
Naturally, there's conflict due to Travis' career and fear of coming out. Geo doesn't know how to manage it–and they live about 250 miles apart–but when the major situation gets resolved it leaves the MCs searching for a deeper connection, and a family of their own. It's sweet, with a slow burn. I liked it bunches and highly recommend.
Interested? You can find FAMILY CAMP on Goodreads and Amazon.
****GIVEAWAY****
Click on this Rafflecopter Giveaway link for your chance to win a $25 GC.
Good luck, and keep reading my friends!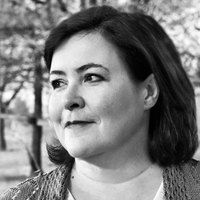 About the Author:
Having been, at various times and under different names, a minister's daughter, a computer programmer, a game designer, the author of paranormal mysteries, a fan fiction writer, and organic farmer, Eli has been a m/m romance author since 2013. She has over 30 books published.
Eli has loved romance since her teens and she particular admires writers who can combine literary merit, genuine humor, melting hotness, and eye-dabbing sweetness into one story. She promises to strive to achieve most of that most of the time. She currently lives on a farm in Pennsylvania with her husband, bulldogs, cows, a cat, and lots of groundhogs.
In romance, Eli is best known for her Christmas stories because she's a total Christmas sap. These include "Blame it on the Mistletoe", "Unwrapping Hank" and "Merry Christmas, Mr. Miggles". Her "Howl at the Moon" series of paranormal romances featuring the town of Mad Creek and its dog shifters has been popular with readers. And her series of Amish-themed romances, Men of Lancaster County, has won genre awards.
Catch up with Eli on her website, Facebook, and twitter.