Hi there! Today I'm celebrating the release of a sweet and tender contemporary M/M Christmas romance from Eli Easton. I've been charmed by her books filled with small-town love for a while and wholly recommend FALLING DOWN and A SECOND HARVEST. MERRY CHRISTMAS MR. MIGGLES is a different kind of romance, where a young librarian comes to realize his slightly older boss is actually a kick-ass hero ninja librarian, in the figurative sense.
Catch my review below and be sure to enter the $25 or book giveaway, too!
About the book:
Toby Kincaid loves being the junior librarian in his hometown of Sandy Lake, Ohio. He spends his days surrounded by books and chatting with the library patrons. He especially adores the head librarian, Mr. Miggles, who is kind, witty, knowlegable about everything, and hopelessly addicted to Christmas. Sean Miggles is also pretty cute—especially for an older guy who wears ties and suit pants every day.
But Sean keeps himself at a distance, and there's a sadness about him that Toby can't figure out. When Sean is accused of a crime he didn't commit, he gives up without a fight. Toby realizes that he alone can save the library—and their head librarian.
Toby will need to uncover the darkness in Sean's past and prove to him that he deserves a second chance at life and at love too. And while Christmas miracles are being handed out, maybe Toby will get his own dearest wish—to love and be loved by Mr. Miggles.
My Review:
I really enjoyed this quiet, M/M Christmas romance.
Toby is the junior librarian in his home town of Sandy Lake, Ohio. He's also one of two employees of this small-town library. His boss, Mr. Miggles, is the other.
He was the buttoned-up, tie wearing, head librarian and my boss. He acted older than he actually was. He was probably in his thirties but he dressed up everyday in a suit and tie…He was always serious, often sad, and he had an ageless, professorial thing going on. I thought of him as the Socratic ninja of the Sandy Lake Library. He moved around stealthily, getting invisible shit done. And when he did speak, he sounded like he was reading from one of the high-brow books he loved.
It was kind of awesome.
My role, on the other hand, was to be the smart, hip, and mildly jaded young employee. I played it to perfection, if I do say so myself.
Mr. Miggles is an enigma to Toby. And that's cool. I mean, Toby has a hot boyfriend, Justin, who, you know, borrows money without paying it back, and never pays his share, and hardly goes out to do anything with Toby that could possibly be a "date" but. Yeah.
We learn early that Christmas is fast approaching, and Mr. Miggles is a man who loves Christmas, despite having no discernible family or friends. Still, he relishes dressing up the library with decorations, and putting out the Christmas Surprise Box, a prize that–Toby notices–gets lots of raffle entries, despite the modest $50 contents.
Right about this time little Tanya Lemmens begins getting dumped at the library. She's maybe five years old, and her single mother, Anita, may actually be looking for a job, but it's still irresponsible of her to simply drop the child off and run. Mr. Miggles makes it his mission to entertain withdrawn and likely malnourished Tanya. Despite Toby's requests to call Child Protective Services, Mr. Miggles acts as a surrogate parent for days–until he spots the bruises.
What seems to be an open-and-shut case of neglect and abuse gets turned around, with Mr. Miggles under investigation. Why would a single man take charge of such a young girl? Was he ever alone with her? Some of his tragic past gets twisted and leaked to the local paper to paint this compassionate, conscientious man as possibly predatory.
Toby's beside himself. In his role as sole librarian, while Mr. Miggles is held for questioning and later released but banned from work, Toby learns all about Mr. Miggles' side work for the library. How there are several down-on-their luck regular library patrons who "win" the single Surprise box every year. How that crafty, ninja librarian, Mr. Miggles, also got special books for his patrons, including expensive large-types for the elderly, and over-budget cancer books for the newly-diagnosed, and made weekly visits on his off-time to shut-in nursing home patients as part of yet-another unfunded "outreach program" that only he knows about. Toby fairly swoons learning he'd invested his salary over and over again, to the benefit of the Sandy Lake community. The more Toby learns, the more he knows he has to do something to save Mr. Miggles' job. Because Sandy Lake won't be the same without him. (Oh, and because Toby's half madly in love with his erudite, tweedy boss…)
This is a book about small-town politics and small-town compassion, which are, unfortunately, at odds. Mr. Miggles is a good man caught in a crossfire of prejudice and politics. It's also unfortunate that Mr. Miggles has been so private; because he's kept so many secrets it's hard to mount a defense, at first. Still, he has many fans in the community, and Toby's determination knows no boundaries. All this esteem tips over into the attraction category–long before Toby even knows Mr. Miggles is a gay man, mourning a tragedy he left behind in LA.
The way this community circles it's wagons for Mr. Miggles is really something special. Toby won't let Mr. Miggles give up without a fight, and his reaction to Toby's offensive is nothing less than tear-worthy. The book is a different type of romance. There's no dating, or wooing. There is simply Toby helping his dear boss, and developing an attraction he'd not expected to have reciprocated–but it was. Expect just a bit of sexytimes mostly near the end, and whoo-boy! To be a fly on the wall of the Mysteries section of the library that evening!! O.O
I loved the way all of this turned out, a quiet, feel-good read that will satisfy.
Interested? You can find MERRY CHRISTMAS MR. MIGGLES on Goodreads, Amazon (US or UK) and AllRomance.
****GIVEAWAY****
Click on this Rafflecopter giveaway link for your chance to win a $25 Amazon GC or a copy of UNWRAPPING HANK.
Good luck and keep reading my friends!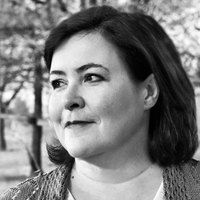 About the Author:
Having been, at various times and under different names, a minister's daughter, a computer programmer, the author of paranormal mysteries, a game designer, an organic farmer, an avid hiker, and a profound sleeper, Eli is happily embarking on yet another incarnation as a m/m romance author.
As an addicted reader of such, she is tinkled pink when an author manages to combine literary merit, vast stores of humor, melting hotness and eye-dabbing sweetness into one story. She promises to strive to achieve most of that most of the time. She currently lives on a farm in Pennsylvania with her husband, three bulldogs, three cows and six chickens. All of them (except for the husband) are female, hence explaining the naked men that have taken up residence in her latest fiction writing.
Eli currently publishes with Dreamspinner Press and has a few self-pubbed titles as well. She also publishes thrillers under the pen name: Jane Jensen.