Hi there! Today I'm so excited to share a review for a new Christmas M/M romance from Eli Easton. I totally loved MERRY CHRISTMAS MR. MIGGLES last year, and I dove right into DESPERATELY SEEKING SANTA, a sweet New Adult romance between an investigative journalism student and the not-so-out heavyweight wrestler at his university.
Also, don't miss the MERRY CHRISTMAS MR. MIGGLES book giveaway below!

About the book: Journalism student Gabe Martin gets his first professional assignment—to write about a Christmas charity dinner that benefits a children's home. It sounds like a total snooze-fest until Gabe learns that the event's Santa is a mystery man. He shows up in costume and no one has a clue who he is. Uncovering Santa's identity sounds like the perfect angle to turn a fluff piece into serious journalism.
Mack "The Mountain" McDonall, at 6'10", is University of Wisconsin-Madison's enormous star wrestler. When Gabe first claps eyes on him at a wrestling match, it's lust at first sight. Gabe's friend, Jordan, sets up the pair on a date. But when Gabe chatters on about his plans for outing Santa, Mack goes cold, and their first meeting becomes an epic fail.
As Gabe researches the children's home, he learns that Mack has secrets a guy famous for being a brute wouldn't want the world to know. Can Gabe find his holiday spirit, write a killer article, win the heart of a surly giant, and give everyone a very merry Christmas?
My Review:
Gabe Martin is a journalism student at Univ of Wisconsin-Madison and working on his senior project: an investigative piece. He's also an intern for the local paper where he writes weather and stock updates. Boring! His first actual article is a story on the Elks Club Christmas dinner, which is a fundraiser for a small orphanage in town. Gabe digs in with his usual zest, praying he can find some shady side of this so-called "feel good" piece that can become part of his project. He thinks he might have an angle when he learns that the identity of the beloved Santa who brings gifts to the orphans is a mystery.
In the meantime, Gabe attends a wrestling meet with his best pal Jordan–who is there to sheer on his boyfriend, an openly bisexual team member. Gabe's not into wrestling, but he does dig the sexy, strong men grappling on the mat. And, he's especially intrigued by Mack McDonall, dubbed "The Mountain" because he's nearly 7 feet tall and has to manage his diet in order to stay under his 285 pound weight limit. Yes, Mack is mountain Gabe would love to scale. And, when Jordan sets Mack and Gabe up on a blind date–dinner at his apartment with his boyfriend–where they seem to hit it off. Gabe is initially upset because he didn't suspect Mack might be into guys. Still, they seem to build a rapport, and Gabe likes the way Mack looks at him…until Gabe discusses his Elks dinner article. Then, Mack gets frustrated and leaves.
Gabe continues on his journalistic endeavors, inadvertently learning that Mack was a resident of the orphanage, and that feels weird. He knows that Mack's a really private person, and it seems like an invasion of his privacy. Gabe gets that Mack wouldn't want this information getting around, yet his discomfort is too great to contain. He seeks out Mack, and tells him what he's learned. He gets a whole lot deeper story than he imagined then, and decides to interview some of the current residents. The glowing praise the kids have for their home–because that is how they feel about where they live–really shines in Gabe's article which becomes two pieces. The first one that whets the appetites of readers who are now intrigued by the mystery Santa. And, the orphanage garners tons of interest and donations. Good right? Not so much when Gabe learns that Mack's past is wrapped into the mystery Santa angle. They have been building a connection on the super down-low because Mack is afraid coming out will jeopardize his scholarship status. They have common interests and a definite attraction.
Gabe knows that revealing Mack's past in the paper will be the end of whatever it is that's growing between them. They aren't really dating, but Gabe doesn't want to lose the connection; he's been mostly adrift since his parents divorced and he came out. Mack has a small family, and he's afraid to trust Gabe, knowing that Gabe has the power to hurt him. They have a slow burning romance, that culminates on the night of the Elks dinner, when Gabe orchestrates an even bigger story than the identity of Mystery Santa. It's a compromise they can both live with, and their future, while uncertain at first, comes into close focus after that.
This is a tender book, with a sweet holiday theme. Gabe and Mack are a fun couple to watch fall in love. I enjoyed how they built a friendship, and then a romance. Mack's traditional ideas were endearing, and really showed Gabe that hard work and deep investment yields a treasured result. And, also, that sharing information that isn't essential isn't a conflict of interest; it's life. Shakespeare wrote: 'The better part of valour, is Discretion.' Even if Mack wasn't an English scholar, he truly thought Gabe a hero for keeping his secrets safe.
Interested? You can find DESPERATELY SEEKING SANTA on Goodreads, Amazon (US or UK).
****GIVEAWAY****
Click on this Rafflecopter giveaway link for your chance to win an ebook of MERRY CHRISTMAS MR. MIGGLES from Eli Easton. Wow! I loved that one.
Good luck and keep reading my friends!
And, don't forget to check out the previous books in this dog-gone fun series….
HOW TO HOWL AT THE MOON, HOW TO WALK LIKE A MAN, and HOW TO WISH UPON A STAR.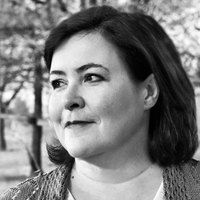 About the Author:
Eli Easton has been at various times and under different names a minister's daughter, a computer programmer, a game designer, the author of paranormal mysteries, a fan fiction writer, an organic farmer, and a long-distance walker. She began writing m/m romance in 2013 and has published 27 books since then. She hopes to write many more.
As an avid reader of such, she is tickled pink when an author manages to combine literary merit, vast stores of humor, melting hotness, and eye-dabbing sweetness into one story. She promises to strive to achieve most of that most of the time. She currently lives on a farm in Pennsylvania with her husband, two bulldogs, several cows, and a cat. All of them (except for the husband) are female, hence explaining the naked men that have taken up residence in her latest fiction writing.
Eli currently publishes with Dreamspinner Press and has a few self-pubbed titles as well. She also publishes thrillers under the pen name: Jane Jensen.