Hi there! Today I'm sharing a review for the second book in Eli Easton's contemporary M/M canine shifter series. You know I loved HOW TO HOWL AT THE MOON, and I couldn't just stop there…I immediately picked up HOW TO WALK LIKE A MAN and was immediately enchanted. It's such a loving tender read with a closeted DEA agent and the quickened army vet he falls for. *swoons*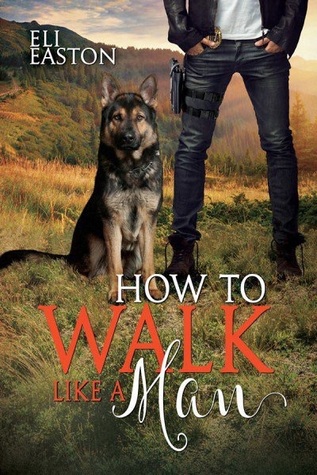 About the book:
Deputy Roman Charsguard survived Afghanistan where he lost his best friend—his K-9 handler James. Roman was a military dog until two years ago when he developed the ability to shift into a human. It's not easy to learn how to be a man. He found a place to live in Mad Creek, a haven for the secret world of dog shifters. Finding a reason to live has been harder. That is, until a certain human walks into the Mad Creek Sheriff's office and starts making trouble.
Matt Barclay has the worst luck. First he was shot in a SWAT drug raid, then he was sent as DEA investigator to Mad Creek, a little town in the California mountains. Matt's job is to keep a lookout for illegal drug farms, but nobody in the town wants him there. And then there's Roman, Matt's erstwhile baby-sitter. He's the hottest guy Matt's ever seen, even if he is a bit peculiar. If the town doesn't kill him, sexual frustration just might.
The town is counting on Roman to prevent Matt from learning about dog shifters, Matt's counting on Roman to be his work partner and tell him the truth, and Roman's trying to navigate love, sex, and a whole lot of messy human emotions. Who knew it was so complicated to walk like a man?
My Review:
This is such a fun and interesting addition to the Howl at the Moon series, as it relates the story of a quickened male navigating the complicated waters of human relationships.
Roman was a K-9 explosive sniffing dog deployed to Afghanistan and thoroughly bonded with his handler, Sgt James Pattson. They served together for two years until their convoy was attacked and Pattson killed in action. Roman was shipped back to his home kennel, and his mourning for James triggered the Spark, and Roman "quickened" from his German Shepard body into that of a human male. He escaped and hid until he found another quickened who directed him to sheltered and remote Mad Creek, California, home of a colony of quickened dog shifters. He's been learning how to act human for the past two years, but things aren't generally easy for him, still.
Roman is nervous about this new assignment for the Sheriff's office. He's a deputy there, under the tutelage of Sheriff Beaufort (Lance from How to Howl at the Moon) but now he's being tasked with watching over DEA Agent Matt Barclay. Matt has been stationed in Mad Creek as part of a network of agents keeping tabs on illegal pot farming in the California mountains.
Matt is a closeted gay man, afraid to come out and gain the disapproval of his retired colonel father. He lives with a childhood friend, Luci, in order to shield himself from questions about his sexuality, but it's causing more harm–as their pushy parents are expecting an engagement. Matt's frustrated by his growing attraction to Roman, and also by Sheriff Beaufort's constant attempts to thwart Matt's integration into Mad Creek life. It's comical how Matt is shuttled around and openly feared by the residents there, and only manages to raise his awareness of every bizarre incident he witnesses in "Mad" Creek…
Naturally, baddies do arrive, and we have a front row seat to their dastardly deeds–including murder. Roman is injured in the line of duty and adopted during his recuperation by an unknowing Matt. It's so sweet how tenderly they treat each other, and their love definitely grows quickly and strongly during their weeks and months of surveillance. Because Roman spent his early years as a dog, he has no sense of human sexuality. He's attracted to Matt, but doesn't know how to express it, and had been steadfastly warned against "dog" behaviors–like cuddling, nuzzling and getting too close–that would clue Matt in on Roman's true feelings. I was both entertained and enthralled at Roman's "puberty," and Matt's an eager partner when they finally get together.
Expect some heartbreak, however, because Matt's still unsure about coming out, and his father's a meddling meanie of a man. Also, Roman's not sure he can trust another human–he's lost both the men he ever bonded with, one of them permanently. The book is rife with emotional moments, peril and enough humor to keep the pace light and active. I found myself up way too late finishing this one!
Interested? You can find HOW TO WALK LIKE A MAN on Goodreads, Amazon, Barnes & Noble and AllRomance.
About the Author:
Having been, at various times and under different names, a minister's daughter, a computer programmer, the author of paranormal mysteries, a game designer, an organic farmer, an avid hiker, and a profound sleeper, Eli is happily embarking on yet another incarnation as a m/m romance author.
As an addicted reader of such, she is tinkled pink when an author manages to combine literary merit, vast stores of humor, melting hotness and eye-dabbing sweetness into one story. She promises to strive to achieve most of that most of the time. She currently lives on a farm in Pennsylvania with her husband, three bulldogs, three cows and six chickens. All of them (except for the husband) are female, hence explaining the naked men that have taken up residence in her latest fiction writing.
Catch up with Eli on her website, Facebook, and twitter.
Thanks for popping in, and keep reading my friends!