Hi there! Today I'm sharing a release day review for a New Adult contemporary M/M romance form Eli Easton. FALLING DOWN is a heart-wrenching tale of an aimless war vet and the homeless teen he brings back from the brink.
About the book:
Josh finds himself homeless at eighteen, but he has a plan. He'll head north on the bus to New England and spend October there for his mother's sake. She always talked about going to see the fall leaves someday. And when the leaves were done and the harsh winter came, Josh would find a place to curl up and let go. It would be a relief to finally stop fighting.
Mark spent his life trying to live up to the tough swagger of his older brothers until he pushed himself so far against his nature that he cracked. Now an ex-Marine, he rents a little cabin in the White Mountains of New Hampshire where he can lick his wounds and figure out what to do with the rest of his life. One thing was clear: Mark was nobody's hero.
Fate intervenes when Josh sets up camp under a covered bridge near Mark's cabin. Mark recognizes the dead look in the young stranger's eyes, and he feels compelled to do something about it. When Mark offers Josh a job, he never expected that he'd be the one to fall.
The snow is coming soon. Can Mark convince Josh that the two of them can build a life together before the flurries fall?
My Review:
Homeless and grieving his dead mother, eighteen year old Josh Rivers decides to use his last bit of cash to travel from Alabama to New Hampshire to experience autumn. It was an unrealized dream of his mom's, to watch the fall color erupt in all it's glory, and Josh believes finding a beautiful vista where he can release his mother's ashes, will put her to rest. Sticking around for the bitter winter snows in which to bury himself and his heartache under their peaceful white flakes sounds like a second great plan.
At 24, Mark Sullivan is the youngest of five sons, and a newly discharged Marine. Scarred by seeing friends die while on his active duty tours, he's heartsick and drifting, performing odd jobs and living in a rented cabin two hours from his close-knit family so he can keep his homosexuality private. He's sure his family will reject him, so he maintains the distance. Seeing Josh in his quiet area of New Hampshire, he recognizes that dead-eye stare, and it sparks Mark's protective side. Needing some help on a big painting job he's landed, Mark reaches out to withdrawn and skittish Josh.
As it's only early October, Josh knows he needs some time to put his plan into action. The snow isn't coming for at least a month and he's not keen on starving to death under a bridge, so he accepts Mark's offer of a safe space to sleep, a job, and food. As these guys work and live in close quarters, they develop a friendship. While Mark is definitely attracted to Josh, he won't make a move, believing Josh to be too young and vulnerable for anything more than friendship. Josh's depression had killed his libido, but his budding friendship with Mark has quelled his emotional tailspin enough to recognize his growing attraction and affection. It doesn't hurt that Mark is generous and kind; they forge a tight bond in a short time.
Still, Josh is stifled by Mark's seeming lack of interest, and when he challenges Mark's resolve both men find a deeper connection than either's had before. There's so much emotion in these pages. Josh's depression is palpable, and I was terrified regarding his end-of-life plans. It's always hard for me to read a depressed character, because I identify with them so closely. The joy of watching Josh connect to Mark, and his climb out from that mortal abyss, was worth the anguish at the outset. Further, Mark's a great guy, despite wishing to stay closeted. When it comes to maintaining his charade, and being the man Josh needs, however, Mark makes the absolute right choice. He's rewarded by understanding, and love greater than he ever dreamed.
There are some extremely tense moments, and I freely admit I started to cry in the climax. That's a good sign for me, it shows how deeply I connected with the story–which I felt was fantastic. For readers like me who are sensitive to stories with depression/suicide story lines, just know that there is a brilliant dawn waiting on the far side of the darkest night. The happy ending was realistic, and filled with joy. Highly recommend.
Interested? You can find FALLING DOWN on Goodreads and Amazon (US and UK).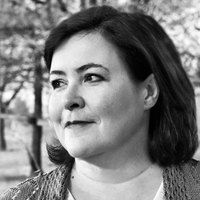 About the Author:
Having been, at various times and under different names, a minister's daughter, a computer programmer, the author of paranormal mysteries, a game designer, an organic farmer, an avid hiker, and a profound sleeper, Eli is happily embarking on yet another incarnation as a m/m romance author.
As an addicted reader of such, she is tinkled pink when an author manages to combine literary merit, vast stores of humor, melting hotness and eye-dabbing sweetness into one story. She promises to strive to achieve most of that most of the time. She currently lives on a farm in Pennsylvania with her husband, three bulldogs, three cows and six chickens. All of them (except for the husband) are female, hence explaining the naked men that have taken up residence in her latest fiction writing.
Eli currently publishes with Dreamspinner Press and has a few self-pubbed titles as well. She also publishes thrillers under the pen name: Jane Jensen.