Hi there! Today I'm excited to share a review for a contemporary M/M romance from Eli Easton. THE ENLIGHTENMENT OF DANIEL is the second book in the Sex in Seattle series but is fully enjoyable as a standalone. You will meet both Tony and Jack from THE THE TROUBLE WITH TONY, but they are only secondary characters, helping Daniel figure out his life, and his plan to woo the love of his life: his unhappily married business partner, Nick.
Scroll down to catch my review and to enter the giveaway for a $25 Amazon GC.

About the book:
Business tycoon Daniel Derenzo lives for his work until his dying father reminds him life is short. When Daniel starts to reevaluate his world he experiences a startling revelation—he's attracted to his business partner and best friend, Nick, even though Daniel always believed himself to be straight. In typical type-A fashion, Daniel dissects his newfound desires with the help of the experts at the Expanded Horizons sex clinic. He goes after Nick with the fierce determination that's won him many a business deal.
Nick Ross was in love with Daniel years ago, when they were roommates in college. But Daniel was straight and Nick patched his broken heart by marrying Marcia. Two kids and fourteen years later, they go through the motions of their marriage like ships passing in the night. But Nick's kids mean the world to him, and he's afraid he'll never get joint custody if they divorced. If he can trust his heart to an awakening Daniel, they all might find their way to a happily ever after.
My Review:
Daniel Derenzo's father is dying. Not that they have a close–or any–relationship, however his father's waxing about missed opportunities and taking time to stop working and truly live life has Daniel's analytical brain in a whirlwind. Like his own parents, Daniel married young and divorced early–no kids, but lots of heartbreak. He's been a successful businessman since college running DRE, Derenzo Ross Enterprises, with his best friend and former college roommate Nick Ross. Daniel has always been hyper-focused on success, a lesson he learned from his successful and absentee father, who seemingly regrets those calculating choices when diagnosed with stage 4 pancreatic cancer.
On a long business trip to Hong Kong to purchase a company for turnaround, Daniel and Nick are celebrating the new merger. It's at the bar that Nick confesses his wife of the past 14 years, Marcia, has iced him out; they've had a lackluster sex life for more than a decade and no sex for the past three years. Nick's ashamed to admit he lives in the guest bedroom, and the only reason he stays married is the fear that Marcia will bar a joint custody arrangement for their two children. Daniel is incensed, but not for the reason he expects–his righteous anger stems from a deep wellspring of love he feels for Nick, the kindest man he's ever known. Daniel has known since college that Nick is bisexual, but in this moment that nearly-familial love he though he felt sharpens into an unexpected arousal, and a desire to care for Nick in a more than platonic manner. It's shocking to Daniel, because he's never really thought of men that way. Before he leaves Hong Kong, Daniel books an appointment with a sex therapist back home in Seattle for the next business day; he needs to know if his attraction is real, or just a manifestation of his recent thoughts of mortality.
Daniel wants clarity, to see if his initial arousal was fluke. Meeting with Dr. Jack Halloran, and a sex surrogate Michael, helps Daniel recognize that he's definitely bisexual, and totally gone for Nick. Now, Daniel's challenge is to see if he can get some time with Nick, that has nothing to do with their business–and includes his kids for some quality time, too. It's not that hard, as Marcia has built a lot of "self care" time into her lifestyle, with long yoga classes, spa days and retreats. Daniel's also making time to spend with his dad, renting a house on Bainbridge Island so his dad can have home hospice in a relaxing spot as his life ebbs away. Nick and his kids are part of this getaway, while Marcia is out of town, for a change.
Nick's not sure why Daniel's interested in spending so much time with him and his kids, but he's grateful for the connection. Though they are long-time friends Nick had harbored an attraction way back when–and it's coming back to the surface right now. It's seeing how amazing Daniel is with the kids–talking baseball stats with his son and getting to the heart of his teen daughter's insecurities–body issues that have been foisted on her by Marcia and her nitpicky mother. Nick had seen the changes in his daughter, but hadn't really grasped the impact until Daniel forced him to slow down and spend the time reconnecting with his kids. His unhappiness in the marriage had inadvertently driven a wedge between himself and his kids, who he loves dearly.
On Bainbridge, the chemistry between Daniel and Nick becomes unbearable–and Daniel vows to help Nick escape his loveless marriage with a minimum of damage to the kids. If Nick wants to be free, that is. And Nick knows he can't continue to live the shadow life Marcia has decreed, including resigning from DRE effective immediately. Once Daniel learns that Nick is ready to make a clean break, Daniel's mission is to make the divorce as bloodless as possible. In this, Daniel is aided by his father–who has tons of contacts–and PI Tony DeMarco, Dr. Halloran's life partner. Tony finds secrets even Marcia doesn't know, but will help ensure she accepts the very generous terms Nick is planned to offer.
I really liked this one, even when I wasn't sure I would. I'm not big on "cheating" plotlines, so the prospect of Daniel interfering in Nick's marriage was not ideal, however, I thought it was handled really well. It's clear from insight we get in Marcia's POV that she's supremely unhappy, and being goaded to stay married by her aggressively mean mother. The revelations she gains as a result of Tony's investigations pave the way toward ultimate happiness for all parties, and that was a nice twist. I really enjoyed the kids, who are just the right amount of present and actively interested in Nick's happiness. They take to Daniel fine, thanks to his consummate attention to detail. It was amusing how sections of this book were written like a business plan, complete with Daniel's hostile takeover of Nick's family. Daniel's dad assisted his enlightenment, and supported his pursuit of happiness–even knowing he'd never see the full resolution. I liked his dad, who was pragmatic to a fault, and gave advice with hubris and panache. While we get glimpses of Jack and Tony from the first series book, and Michael, from the third one, this story stood on its own.
Interested? You can find THE ENLIGHTENMENT OF DANIEL on Goodreads and Amazon.
You can also find book 1, THE TROUBLE WITH TONY, on Goodreads and Amazon.
Or, check out THE MATING OF MICHAEL on Goodreads or Amazon.
****GIVEAWAY****
Click on this Rafflecopter link and enter for a chance to win a $25 Amazon GC.
Good luck and keep reading my friends!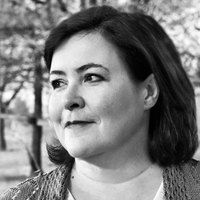 About the Author:
Having been, at various times and under different names, a minister's daughter, a computer programmer, a game designer, the author of paranormal mysteries, a fan fiction writer, and organic farmer, Eli has been a m/m romance author since 2013. She has over 30 books published.
Eli has loved romance since her teens and she particular admires writers who can combine literary merit, genuine humor, melting hotness, and eye-dabbing sweetness into one story. She promises to strive to achieve most of that most of the time. She currently lives on a farm in Pennsylvania with her husband, bulldogs, cows, a cat, and lots of groundhogs.
In romance, Eli is best known for her Christmas stories because she's a total Christmas sap. These include "Blame it on the Mistletoe", "Unwrapping Hank" and "Merry Christmas, Mr. Miggles". Her "Howl at the Moon" series of paranormal romances featuring the town of Mad Creek and its dog shifters has been popular with readers. And her series of Amish-themed romances, Men of Lancaster County, has won genre awards.
Catch up with Eli on her website, Facebook, and twitter.