Hi there! Today I'm sharing a review for a contemporary M/M romance from Eli Easton. THE MATING OF MICHAEL is the third book in the Sex in Seattle series and is fully enjoyable as a standalone. You will meet Jack from THE TROUBLE WITH TONY as he's Michael's boss at the Expanded Horizons sexual health clinic. Michael played a small role in the THE ENLIGHTENMENT OF DANIEL but this book really explores Michael's role as a sex surrogate, and how his giant heart an fierce empathy help him win the love of his fave sci-fi author.
Scroll down to catch my review and enter to win a $25 Amazon GC.

About the book:
Everyone admires Michael Lamont for being a nurse, but his part-time work as a gay sex surrogate not only raises eyebrows, it's cost him relationships. Michael is small, beautiful, and dedicated to working with people who need him. But what he really wants is a love of his own. He spends most of his time reading science fiction, especially books written by his favorite author and long-time crush, the mysteriously reclusive J.C. Guise.
James Gallway's life is slowly but inexorably sliding downhill. He wrote a best-selling science fiction novel at the tender age of eighteen, while bedridden with complications of polio. But by twenty-eight, he's lost his inspiration and his will to live. His sales from his J.C. Guise books have been in decline for years. Wheelchair bound, James has isolated himself, convinced he is unlovable. When he is forced to do a book signing and meets Michael Lamont, he can't believe a guy who looks like Michael could be interested in a man like him.
Michael and James are made for each other. But they must let go of stubbornness to see that life finds a way and love has no limitations.
My Review:
Lithe and femme Michael Lamont is a nurse and certified gay sex surrogate. He connects with his home health care patients and assists male clients explore their sexuality through referrals from the Expanded Horizons clinic. He's been doing this for a few years, and has some regular clients–one, Tommy, is a severe burn victim that enjoys Michael's company just as much as the sensual massage and "happy ending." It's through Tommy's mother that Michael learns his fave author, J. C. Guise a noted recluse, is having a public book signing in a local book shop. Michael has held a tendresse for the man whose fiction spoke to him so strongly that he took up a career in nursing.
James Gallway is a polio survivor and author, learning that being a successful mid-list author means he needs to get into the public eye. Wheelchair-bound and filled to the ears with self-hatred, James never wants people to see or notice him. Really, if your own mother abandoned him to the Children of God group home for disabled children at age 6, you'd likely feel unlovable, too. The gushing, stammering, beautiful young man at his book signing is a case in point. That sexy Michael would never admire him for real, not if he could see James' withered, wasted legs.
Embarrassed at the spectacle he made of himself at the signing, Michael is stunned when James' agent tips him off about where to find James…casually. And that interaction goes stunningly awry when James chooses to paint Michael's interest as clinical, not sexual. And, that leads Michael to be more forcefully forward than he's ever been before. Unwilling to entertain ideas of romance, James accepts Michael as a friend–tentatively–and is not sorry for doing so. Michael's compassion and thoughtfulness over the weeks and months of their acquaintance melts James' stubborn resistance to opening up, and each man is clearly pining for the other.
Unfortunately, Michael's "secret" job as a sex surrogate is looming in the background, and it becomes a guilty issue once he and James become intimate. Should Michael stop his caring and clinical therapy, just because it occasionally involves some sexual favors? He's super conflicted, and unsure if James will even keep him around long enough for it to be a situation. Would it be fair to stop assisting the couple of men he's developed a rapport with in the event James wants a permanent relationship? Michael knows he's falling in love with James, but he's not sure his feelings are reciprocated. IN fact, James actively shuts down romance whenever it could sprout because of his insecurities.
As one expects, James' reaction when he finds out about the surrogacy is cataclysmic. And, the fall out is nothing short of nuclear winter. Michael is devastated. The thing is, Michael's friends, colleagues, and clients aren't going to stand by and allow James to roll off into the sunset without knowing the true facts of his caregiving. As one might, James suspected the worst–a two-timing partner–but the picture in his mind doesn't match the insight he gains from some unwelcome visitors taking up Michael's cause. Michael, for his part, is broken in spirit but never imposes himself on James. Surprisingly, the trauma of their failed romance is the inspiration James needs to write a new best-seller. And, his open mind/open heart actions have Michael returning for, well, ever.
It's a sweet story of finding the right person at the right time. The compassionate depictions of persons at various ability-levels, persons of advanced age, and those with emotional or sexual hangups, really allowed readers to focus on the hard work Michael does to ensure his charges are well cared for. It was so sweet to see the bonds Michael had grown with all the people he worked with on the day-to-day, and how they stood up for him, giving James both latitude and attitude for hurting Michael. I really enjoyed this one, for all its tender and touching moments. James leaves this story much improved from the beginning, with a bevy of friends and new family to bolster his life, and a boyfriend that loves him out past the moon and stars.
Interested? You can find THE MATING OF MICHAEL on Goodreads or Amazon.
You can also find book 1, THE TROUBLE WITH TONY, on Goodreads and Amazon.
Or, check out book 2, THE ENLIGHTENMENT OF DANIEL, on Goodreads and Amazon.
****GIVEAWAY****
Click on this Rafflecopter link and enter for a chance to win a $25 Amazon GC.
Good luck and keep reading my friends!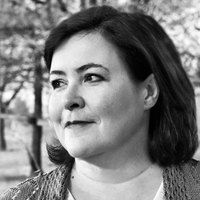 About the Author:
Having been, at various times and under different names, a minister's daughter, a computer programmer, a game designer, the author of paranormal mysteries, a fan fiction writer, and organic farmer, Eli has been a m/m romance author since 2013. She has over 30 books published.
Eli has loved romance since her teens and she particular admires writers who can combine literary merit, genuine humor, melting hotness, and eye-dabbing sweetness into one story. She promises to strive to achieve most of that most of the time. She currently lives on a farm in Pennsylvania with her husband, bulldogs, cows, a cat, and lots of groundhogs.
In romance, Eli is best known for her Christmas stories because she's a total Christmas sap. These include "Blame it on the Mistletoe", "Unwrapping Hank" and "Merry Christmas, Mr. Miggles". Her "Howl at the Moon" series of paranormal romances featuring the town of Mad Creek and its dog shifters has been popular with readers. And her series of Amish-themed romances, Men of Lancaster County, has won genre awards.
Catch up with Eli on her website, Facebook, and twitter.