Hi there! Today I'm sharing a review for a lovely contemporary M/M Christmas romance from Amy Jo Cousins. GLASS TIDINGS is an older/younger love story featuring an orphan and loner in small-town America. Like FRECKLES, GLASS TIDINGS is also a part of the 2016 three book Holiday bundle offered every year by Riptide, and 20% of the proceeds are donated to The Trevor Project, which provides a suicide hotline and counseling assistance for LGBTQ teens, in particular, in crisis.
There's a link below to join the giveaway post over at Joyfully Jay, for a chance to win $20 in books from Riptide.
About the book:
Eddie Rodrigues doesn't stay in one place long enough to get attached. The only time he broke that rule, things went south fast. Now he's on the road again, with barely enough cash in his pocket to hop a bus south after his (sort-of-stolen) car breaks down in the middle of nowhere, Midwest, USA.
He's fine. He'll manage. Until he watches that girl get hit by a car and left to die.
Local shop owner Grayson Croft isn't in the habit of doing people any favors. But even a recluse can't avoid everyone in a town as small as Clear Lake. And when the cop who played Juliet to your Romeo in the high school play asks you to put up her key witness for the night, you say yes.
Now Gray's got a grouchy glass artist stomping around his big, empty house, and it turns out that he . . . maybe . . . kind of . . . likes the company.
But Eddie Rodrigues never sticks around.
Unless a Christmas shop owner who hates the season can show an orphan what it means to have family for the holidays.
My Review:
Eddie Rodrigues is kicking himself bigtime for hanging out with his new boyfriend instead of following the Ren Faire folks south for the winter. But, the promise of a homecooked Thankisgiving meal with a good-looking man seemed too good to be true. Unfortunately, it was.
That's why Eddie took off. This time. He'd foolishly let himself believe he was worth more than the cast-offs he'd come to expect in life–since way before he left the foster care system. Naturally, because Eddie's life sucks, his boyfriend's car craps out on the highway halfway to Nowhere, and Eddie has to tramp through field and backroad through freezing slush until he reaches a town. Just as he's getting close to the bus station, he witnesses a girl get struck by a runaway car. It's near midnight, and he knows no one, but he can't leave her alone. His cries for help bring exactly that. Now, as the lone witness to the accident, the police officer in charge asks a friend to put Eddie up for the night so that she can question him in the morning.
Grayson Croft hasn't had a man in his home in more than a decade. He gave up on love when Brady left him behind for the big city. He works two months of the year, running The Christmas Shoppe, a seasonal store opened by Gray's grandmother. As it seems Eddie might need more than a single bed for a single night, Gray offers him a job at the shop. He can always use some help, and–learning that Eddie's a glassworker–he offers to sell any ornaments Eddie might make on consignment.
Eddie accepts because he's in a jam. During his travels his protective eyegear got smashed in his bag, and he doesn't have enough money to replace them. Without the dark-lensed glasses, he can't use his torch to bend glass. Thus, he's got no marketable skills for the next Ren Faire, and that's not acceptable. Gray buys the glasses as a part of the deal Eddie makes with him–and it's the first good turn Eddie's had in a long, long time.
Working in the Christmas Shoppe sets Eddie off thinking about his lonely life, and how he has no one in the world who really needs or knows him. It's somber, but it's not sad, because it's becoming clear that Gray is coming to depend upon him. THey work well together, and they have similar interests in hobbies–they both love to read, and enjoy quiet nights before a fire. It's so fun how Eddie teaches Gray to use his tidy fireplace, and how they pass cozy evenings on the sofa reading together.
That's not to say that there's no attraction; there is. Gray doesn't want to take advantage of Eddie, and Eddie thinks Gray doesn't want him. This does get resolved, nicely, and they each make the perilous emotional steps toward building something more. Eddie's craft is amenable the other seasons, and Gray has an empty shop after December. Could it be a studio? Could they build a life together?
At first, Eddie's got a wandering soul, and Gray's not a traveler–but sometimes, for the right person–people are able to envision more than the world they've always known. It's an interesting juxtaposition, and Gray isn't quite ready to take the necessary steps when he needs to, but that doesn't mean he's incapable. Expect some drama regarding small-town values, hit-and-run drivers and an orphan with a leave-first mentality. Also, sexytimes before a fire, book-nerd discussions and one sweet, sweet reunion.
Interested? You can find GLASS TIDINGS on Goodreads, Riptide Publishing, Amazon, Barnes & Noble, and AllRomance.
To purchase GLASS TIDINGS with FRECKLES with one other book at a BIG discount, and for The Trevor Project donations, click the Bundle Page here.
****GIVEAWAY****
For a chance to win $20 in Riptide book cash, head on over to my pal Joyfully Jay, and leave a comment on the giveaway post.
Good luck!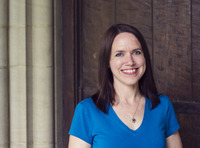 About the Author:
Amy Jo Cousins writes contemporary romance and erotica about smart people finding their own best kind of smexy. She lives in Chicago with her son, where she tweets too much, sometimes runs really far, and waits for the Cubs to win the World Series. Amy Jo is represented by Courtney Miller-Callihan of Greenburger Associates.
Readers interested in autographed copies of Amy Jo's paperback books can order them from Chicago's fabulous independent bookstore, The Book Cellar. They can ship anywhere, and will email me to let me know there are books to be signed if you care to order them!
You can find Amy Jo online on her website, Goodreads, Facebook and twitter.
Thanks for popping in, and keep reading my friends!