Hi there! Today I'm sharing a review for a contemporary M/M romance from Amy Jo Cousins. REAL WORLD is the fifth book in the Bend or Break series, but it's a sequel to OFF CAMPUS, and should be read after that one, for sure. Other characters in the series show up here, and that's cool, but you don't have to know their stories for their involvement to make sense.
About the book:
When talking fails, it's time to break out the big guns.
Five years ago, Tom Worthington busted his ass to overcome the fear and paranoia that led him to withdraw from the world and nearly lose his boyfriend. He never thought he'd find himself right back there, shutting Reese out, keeping secrets again.
Reese Anders is ready to try anything to get Tom to talk: if he can't seduce his boyfriend with food, he'll get Tom to open up in bed. But even Tom's confession that his dad is getting out of prison soon doesn't clear the air between them. And as the holidays approach, intensive mentoring from a new British boss creates more distractions, until Reese is keeping secrets of his own.
At a company Christmas party, it only takes Tom one look at Reese's new boss to figure out how much danger their relationship is in. But he's not about to let the connection that started all those years ago at Carlisle come to an end. It's time to deal with their problems like adults. Face to face. Or back to front. Starting in the bedroom.
Warning: This book contains two adorable guys with way too many secrets, conciliatory rigatoni, a bedroom lesson on the power of multitasking, and indisputable evidence on what makes the perfect holiday HEA.
My Review:
4.5 stars.
Tom and Reese met in college and have been an exclusive couple for five years. They graduated a few years back and both work full-time in Boston. Tom's working in finance, and doing part-time school for an MBA and Reese is a receptionist/office gopher for a clothing concept company. Things have been going pretty well for these two, but with work and school, they are a bit on relationship autopilot, and their connection is beginning to unravel slightly.
There is a bit problem brewing for Tom, the imminent release of his overbearing and unrepentant Ponzi-schemer father from prison. He's freaked, and decides to keep that to himself. It causes a strain that Reese immediately senses. Tom's ringer is often off, and he's begging off from their usual social outings. Reese has a very firm hand, and soft mouth, when it comes to opening Tom's vault, but it's pretty unfair that Reese has to do all the heavy lifting. When accounting irregularities begin popping up at his work, Tom's putting in extra hours to clear any suspicion that might be directed at himself, being the son of a financial crook.
Meanwhile, Reese's job is getting way more involved and intense as he's called in to some creative meetings with the Marketing director, a suave Brit man named Niall. Niall thinks Reese's ideas are great, and really admires his tenacity. As their work relationship grows, it becomes clear that Niall has designs on Reese, and not in a creepy way.
With Tom virtually ignoring him, it's hard for Reese to confide the way his professional life is shifting, but Tom gets the hint at Reece's company Christmas party–when he sees how close Niall and Reese are–and he's kicking himself for summarily turning down all Reese's invites to hang out with his work colleagues.
This is really a great established relationship read. Adult life is messy. There will always be people who wish to insert themselves into the personal relationships of others. Niall isn't malicious, he's ignorant of Reese's partnership. That said, there's a chemistry there, one that's lacking with absentee-brooding Tom. I will assure readers that this book is all about the HEA. I hadn't realized there was a Christmas theme here, but it comes across loud and clear. Tom reverted to his same self-isolation tactics as in OFF CAMPUS, and Reese took care of him now, as he did back then. There are a lot of steamy scenes in REAL WORLD. Because Tom is such a poor talker, he and Reese spend a LOT of time in sexytimes. Hooray for that! I was emotionally invested the entire time, and it really got to me when Tom didn't trust Reese enough to confide. His grand gestures in the end, however, were a great sign that he'd turned that corner.
Interested? You can find REAL WORLD on Goodreads, Samhain Books, Amazon, Barnes & Noble, Kobo, iBooks, Google Play, and
AllRomance. I received a review copy of this book via NetGalley.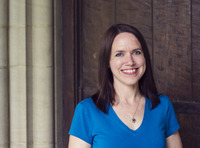 About the Author:
Amy Jo Cousins writes contemporary romance and erotica about smart people finding their own best kind of smexy. She lives in Chicago with her son, where she tweets too much, sometimes runs really far, and waits for the Cubs to win the World Series. Amy Jo is represented by Courtney Miller-Callihan of Greenburger Associates.
Readers interested in autographed copies of Amy Jo's paperback books can order them from Chicago's fabulous independent bookstore, The Book Cellar. They can ship anywhere, and will email me to let me know there are books to be signed if you care to order them!
You can find Amy Jo online on her website, Goodreads, Facebook and twitter.
Thanks for popping in, and keep reading my friends!