Hi there! I'm so happy to share TWO reviews for contemporary New Adult M/M romance books from Amy Jo Cousins. I've been a fan of the Bend or Break series, and read several of the books including OFF CAMPUS, NOTHING LIKE PARIS, and REAL WORLD. Both LOVE ME LIKE A ROCK and HARD CANDY are spin-offs from LEVEL HANDS, which I also enjoyed. These two long novellas feature a besties-with-benefits relationship that doesn't work, and how these guys find the love that fits them just right.
About LOVE ME LIKE A ROCK:
In art and in love, it's the rough edges that make things interesting.
Having grown up with artistic implements always in hand, there's almost nothing Austin can't make real. Except for one thing—an official relationship with his best friend, rowing teammate and occasional hookup, Vinnie.
The combination of emotional and sexual frustration fuels a spark between Austin and the nude model in his drawing class. Austin isn't used to having trouble focusing; models are merely challenging subjects to be rendered on paper. But the geology TA's direct blue gaze is powerful enough to drag Austin's focus away from his physique.
After a quick and very dirty post-class encounter, all the reasons that Austin has been waiting for his best friend go fuzzy in his mind. Sean is nothing like Vinnie. Sean is persistent, pays attention, and makes it clear he wants to be together.
But if Austin can't get his head and his heart on the same page, he could lose his friend, or his lover. Or both.
Warning: Contains rock geeks, tent sex, a dictatorial cox whose idea of a good time is drawing naked dudes, plus one naked dude who wants to be more than a good time.
My Review:
While this is part of an extended series, it can be fully enjoyed on its own.
Austin and Vinnie have been best friends, and casual sex partners, for seven years. They are juniors at college and both on the crew team, Vinnie as a rower and Austin as coxswain. Austin is an art student who longs for a serious relationship with Vinnie. It seems that Vinnie's only interested in having a physical relationship with Austin after he's settled all of his own issues with school–and then he gets drunk and tries to hook-up with Austin. It's a bit demoralizing for Austin who tells this story.
While at a live drawing night Austin finds himself to be unexpectedly attracted to the nude model, Sean. Sean makes no pretense of not being interested. He's been following Austin for while–hoping to gain his attention. Austin finds this to be remarkable, and exciting. Such a contrast to closed-off and unavailable Vinnie. While the attraction is intense, Austin is quick to let Sean know that he's not exactly looking for anything serious. Austin has this heartbreaking-misplaced loyalty to his bestie, Vinnie. He doesn't want to give up on their friendship, and arrangement, especially for someone new who may not stick around. As Austin and Sean spend more and more time together, however, Austin finds exactly what he'd always needed from a partner. His affection for Vinnie remains, though his interest in continuing their sexual relationship has totally waned. Mostly because he and Sean are rather insatiable for each other.
What started as a casual affair becomes the most important thing–and Austin learns to value himself more because he sees that he's worthy of great love. I really dug this book. It's so sweet and totally sexy and I loved how Austin and Vinnie worked things out, despite the strain of Austin's new love. Sean is a rock, in more than one way, and he's so lovely and passionate and compassionate. I had a couple *squee* moments on Austin's behalf.
About HARD CANDY:
How to get over someone? Get under someone else—as soon as possible.
Vincent Lim always assumed his best friend (and occasional hookup) Austin would be waiting for him—that eventually they'd end up together. But now that Austin's in love with another man, Vinnie is at a loss.
After the world's most awkward one-night stand with a dance major, Vinnie knows the drill. Minimize the embarrassment by pretending they've never met. Yet Bryan's vibrant spirit and calm center lure Vinnie like a shelter from an emotional storm.
But Vinnie's thrown off his game by the rest of Bryan's total package. Vinnie's a rowing jock with a single-minded focus on living up to his parents' academic and social expectations. Bryan might as well be outfitted with glittery butterfly wings—with plenty of pride to match. Vinnie's haphazard attention to a lover won't cut it this time.
Physically, they can match each other stroke for booty pop. But for the lovers to meet on common ground, they'll have to find a way to get moving in the same direction.
Warning: Contains one uptight rower, a dancer who can rock a skirt like nobody's business, yoga lessons, and the benefits of being very bendy.
My Review:
This is the 7th book in a larger series and probably best enjoyed after reading LOVE ME LIKE A ROCK (Bend or Break #6).
Vincent Lim is a rower, worry-wort and dedicated student. He's never had time for a boyfriend and only occasionally hooked up with his bestie, Austin, when he had a night to spare getting drunk and laid, in that order. This wasn't enough of a commitment for Austin who found a real boyfriend in LOVE ME LIKE A ROCK. Vinnie's now left out, naturally, and, in one of his weaker moments attempts a drunken hook-up with Bryan, a flamboyant, out-gay, femme dancer in their college. He's a sweet and sassy mix, this Bryan, and he's got an aloofness that intrigues Vinnie.
Vinnie has never pictured himself with anyone who wasn't like himself, really. Sure, he liked Austin, but he truly felt Austin was a bit flaky, I think. Bryan is not a man to be set on the shelf. Vinnie doesn't want to like him, but he is drawn to Bryan's vulnerability, and his steadfastness. Also, they are more of a match than Austin and Vinnie ever were when it comes to sexual compatibility. Vinnie relishes the closeness and sensuality of his experiences with Bryan, which are mutually satisfying without all the "mess" of sex.
I liked how Vinnie continued to challenge himself regarding his fledgling relationship with Bryan. He knows that he has to work at it, and soon finds that it's not actually work at all to spend time with such a compassionate man. They develop an intimacy that is comfortable with companionship. Vinnie has plenty of moments to distance himself from Bryan, and he chooses to step closer, even when it catapults him outside of his comfort zone. Introductions to friends, teammates, and family are riddled with danger, and yet, Vinnie avoids almost all the missteps he'd have made with Austin. His growth as a character was exceptional, and it was clear that Bryan neither expected nor demanded this to occur, though there is a bit of trouble over Bryan's continued harassment at the hands of some homophobic students. Vinnie's commitment to being a real partner to Bryan is what makes this story fantastic.
Also, I really enjoyed the inclusion of different cultures here. Bryan is black and Vincent is Korean-American–the expectations, and acceptance, of their families are very different. That was well-demonstrated here, and, while a bit heartbreaking, was also poignant and real. Great story!
Interested? You can find these books here:
LOVE ME LIKE A ROCK: Goodreads, Samhain Publishing, Amazon, Barnes & Noble and AllRomance.
HARD CANDY: Goodreads, Samhain Publishing, Amazon, Barnes & Noble and AllRomance.
I received a review copy of these books via NetGalley.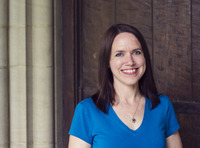 About the Author:
Amy Jo Cousins writes contemporary romance and erotica about smart people finding their own best kind of smexy. She lives in Chicago with her son, where she tweets too much, sometimes runs really far, and waits for the Cubs to win the World Series. Amy Jo is represented by Courtney Miller-Callihan of Greenburger Associates.
Readers interested in autographed copies of Amy Jo's paperback books can order them from Chicago's fabulous independent bookstore, The Book Cellar. They can ship anywhere, and will email me to let me know there are books to be signed if you care to order them!
You can find Amy Jo online on her website, Goodreads, Facebook and twitter.
Thanks for popping in, and keep reading my friends!