Hi there! Today I want to share some love for a book recently released by a fellow Chicagoan. I really enjoyed Amy Jo Cousin's OFF CAMPUS, and thought, "Hmmm, I"ll give book two a try." I was bit nervous, because the main character in NOTHING LIKE PARIS was a bully and the subject of conflict in OFF CAMPUS. I wondered: How can the villain be transformed into the hero? Well, that's an author's job, and Ms. Cousins did it well! (This is an ADULT read)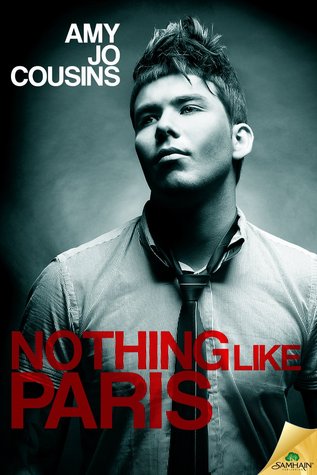 About the book:
Humble pie wasn't supposed to taste this sweet.
Jack Tarkington's life is in the toilet. He was supposed to be spending his junior year studying someplace cool like Paris or Rome. Instead, after taking out his anger on the campus "golden boy", whose dad ripped off his parents, Jack is facing possible expulsion.
Sure, it's all his own fault, but coming back to the small Iowa town he thought he'd escaped, after crowing about his admission to a prestigious school, has been a humbling experience.
When he runs into Miguel, Jack braces for backlash over the way he lorded it over his old friend and flame. Instead, Miguel offers him friendship—and a job at his growing farm-to-table store and café.
Against the odds, both guys bond over broken dreams and find common ground in music. But when Jack's college gives him a second chance, he's torn between achieving a dream that will take him far from home, and a love that strikes a chord he'll never find anywhere else.
Warning: This book contains a humbled guy who's on the brink of losing it all, a determined entrepreneur who seems to have it all together, apologies issued through banjo-picking duets, and two lovers who can play each other's bodies like virtuosos.
My Review:
This is the second book in a series–it can likely be read as a standalone.
Jack has been suspended from his east coast college for harassment of a fellow student, Tom Worthington. Tom's father had orchestrated a Ponzi scheme which took down the retirement, college and investment funds of many–including Jack's father's. While a student, Jack resented seeing Tom on campus and his campaign of hate resulting in Jack's discipline–and a disgraceful return to his dismal home in Colchester Falls, Iowa. Jack's family is in a bad way–his mother's a functional (but really dysfunctional) alcoholic and his father is emotionally unavailable. Plus, these relationships have been further strained by Jack being an out gay man.
Upon his return, Jack encounters his high school boyfriend, Mike Vargas, who is now running a farm-to-table eatery featuring the produce of his family farm. Mike was supposed to go east with Jack three years ago, but gave up his scholarships to stay on the farm when his father had a second heart attack. Mike is a smart, industrious man, but he's stifled in this small community, always on guard to keep his sexuality on the down low. People know he's gay, but he's too timid to "flaunt" it, fearing his business will suffer. He's hopelessly angry/in love with Jack. The love was from their six year history as friends/lovers (junior and senior high school) but he hates how Jack just left–early–for college and left him behind.
This reconnection story is well told and has good pacing. Jack doesn't win Mike back immediately. Mike is on constant guard of his heart, never giving Jack the chance to work his Jack-magic. In the meantime, they do work together, and through Mike's selfless example, Jack grows out of his angry-at-the-world stance. He reaches out to other at-risk youth, helping to form a GSA at his former high school. This brings him in touch with his old guidance counselor who helps him find some peace regarding his mother worsening alcoholism.
All the good is really working in Jack's favor–so much so, he makes a grand gesture to resolve his difficulties at school–and tries to broaden Mike's world, as well.
Mike had felt overlooked by his father for a long time–being passed over for management of the farm was especially cutting–but through some hard truths from papi and Jack, Mike learns that, perhaps, this small town life isn't his ultimate destiny.
It's a good story. I really enjoyed Jack's change from petulance to maturity. Mike is a great guy, and he deserves all that he receives. His recognition that his need to "save" Jack was a hindrance to their growth as a couple, and enabled them to become more equal partners going forward.
Interested? You can find NOTHING LIKE PARIS on Goodreads, Amazon, Samhain Publishing, AllRomance and Barnes & Noble. I received an advance copy of this book via NetGalley.
The first book in this series, OFF CAMPUS is another steamy read about an unlikely couple. Check out my review or you can find OFF CAMPUS on Goodreads, Amazon, Barnes & Noble, Kobo, Google Play, iBooks, and on the Samhain website. (I got a review copy of this book from NetGalley.)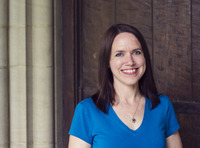 About the Author:
Amy Jo Cousins lives in Chicago, where she writes contemporary romance, tweets more than she ought, and sometimes runs way too far. She loves her boy and the Cubs, who taught her that being awesome doesn't necessarily have anything to do with winning.
You can find Amy Jo online on her website, Goodreads, Facebook and twitter.
Thanks for popping in, and keep reading my friends!