Hi there! Today I'm sharing a review for a contemporary new adult M/M romance from fellow Chicagoan, Amy Jo Cousins. OFF CAMPUS is an "Odd Couple" for the college set, with d-lish loving, redemption, prejudice and good ol' fun.
About the book:
Everyone's got secrets. Some are just harder to hide.
With his father's ponzi scheme assets frozen, Tom Worthington believes finishing college is impossible unless he can pay his own way. After months sleeping in his car and gypsy-cabbing for cash, he's ready to do just that.
But his new, older-student housing comes with an unapologetically gay roommate. Tom doesn't ask why Reese Anders has been separated from the rest of the student population. He's just happy to be sleeping in a bed.
Reese isn't about to share his brutal story with his gruff new roommate. You've seen one homophobic jock, you've seen 'em all. He plans to drag every twink on campus into his bed until Tom moves out. But soon it becomes clear Tom isn't budging.
Tom isn't going to let some late-night sex noise scare him off, especially when it's turning him on. But he doesn't want any drama either. He'll keep his hands, if not his eyes, to himself. Boundaries have a way of blurring when you start sharing truths, though. And if Tom and Reese cross too many lines, they may need to find out just how far they can bend…before they break.
Warning: This book contains cranky roommates who vacillate between lashing out and licking, some male/male voyeurism, emotional baggage that neither guy wants to unpack, and the definitive proof that sound carries in college housing.
My Review:
Tom Worthington is homeless. Destitute. A college junior who earns his tuition money as a cab driver in Boston. Life hasn't always been this way, however. He was rich, once. The only son of a successful investment manager. Tom's mother died when he was young, and his relationship with his dad was always more of a mentoring, rather than nurturing, one. Well, until his father was convicted of running a Ponzi scheme and Tom's silver spoon was yanked straight from his mouth. It took Tom a year to save up enough money for his college term, and he's not giving that up for anyone.
Reese Anders is sophomore who survived abuse last term. He was promised a single room, and is livid that a "brutish jock", Tom, has been assigned to share with him. Reese is out, a bit of a "twink" and planning to make Tom's life miserable–parading a line of sex partners and nude man posters into their room.
Problem is, Tom's not so put off. Seems Tom is bisexual, and strangely attracted to the hands-off spitfire, Reese. Tom has had precious little contact with anyone for nearly 18-months, not since his dad was arrested, and later tried to commit suicide, so he's basically on emotional sensory overload sharing living space with Reese.
Okay. There are lots of issues at play. Tom is too proud to admit he's homeless. Reese assumes he has money, because many of their fellow students are pretty well off, and Tom does nothing to dismiss this notion. Tom works really hard, studying like crazy, knowing he must make the most of this time–he may not earn enough money to pay for next semester. Reese begins to confide in Tom why he's so afraid of big guys, jocks, and Tom, in particular. It's not as (completely) horrifying as I had anticipated, but violation is violation and I'm not going to downplay it. It, nonetheless, is a big part of Reese's character, and an issue he and Tom must work through if they are to forge ahead with a relationship.
Of course, Tom doesn't want to be a blip on the radar anywhere. He had troubles with tabloid articles in the past–some stories having been sold from "friends" when he actually broke down and confided in some of them–and is intensely private, now. So, being "out" with Reese is a Not Gonna Do It scenario. I was a bit dismayed by Tom's rationalizations–as was Reese.
This story unfolds over the course of two semesters, and is completely told from Tom's POV. Tom's fear of scrutiny and Reese's unwillingness to be silenced clash, a good bit. It was great to see Tom open up, be more of a real person than a shadow-student. He and Reese are unlikely partners, but they work. I appreciated Tom's pain and embarrassment over his father's criminal activity–and how determined he was to not take help that should go to "more deserving" kids. One's whose parents weren't thieves. His righteousness was admirable, in that regard. I wasn't so taken with his reticence to accept his sexuality, but I think that goes along with the age. Tom's 22, and Reese's 20.
I got a real kick out of Tom's buddy, Cash.
Tom ignored Cash's staring back and forth between the two of them.
The struggle to wrap his brain around the sex thing was occupying most of Cash's working brain cells.
"Just, why?" He needed to talk it out. Great. "Okay, cute dude, not my thing, but whatever floats your boat. And I guess it makes sense that a dude knows his way around a dick, so okay, I can see how that works. But your ass, man. Why you wanna go sticking something up there?"
"Does my sex life have to make sense to you? Because I am not having this conversation!" Tom's words were muffled by the sweatshirt he dragged over his head, but he was pretty sure everyone on the hall heard that one.
The resolution is good. The story has real heart and some fun bits. It's also very naughty, in parts, so….yay for me! Not for the kiddos, however.
Interested? You can find OFF CAMPUS on Goodreads, Amazon, Barnes & Noble, Kobo, Google Play, iBooks, and on the Samhain website. I got a review copy of this book from NetGalley.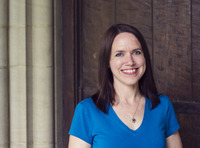 About the Author:
Amy Jo Cousins lives in Chicago, where she writes contemporary romance, tweets more than she ought, and sometimes runs way too far. She loves her boy and the Cubs, who taught her that being awesome doesn't necessarily have anything to do with winning.
You can find Amy Jo online on her website, Goodreads, Facebook and twitter.
Thanks for popping in, and keep reading my friends!