Hi there! Today I'm sharing a review for a newly-released gothic mystery from Brent Hartinger. I have really enjoyed his contemporary M/M romance series, including THE THING I DIDN'T KNOW I DIDN'T KNOW, BAREFOOT IN THE CITY OF BROKEN DREAMS, and THE ROAD TO AMAZING, but THREE TRUTHS AND A LIE is a completely different type of book. Four teens, a remote cabin, and unknown assailants on the loose. Wow. I loved so much of it!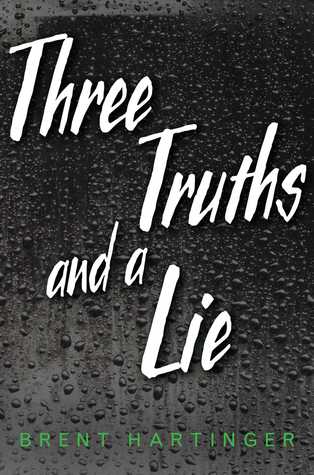 About the book:
A weekend retreat in the woods and an innocent game of three truths and a lie go horribly wrong in this high-octane psychological thriller filled with romantic suspense by a Lambda Award–winning author.
Deep in the forest, four friends gather for a weekend of fun.
Truth #1: Rob is thrilled about the weekend trip. It's the perfect time for him to break out of his shell…to be the person he really, really wants to be.
Truth #2: Liam, Rob's boyfriend, is nothing short of perfect. He's everything Rob could have wanted. They're perfect together. Perfect.
Truth #3: Mia has been Liam's best friend for years…long before Rob came along. They get each other in a way Rob could never, will never, understand.
Truth #4: Galen, Mia's boyfriend, is sweet, handsome, and incredibly charming. He's the definition of a Golden Boy…even with the secrets up his sleeve.
One of these truths is a lie…and not everyone will live to find out which one it is.
My Review
This is a chilling YA gothic mystery with turns that make the reader really wonder…
Rob, Liam, Galen and Mia are four high-school seniors weeks before graduation. Liam and Rob are dating, and Liam is best friends with Mia, who is dating Galen. They sort-of get along. It's not easy because Rob is new to the group, and he's the one telling the story. Also, Galen is a goofy guy, and seems to get-off on teasing Liam and Rob, sexually. I mean this as: he has no shame flaunting his body and trying to arouse Liam and Rob, because he's a very good-looking guy. Mia thinks that's kinda funny, even if it's uncomfortable for Rob and Liam.
As a bonding experience, they take a weekend trip to Mia's family's remote cabin on the Olympic Peninsula three hours from their homes in Seattle. Getting there is an adventure. They stop in Marot, Wash and the town and folks are nothing less than eerie. Mia's family had sold some of their land, and it was clear-cut–making the townies hostile. Rob, the narrator throughout, is freaked out. The cabin's little more than a wreck, and so remote they need a satellite phone for emergency use. Which promptly goes missing. And, the outhouse explodes. And so many freaky things happen that Rob's SURE they are being stalked/hunted by the Marot weirdos.
This is a gothic mystery, and the fifth character in the story is truly setting. From oily-aired Seattle alleys and shady tattoo parlors to the constantly-dripping temperate rainforest with its startling, yet hidden, clear-cut patchwork, enveloping the cabin and teens, you can be sure that the settling is thick, overwhelming and troublesome. Remote, and desolate, with nothing but acres and acres of dangers and possibilities. I got chills, much the same as Rob described.
I honestly don't want to give away too much plot, but you can expect a whole lot of death and destruction in the story. Despite their bonding skinny-dips and fireside chats, the teens are a-dropping and Rob's frantic to escape this fate, by any means necessary. I didn't see the big twist, at all. Which was terribly refreshing. As I've read several of the author's books, this one marked a complete departure into gothic mystery/horror. What a fantastic addition to his library, really.
Interested? You can find THREE TRUTHS AND A LIE on Goodreads, Amazon, and Barnes & Noble. I received a review copy via NetGalley.
About Brent Hartinger:
I am Brent Hartinger, and I live to write.
For the last twenty years, I have made my living writing just about everything that involves words.
My most famous book is probably my 2003 gay teen novel, Geography Club, which has been adapted into a feature film starring Scott Bakula, Marin Hinkle, Ana Gasteyer, Justin Deeley, and Nikki Blonsky. It was released in selected theaters and on VOD on November 15, 2013.
You can find Brent on his website, Facebook and Twitter.
Thanks for popping in and keep reading my friends!