Hi there! Today I'm sharing a review for a contemporary M/M romance from Eli Easton. THE REDEMPTION OF RIVER is the fourth book in the Sex in Seattle series and is fully enjoyable as a standalone. You will meet Jack from THE TROUBLE WITH TONY as he's Michael's boss at the Expanded Horizons sexual health clinic. THE ENLIGHTENMENT OF DANIEL and THE MATING OF MICHAEL follow a patient and a sex surrogate from EXPANDED HORIZONS. This new book follows a widower who is trying to get past his grief, and River is the Reiki and Tantra expert that helps him heal and find love again.
Scroll down to catch my review and enter to win a $20 Amazon GC.

About the book:
River Larsen is a world traveler, truth-seeker, and tantric healer. He's a master of loving all—and no one. Both his past and his spiritual path warn him against attachment. When he falls for his surrogacy client and coffee magnate, Brent McKay, River tells himself it's a temporary idyll, a beautiful encounter they'll both enjoy and move on from like two ships passing in the stream of life. Except his heart misses that memo.
Brent McKay hasn't been interested in sex since his wife died two years ago. When he goes to Expanded Horizons sex clinic in Seattle for help, he meets River Larsen, a sex surrogate specializing in reiki massage and tantric sex therapy. Brent never expected to be interested in a man, but River's light-filled spirit, inner peace, and electric touch bring him back to life. Brent's loyal heart is ready to commit again. But how can he convince River that love can last forever—if you just have faith?
The Redemption of River features a widower who surprises the hell out of himself, a gorgeous hippy who thinks he's a dandelion puff, an age gap, midlife discovery of bisexuality, foodie Seattle, a houseboat, dogs, a trip to Mumbai, and tantric secrets. (You know, the ones that let you have sex for hours. Those secrets.)
I look forward to sharing my review in the coming days. I did finish reading the book, and I loved it!!
Interested? You can find THE REDEMPTION OF RIVER on Goodreads or Amazon.
You can also find book 1, THE TROUBLE WITH TONY, on Goodreads and Amazon.
Or, check out book 2, THE ENLIGHTENMENT OF DANIEL, on Goodreads and Amazon.
Book 3 THE MATING OF MICHAEL is available on Goodreads or Amazon.
****GIVEAWAY****
Click on this Rafflecopter link and enter for a chance to win a $20 Amazon GC.
Good luck and keep reading my friends!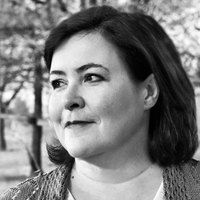 About the Author:
Having been, at various times and under different names, a minister's daughter, a computer programmer, a game designer, the author of paranormal mysteries, a fan fiction writer, and organic farmer, Eli has been a m/m romance author since 2013. She has over 30 books published.
Eli has loved romance since her teens and she particular admires writers who can combine literary merit, genuine humor, melting hotness, and eye-dabbing sweetness into one story. She promises to strive to achieve most of that most of the time. She currently lives on a farm in Pennsylvania with her husband, bulldogs, cows, a cat, and lots of groundhogs.
In romance, Eli is best known for her Christmas stories because she's a total Christmas sap. These include "Blame it on the Mistletoe", "Unwrapping Hank" and "Merry Christmas, Mr. Miggles". Her "Howl at the Moon" series of paranormal romances featuring the town of Mad Creek and its dog shifters has been popular with readers. And her series of Amish-themed romances, Men of Lancaster County, has won genre awards.
Catch up with Eli on her website, Facebook, and twitter.