Hi there! Today I'm sharing a review for Rie Warren's latest release in the Carolina Bad Boys series, CHROME: WITH A HEART FORGED IN STEELE. You all know how much I've enjoyed bad boys STONE, LOVE and STEELE, and Boomer is a lovable giant hooked on a feisty dirt-biking mechanic with a sordid past.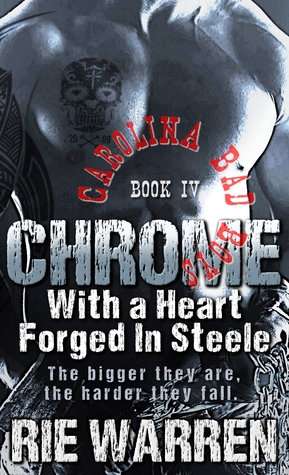 About the book:
Boomer Steele is big. He's bad. He's the Retribution MC pres. He's been dealt the worst hand imaginable and bears the scars inside and out. Not that anyone knows it. He's watched his younger brother and sister hook up and hitch up with the loves of their lives, and now he's the last Steele standing alone. Maybe he should keep it that way.
Then one feisty honey makes him feel, gets in his grill, pisses him off.
She goes by the name of Rayce. And that's exactly what she does on her motocross bike when she's not busy getting her hands dirty with her fellow grease monkeys as the only female mechanic at Stone's Garage. She's into fixing bikes, racing hers, and making Boomer's life a living hell just for the fun of it. Oh, and she hates being treated like a girl.
Sparks flying? That's an understatement where these two are concerned. Yet when Rayce needs a place to live, and Boomer offers her a room in his house, their unquenchable attraction wins out over antagonism. Sometimes. Rayce's crappy upbringing makes her think love is for stupid fools asking for heartbreak. She's not willing to go there for any man. Not even Boomer Steele.
The bigger they are, the harder they fall.
Note to readers: this book addresses the issue of domestic abuse.
How about a little taste?
Liked it so much I was considering banging her against the bathroom door. "Yeah." I rubbed a hand over my mouth. "You could say that."

Then she did something entirely feminine, a side of her I'd never truly seen before, and performed a little twirl that lifted the skirt up her firm thighs before she stopped in front of me, her face glowing.

I started sweating, right then and there. "Jesus. You're gonna give me a heart attack."

"Serves you right, old man."

"I wanna be your old man." Growling, I scooped her into my arms. "Been missing you."

I wouldn't say I was at an impasse with Rayce, but I'd hardly seen her in several weeks. That was going to end tonight, after I watched Hunter either crash and burn or end up a happily married man.

My lips slid up the curve of Rayce's neck, and her skin tasted like hot womanly sweetness. I licked the shell of her ear, ghosted to the corner of her mouth, and touched the point of my tongue against the seam of her lips.

She parted them with a gasp.

I looked down at her with heavy eyelids, our mouths separated by just a breath of space. "Been dreaming about kissing you. Feeling your lips on mine."

"Why don't you?" she asked, all throaty and sultry.

"You don't want it enough yet." I backed away from her.
My Review:
Boomer has crushed on Rayce for a good long time. He's seen his sister and brother settle down with lovers and he's lonely in his big empty home. Boomer witnessed the fear in Rayce's eyes and her embarrassment over the ramshackle trailer she shares with her father. A father who's drunk more nights than not, and also has a right nasty mouth on him.
Rayce seems to want to be with Boomer, but she's reluctant to let any one help her out. She works hard at Stone's garage and is fearless on the racetrack, so why is she holding back against his sure love? When Rayce pulls a disappearing act, Boomer goes to find her–and finds his worst fears confirmed. It's not a pretty home life, that's for sure. So Boomer does what he does best, takes care of Rayce. Moves her into his empty home and treats her with care and respect. They're roommates, without the sexy benefits. That's what Rayce needs, to prove that she and Boomer can co-exist and she isn't bartering her body for a place to live. Truth is, that scenario has happened before and it might happen again, if Rayce isn't careful. Her filthy "father" has a whole new set of humiliations in store for Rayce, and Boomer's the muscle that lifts her out of the darkness and the rock she needs to stand on.
I was glad to see Boomer get his happy ending. He's such a caretaker, and deserves to have a partner who loves him with her whole heart. Rayce is a good woman in a bad situation, used and abused by the one man she believed should love her. It's not as gory as some of the Retribution stories, or even Brodie STEELE's book, but it does involve verbal, emotional, and even physical abuse of a woman–though some of this is off the page. It's clear that Rayce's father has no love for her, and the reason was plain to me early on. That said, I liked how this one was all tied up. It's not a sunshine and roses upbeat story, but there's a lot of love and a definite HEA. Also, it's a dirty dirty read when the sexytimes get going.
Interested? You can find CHROME: WITH A HEART FORGED IN STEELE on Goodreads and Amazon. It's free on Kindle Unlimited and a $.99 special for release day.
About the Author:
Badass, sassafras Rie Warren is the author of Sugar Daddy and the Don't Tell series—a breakthrough trilogy that crosses traditional publishing boundaries beginning with In His Command.
She lives in gorgeous Charleston, South Carolina with her small family where she basks in the sunshine during the day, and adjourns to her woman cave at night. A nocturnal creature, she stays up way too late talking to herself, her characters, and anyone who will listen. She's all about writing with heat, heart, and a hint of the dark, and she doesn't shy away from the impossible.
Rie's work has been called "edgy", "daring", and "some of the sexiest smut around".
You can find Rie online Goodreads, Facebook and twitter.
Thanks for popping in and keep reading my friends!