Hi there! Today I'm sharing my review for SEVEN NIGHTS TO SURRENDER a contemporary new adult romance from Jeanette Grey. You'll recall how much I liked WHEN THE STARS ALIGN, so I was excited to get a sneak peek at this new release. I can tell you RIGHT NOW, this book has burning sheets.
Ma Gawd. The sexytimes are off the charts.
Check out the excerpt below and make sure to enter BOTH book giveaways–one is a simple as commenting on this post.

About the book:
Kate arrives in Paris hoping to find inspiration. Instead she finds Rylan. In a swirl of stolen kisses and hot, tangled sheets, Kate is quickly swept away by the sexy stranger, longing to surrender to his expert touch. With Rylan, nothing is forbidden-except the truth.
An American ex-pat worth millions, Rylan never flaunts his fortune. Rather, he guards his identity from everyone, especially women. No strings, no commitments, no complications. But the second his lips taste Kate's soft, sweet skin, everything changes. For the first time, Rylan has found someone to share his every want and need. Yet he knows that secrets stand between them. To keep her, he'll need to confess the truth before it's too late . . . even if doing so could mean losing Kate forever.
By day, he'll show her a side of Paris not found in any guidebook. By night, he'll introduce her to a passion beyond her wildest dreams. In this sensuous story of indulgence and desire, Jeanette Grey delivers one of the most romantic reads of the year and proves why she is fast becoming a must-read star.
How about a little taste?
Kate stayed firmly planted in her seat as he offered to help her up. Trying her best to appear unaffected, she arched one eyebrow. "Does this usually work for you?"
The guy didn't pull his hand back or in any other way appear to alter his strategy, and Kate had to give him points for that. "Yes, actually."
"Interesting."
The sad truth was, his offer was beyond tempting. The attention was nice, especially after her self-esteem had been beaten down the way it had in the past year. Hell, in the past twenty-two. It wouldn't hurt to have someone who spoke fluent French showing her around, either. That he was as attractive as he was just made the deal sweeter.
"Not working so well on you, then?" he asked as she considered him.
"Not so far."
His smile only widened. "Good. I like a girl who's hard to crack." Standing up straighter, he held his palms out at his sides. "Come on, what have you got to lose?"
"I'd say my wallet, but that's already gone."
"See? Low stakes. Listen, you don't trust me." That was an understatement. Was there a man left on Earth that she did? "I don't blame you. Devilishly handsome man wanders into a café and buys you a drink without asking? Offers to show you around town? Very suspicious."
"Very."
"So let's make this safe. You said you wanted to see the Louvre? Let's go to the Louvre. I'll show you all my favorites, and then if I haven't murdered you by supper time, you let me take you someplace special. Someplace no guide book in the world would ever recommend."
She was really running out of reasons to say no. It was a good plan, this one. They'd be in a public place. She'd have time to feel him out a little more. And if he wasn't too much of a psycho, well, everyone had to eat, didn't they?
Still, she kept up her air of skepticism. She rather liked all his efforts to convince her. "I don't even know your name."
The way his dimples shone when he lifted up one corner of his mouth was completely unfair. Extending his hand again, he offered, "Rylan. Pleased to make your acquaintance."
Rylan. That was unusual. She liked it.
"Kate," she volunteered in return, and with no more real excuse not to, she accepted the handshake, slipping her palm into his. Warm fingers curled around hers, his thumb stroking the side of her hand, and oh. The rake. He bent forward as he tugged on her hand, twisting ever so slightly so he could press his lips to the back of her palm.
"Charmed."
"I'll bet you are." But her pulse was racing faster, and the kiss felt like it seared all the way to her spine.
This man was dangerous.
He straightened up but he didn't let go. Sweeping his other arm toward the door, he asked, "So?"
She hummed to herself as she gazed up at him, as if there was any question of what she was going to do. His blue eyes sparkled, like he already knew her answer, too.
"Well." She rose from her seat, feeling taller than usual. More powerful. Maybe it was all the flattery of a guy like this hitting on her. Maybe it was the headiness of making this kind of a decision. Either way, it made her straighten her shoulders and insert a little sway into the movement of her hips.
"Well?"
"Lead on," she said.
He didn't let go of her hand. "That's what I was hoping you'd say." With a squeeze of her fingers, he took a step toward the door. "Let's go look at some art."
External pressures aside, she had come to Paris to be inspired by beauty. She could find it on the walls of a famous museum. And she could find it in the lines of this man's shoulders and throat. The latter might not have been what she'd had in mind when she'd set out, but what was a little bit of a diversion?
You couldn't find yourself without taking a couple of side trips, after all.
My Review:
4.5 Stars for this contemporary New Adult (erotic) romance.
Kate is a woman filled with self-doubt, mostly because men (her father and ex-boyfriend) have put her down, a lot. She's never had an orgasm with a man, and she's not sure she can ever fall for a man–not after witnessing her mother's destructive marriage, and her own disastrous single foray into dating.
Kate's an artist spending a week in Paris hoping to learn what to do with her life–she has been accepted for her MFA in art, and she has a job offer at an ad agency. School, or work? If she can't get a better sense how to do her art, she's got to take the job, right.
Naturally, for Kate, her vacation/vision quest begins badly. Her purse is snatched at a cafe. Her coffee is picked up by a sexy stranger, Rylan, who entreats Kate to spend some time together, as her guidebook is now stolen, and he knows the city intimately. Kate gets the idea that Rylan knows a lot of women intimately, and this idea is verified by Rylan–who, let's face it–is a lazy trust-fund brat having an extended temper tantrum. I do like Rylan, but he's exactly that. He let his father dictate his life, and he was seriously disappointed and unhappy with the result.
Rylan convinces Kate to hang out, and also to let him seduce her–he's sure he can satisfy her sexually and he spends several nights doing just that. There is a lot of sex, most of which is non-penetrative. Kate is initially nervous about having intercourse, so Rylan satisfies her in other ways, and he's not specific about reciprocity. In fact, he counts his lack of action to be a penance for all the half-truths he reveals to Kate. He's led her to believe that he's a struggling ex-pat, though this is far from true. His father's tarnished legacy has fallen into his lap, and he wants nothing to do with it. He has a lot of self-hate, which makes him more sympathetic. Plus, he lives to get Kate off, which is kinky fun.
Rylan wants nothing more than to spend these perfect days with Kate, but that gets snipped when she learns she's just another lying liar, like her cheating ex and her cheating dad. Expect a frosty break-up, and a chance at redemption. Expect a whole lotta sexytimes, and a fragile ego to become a burnished self-esteem. Kate and Rylan have serious daddy issues, and they deal with them in similar ways. By the end, neither of them is running, which was good. The planned sequel looks to be just as sexy, and will provide the end of this story, though there was enough closure here for the story to rest.
Interested? You can find SEVEN NIGHTS TO SURRENDER on Goodreads,
Amazon, Barnes & Noble, iBooks, GooglePlay, Kobo, and BAM.
****GIVEAWAY 1!****
Click the Rafflecopter link below for your chance to win onE of TEN copies of SEVEN NIGHTS TO SURRENDER
a Rafflecopter giveaway
****GIVEAWAY 2!****
Comment on this post to be entered to win a paperback copy of SEVEN NIGHTS TO SURRENDER of your very own. I'd love to hear the most exotic place you have been and found a connection with someone–doesn't have to be a sexy tale! If you went to Palm Springs and made a friend with a gardener, I'd love you to share…  This giveaway closes Tuesday Nov 10th at 5pm giving you…7 NIGHTS to get your comments in!!
Good luck and keep reading my friends!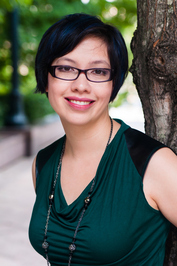 About the author:
Jeanette Grey started out with degrees in physics and painting, which she dutifully applied to stunted careers in teaching, technical support, and advertising. When she isn't writing, Jeanette enjoys making pottery, playing board games, and spending time with her husband and her pet frog. She lives, loves, and writes in upstate New York.
Catch Jeanette online on her website, Facebook, Twitter, and Goodreads