Hi there! Today I'm so excited to share an audiobook review for the newest book in the Mad Creek universe from Eli Easton. HOW TO RUN WITH THE WOLVES is the fifth M/M canine shifter romance in this series and I absolutely adore them all. Check out my reviews for HOW TO HOWL AT THE MOON, HOW TO WALK LIKE A MAN HOW TO WISH UPON A STAR and HOW TO SAVE A LIFE because this series is amazing.
Scroll down to catch my review and enter the $10 Amazon GC giveaway below!

About the book:
Zeus loves his job on the new Mad Creek Search & Rescue team, and his inner Saint Bernard is finally being used to his full potential. When he sees a mysterious and wild-looking quickened—a dog shifter—at an earthquake site in Alaska, Zeus is compelled to investigate. Zeus falls hard for the primal beauty of Timo and of Alaska itself. Both call to his deep canine soul. But the Quimmiq pack's laws are as harsh as the Alaskan winters, and Timo is out of his reach.
Timo's pack of dog shifters left their Inuit village generations ago and have lived wild ever since. Not trusting the "one-skinned," and with their numbers dwindling, the Quimmiq are on the verge of extinction. Timo is shocked to discover a whole group of "two-skinned" working as a rescue team, and he is particularly fascinated by Zeus, a gentle giant. He senses what Zeus feels for him… but it's forbidden.
Can Mad Creek save this lost quickened clan? Perhaps—if they can learn how to run with the wolves.
My Review:
I listened to the audiobook version, so if my spellings are off–it's because I don't have a print copy to verify the names.
Zeus Barkley is a Saint Bernard quickened, which in this world means that he can assume the form of a man, or a Saint Bernard. He was born a quickened pup to two Saint Bernard shifters who are a happily mated couple in Mad Creek, California–the location of a huge quickened community. Zeus works for the California forest service, and has recently returned to Mad Creek, following his college educaiton, and training and working for the forest service. He's surprised at how many quick now live in Mad Creek–and a little unsettled. Zeus likes a quiet life, and he's very at-home amongst the forest trees and his peaceful cabin. Given his size, education, and experience in the human world, Zeus is soon tapped to join a Rescue Squad of quickened from Mad Creek. This is headed up by another forest service employee, Matt, who is not quick, but has mated with a quick, Deputy Sheriff Roman Charsguard.
Mad Creek's rescue squad is called into service to help find survivors in the rubble of Anchorage following a big earthquake. Zeus finds an Inuit man who invites the who squad to his remote village in thanks for the rescue. Zeus also meets a native quick, Timo, who engages Zeus to help find his sister, Hitty, who has been trapped in a cave due to the earthquake. The Inuit man Zeus rescued says Timo is a Quimmiq, a mythical man-dog, and promises Zeus will learn more if he travels to his home village. There, not only do the Mad Creek folks learn the stories of sled dogs who became human, Zues is "kidnapped" by Timo and friends to become part of the Quimmiq pack.
Unable and unwilling to join the pack as a breeder, Zeus and Timo convince the pack alpha, Timo's brother Yuki, to allow both Timo and Hitty to travel to Mad Creek to learn about the shifter population there. Yuki wants to learn the secret to good health of the pack–the Quimmiq pups have been dying and their pack is dwindling. Hitty herself is a sickly Quimmiq, small and born with congenital issues that might he managed in the "one-skinned" (human) world.
As an audiobook, the story rolls out in good time. Pacing and descriptions are on-point and evocative. We have alternating point of view, between Timo and Zeus, and their voices were clearly different–Zeus having a deep bass that is resonant and commanding without being brash. Timo is a trickster of a character, and we see his cunning and playful qualities, by turns. He isn't as suspicious of Zeus and Mad Creek as Yuki is, and he's twice as determined to find out why the Quimmiq are dying, but without giving away his pack's weakness if he can. His parts are filled with concern and carefully couched language. And, the more time he spends with Zeus, the happier Timo is. He's especially happy sharing couch time watching NatGeo with Zeus and sleeping (platonically) in that big soft bed…also with Zeus.
Quimmiq have different standards of modesty, and Zeus, as an acknowledged introvert, is far more prudish than most of the Mad Creek quick. It's charming to witness his embarrassment and discomfort with his unexpected arousal for Timo. Meanwhile, Timo covers his lack of education and understanding with imperious requests. His thoughts on phones and their use are fun and real. He's not sure why he's jealous whenever people take an interest in Zeus, but he definitely likes having Zeus' attention. He's befuddled about the same-sex couples in Mad Creek, and asks direct questions about those situations where people will answer them. For Timo, mating is to produce pups–because that is his experience and model in Alaska. Could he take Zeus as a mate? Only in Mad Creek, where there are so many "two-skinned" (quick) and no alpha to get in the way. Yuki would never allow to virile healthy two-skinned like Timo and Zeus to mate–unless Timo can get the secret to making healthy pups and save his pack.
Because this book is the fifth in a series, we meet many characters whose stories appeared earlier. The book does a good job of clarifying who all these people are, and provides enough backstory that new readers won't feel lost. Also, they interleave with one another well–Lance from book 1 is a confidante to Zeus since they grew up together in Mad Creek. He helps Zeus see that communication is key. Roman and Matt from Book 2 are supports to Zeus when things get dicey with Timo. Dr. Jason Kunik and Milo from Book 3 get to the root of the Quinniq breeding troubles–and Milo's really helpful with managing Hitty's medical problems. Curing Hitty is a tricky issue for Timo, who doesn't trust one-skinned medicine, yet, seeing her thrive for the first time in her life? It shatters barriers Timo didn't know existed. Like, the barrier to his own happiness, mating with Zeus. Rav from Book 4 provides the transport to and from Alaska, by means of the cargo planes that arrive at Mad Creek's distribution center.
Every time I pick up one of these books, I'm astounded by the creativity and imagination in the storytelling. I want there to be a dozen more books, so I can keep dropping into this world and fall in love all over again with the many characters I've grown with over the years. It's a slow burn but Timo and Zeus have their happy ending, and I'm thinking we'll see more stories up in the Alaska setting, now that quickened folks have joined the Quinniq pack.
Interested? You can find HOW TO RUN WITH THE WOLVES on Goodreads, Amazon and Audible (US or UK).
And, don't forget to  check out the previous books in this dog-gone fun series….
HOW TO HOWL AT THE MOON, HOW TO WALK LIKE A MAN, HOW TO WISH UPON A STAR, and HOW TO SAVE A LIFE.
****GIVEAWAY****
Click on this Rafflecopter giveaway link for your chance to win a $10 Amazon GC.
Good luck and keep reading my friends!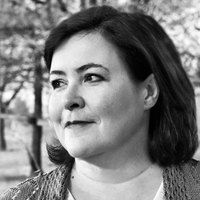 About the Author:
Eli Easton has been at various times and under different names a minister's daughter, a computer programmer, a game designer, the author of paranormal mysteries, a fan fiction writer, an organic farmer, and a long-distance walker. She began writing m/m romance in 2013 and has published more than 30 books since then. She hopes to write many more.
Eli has loved romance since her teens and she particular admires writers who can combine literary merit, genuine humor, melting hotness, and eye-dabbing sweetness into one story. She promises to strive to achieve most of that most of the time. She currently lives on a farm in Pennsylvania with her husband, bulldogs, cows, a cat, and lots of groundhogs.
In romance, Eli is best known for her Christmas stories because she's a total Christmas sap. These include "Blame it on the Mistletoe", "Unwrapping Hank" and "Merry Christmas, Mr. Miggles". Her "Howl at the Moon" series of paranormal romances featuring the town of Mad Creek and its dog shifters has been popular with readers. And her series of Amish-themed romances, Men of Lancaster County, has won genre awards.