Hi there! I'm so excited to share a review for a fantastic historical M/M romance from KJ Charles. You'll remember that I've loved THE SECRET CASEBOOK OF SIMON FEXIMAL and THINK OF ENGLAND. A GENTLEMAN'S POSITION is the third book in a series, and I'm now determined to go get the others, as I adore this world and the gentlemen who inhabit it.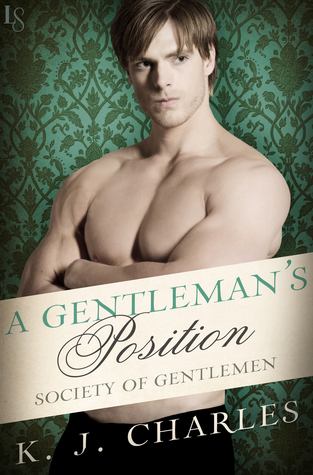 About the book:
Power, privilege, and the rigid rules of class leave two hearts yearning for connection in the sizzling new Society of Gentlemen novel from K. J. Charles.
 
Among his eccentric though strictly principled group of friends, Lord Richard Vane is the confidant on whom everyone depends for advice, moral rectitude, and discreet assistance. Yet when Richard has a problem, he turns to his valet, a fixer of unparalleled genius—and the object of Richard's deepest desires. If there is one rule a gentleman must follow, it is never to dally with servants. But when David is close enough to touch, the rules of class collide with the basest sort of animal instinct: overpowering lust.
For David Cyprian, burglary and blackmail are as much in a day's work as bootblacking—anything for the man he's devoted to. But the one thing he wants for himself is the one thing Richard refuses to give: his heart. With the tension between them growing to be unbearable, David's seemingly incorruptible master has left him no choice. Putting his finely honed skills of seduction and manipulation to good use, he will convince Richard to forget all about his well-meaning objections and give in to sweet, sinful temptation.
My Review:
This is the third book in a series, but can be enjoyed as a standalone. Honestly, though, I'm only more eager to read the preceding books, now.
5 Stars for this historical M/M romance set in 1820s London.
Lord Richard Vane is the go-to man of his collection of wealthy friends of a certain (homosexual) persuasion. And, his personal valet, David Cyprian, is Richard's go-to man, the one who will soil his hands with the sundry business of keeping "proper" gentlemen from social and legal peril. David is more than a valet, he is Richard's closest confidant and the man to whom he is attracted beyond bearing, and one man that Richard will never pursue because doing so is 1.) beneath his station 2.) too wrought with the power-imbalance. A man should never dally with his housestaff. Not a good man, anyway, and Richard is nothing if not the perfect gentleman.
David has lost his heart to Richard over his nearly five years of service. There is nothing David will not do for Richard, and he takes great pride in caring for all of his intimate details, attiring Richard in such a way as to make him the envy of all his peers, and David a sought-after valet. Not that David is willing to leave Richard's service, well, not until that fateful kiss, that danged incendiary moment that David cannot forget and that Richard refuses to address.
The ensuing quarrel puts Richard in a place he has been before, on the outs with the man he held dearest, for the simple problem of not knowing how to deal with his love's needs. Because, yes, Richard unequivocally loves David, and wants him back. He tries to arrange things so that he can keep David close, though not directly his servant, and this is unsuitable, as well. It seems all is lost, to Richard anyway, when his mates come calling. There is a predicament–likely stemming from the plots of previous books–that could cause the death of two of his friends' partners, and a great deal of embarrassment for not only Richard's friends, but also himself. There are few ways to handle this situation, and none of them suited to the gentry. No, a go-to man must be employed, and David is the best of them. If only Richard's obtuseness hadn't sent him packing.
This is a fascinating book. As I mentioned I had not read the earlier stories in the series, a deficiency I plan to rectify. That said, I thoroughly enjoyed the plot, with two men from such different worlds falling for one another, and how rigidly they kept their roles, when their deepest desires could have been quenched by some proper tumbling. (Or, improper tumbling, which I will reveal DOES happen and is delicious!!) The problems of the Ricardians (Richard's set of friends) are all very dire, and David takes the weight of them on his narrow but sturdy shoulders. The villain of this piece is a man that is generally detestable, power-mad and brutal, and his comeuppance is well-planned and brilliantly executed by a man who is not simply a servant, but a red-headed bastard to boot. It was a fantastic coup and one more reason Richard loves him with his whole gigantic heart.
The book ends with the assurance of love and partnership, inasmuch as it can be managed by a gentleman and his go-to man in such times. I adored it, and hope they pass many years in private togetherness.
Interested? You can find A GENTLEMAN'S POSITION on Goodreads, Amazon, Barnes & Noble, and AllRomance. I received a review copy of this book via NetGalley.
About the Author:
KJ Charles is a writer and freelance editor. She lives in London with her husband, two kids, an out-of-control garden and an increasingly murderous cat.
KJ writes mostly romance, gay and straight, frequently historical, and usually with some fantasy or horror in there. She specialises in editing romance, especially historical and fantasy, and also edits children's fiction.
Find her on twitter, Facebook, join her Facebook group, or contact her here. She is represented by Deidre Knight at The Knight Agency, and published by Samhain and Loveswept.
Thanks for popping in and keep reading my friends!