Today I'm sharing a review for Vanessa North's ROUGH ROAD, a contemporary M/M BDSM romance. It the sequel to DOUBLE UP, which I greatly enjoyed. This time, it's Ben's best friend, Eddie, who is finding his perfect match. Perhaps…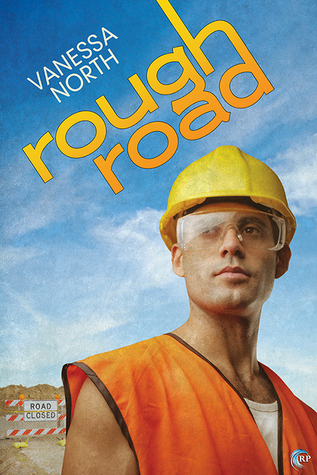 About the Book:
Eddie Russell is many things: A wealthy pillar of the community. An outrageous flirt. A doting best friend. A masochist with a kink for brawling with his bedmates. But he is definitely not a man who invites intimacy. His friends are close but few, his lovers rarer still.
When Eddie runs his Mercedes off the road on a hot July afternoon, Wish Carver comes to his aid—and leaves his number in Eddie's phone. Wish, a road crew worker half Eddie's age and sexy as sin, seems fascinated by Eddie's different sides. Mutual attraction and compatible kinks ignite the sheets, but it's their connection outside the bedroom that Eddie begins to crave.
When the two come down on opposite sides of a local issue, Eddie finds his growing feelings for Wish at odds with his business interests and his devotion to his best friend, local wakeboarding legend Ben Warren. Torn between old loyalties and his new love, Eddie is reluctant to make a choice. But he knows he can't make Wish wait too long to make up his mind.
My Review:
This is the second book in a series, and is probably best enjoyed if read in order. That said, it can be read as a standalone.
Eddie Russell is a 44 y/o flamboyant gay man. He's been that way since he was unceremoniously outed in his teens, and he's had a chip on his shoulder ever since. He's wealthy, owning a boat dealership in Lake Lovelace, FL. He's embarrased by his wealth, most of the time. Still, he knows having his money helps his friends, most notably Ben. Ben is currently engaged to Davis, and they are planning their wedding. So, why can't Eddie be happy for them? Does Eddie's love for Ben include attraction? Or, is it simply the deep love of a longtime friend?
This is a big issue for Eddie to contemplate, because–when he meets strapping, young, sexy "Wish"–Eddie's not sure if he can see a future for himself. See, Wish is a 22 y/o road construction worker. He's been staying near Lake Lovelace due to a current road improvement project and the recent relocation of his sick mother to his brother's home. Wish likes Florida, and would like to stay–which can only happen if the new bridge project widening the access to Lake Lovelace gets funded. Unfortunately, the proposed site of the construction would take out Eddie's boat dealership and Ben's pro shop. Eddie's opposed, and politically connected–which is a problem for his fledgling relationship with Wish. His campaign against the bridge has very real implications for Wish's ability to stick around.
I loved the straight talk in this book. Wish has no compunctions with calling Eddie on his BS. Eddie has all sorts of reasons why he and Wish shouldn't start anything, but the plain fact is, Wish is a strong Dom, one who can control a bossy sub, like Eddie. The sexytimes are often very physical, definitely pushing the edge of rough play. Eddie likes it VERY rough, and has no qualms about blood play and deep bruising. It was this need which kept Eddie from seeking a permanent relationship with Ben. I think Ben and Eddie have a very strong relationship, and their discussions only strengthen these emotional bonds, while still providing freedom for both men to find happiness.
Wish is a breath of fresh air for Eddie, who'd been in a serious rut. The end doesn't turn out right without the candor and hopefulness that both Eddie and Wish share. I adored the deep rapport they build, and the fantastic sexytimes were a delicious bonus. HAWT!
Interested? You can find ROUGH ROAD on Goodreads, Riptide Publishing, Amazon, Barnes & Noble and AllRomance. I received a review copy of this book via NetGalley.
About the Author:
Author of over a dozen novels, novellas, and short stories, Vanessa North delights in giving happy-ever-afters to characters who don't think they deserve them. Relentless curiosity led her to take up knitting and run a few marathons "just to see if she could." She started writing for the same reason. Her very patient husband pretends not to notice when her hobbies take over the house. Living and writing in Northwest Georgia, she finds her attempts to keep a quiet home are frequently thwarted by twin boy-children and a very, very large dog.
You can catch up with Vanessa on her website, Goodreads, and twitter.
Thanks for popping in and keep reading my friends!