Hi there! You know I've loved me some of the fantastic Carolina lovin' books from Rie Warren. Well, in preparation of her next release, there is a BONUS for all her devoted readers. Today marks the release of the BOXED SET of her three full-length novels, STONE: AT YOUR SERVICE, LOVE: IN THE FAST LANE and STEELE: INTO YOUR HEART, plus some early chapters from CHROME:FORGED IN A HEART OF STEELE, coming soon!
All these books feature sexy, foul-mouthed, hot blooded Carolina men who have given up on love and find it in the most unlikely of places. They are sweet and sassy and super-duper sexy.
Interested? Carolina Bad Boys Box Set is available on Amazon and Goodreads. The release week price for all three novels is $.99!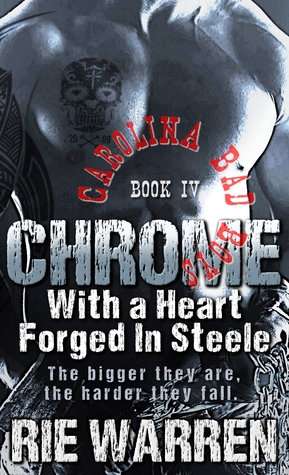 Chrome: With a Heart Forged in Steele
Is coming soon to an Amazon near you…
Boomer Steele is big. He's bad. He's the Retribution MC pres. He's been dealt the worst hand imaginable and bears the scars inside and out. Not that anyone knows it. He's watched his younger brother and sister hook up and hitch up with the loves of their lives, and now he's the last Steele standing alone. Maybe he should keep it that way.
Then one feisty honey makes him feel, gets in his grill, pisses him off.
She goes by the name of Rayce. And that's exactly what she does on her motocross bike when she's not busy getting her hands dirty with her fellow grease monkeys as the only female mechanic at Stone's Garage. She's into fixing bikes, racing hers, and making Boomer's life a living hell just for the fun of it. Oh, and she hates being treated like a girl.
Sparks flying? That's an understatement where these two are concerned. Yet when Rayce needs a place to live, and Boomer offers her a room in his house, their unquenchable attraction wins out over antagonism. Sometimes. Rayce's crappy upbringing makes her think love is for stupid fools asking for heartbreak. She's not willing to go there for any man. Not even Boomer Steele.
The bigger they are, the harder they fall.
Ride: In Between The Covers
Also available, the sexy novel that brought Josh Stone and his Lady LeeLee together back in STONE: AT YOUR SERVICE….   Amazon
About the Author:
Badass, sassafras Rie Warren is the author of Sugar Daddy and the Don't Tell series—a breakthrough trilogy that crosses traditional publishing boundaries beginning with In His Command.
She lives in gorgeous Charleston, South Carolina with her small family where she basks in the sunshine during the day, and adjourns to her woman cave at night. A nocturnal creature, she stays up way too late talking to herself, her characters, and anyone who will listen. She's all about writing with heat, heart, and a hint of the dark, and she doesn't shy away from the impossible.
Rie's work has been called "edgy", "daring", and "some of the sexiest smut around".
You can find Rie online Goodreads, Facebook and twitter.
Thanks for popping in and keep reading my friends!