Hi there! Today I'm sharing a fun, contemporary M/M romance from JL Merrow. PLAYED! is a light-hearted odd couple match between a classically-trained actor and a dyslexic handyman.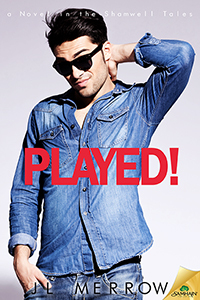 About the book:
Tristan's in Shamwell for one last summer of freedom before he joins the family firm in New York—no more farting around on stage, as his father puts it. But the classically trained actor can't resist when members of the local amateur dramatics society beg him to take a role in their production of A Midsummer Night's Dream.
Especially as he'll also be giving private acting lessons to gorgeous local handyman, Con, who's been curiously resistant to Tristan's advances. Tristan's determined to get Con in his bed—not only is the man delicious, there's fifty pounds riding on Tristan's success after a bet made with his drama school chum Amanda.
Con's never dared to act before. A late-diagnosed dyslexic who had a hard time at school, he's always been convinced he'd never be able to learn his lines—but with Tristan helping him, he might just be in with a chance. Trouble is, the last time Con fell for a guy, he ended up getting his heart broken, and with Tristan due to leave the country in a matter of months, Con's determined not to give in and start anything that's bound to finish badly.
Just as Tristan thinks he's finally won Con's heart—and given his own in return—disaster strikes. And the curtain may have fallen forever on their chance of happiness.
Warning: contains a surfeit of Bottoms and asses, together with enough mangled quotations to have the Bard of Avon gyrating in his grave.
My Review: 4.5 stars. This book made me laugh, a lot.
Tristan is a "poncey git" in the words of Con, his erstwhile lover. It's quite true, though. Tristan is wealthy, and well-educated and an actor in London, but his father wants him to give it all up to work in the family's financial firm in NYC. He has a few last months of freedom while he clears out the house of Nanna Geary–his nanny and his mother's nanny–who was a surrogate mother/grandmother and beloved to Tristan. She told all her village acquaintances about her Tristan, and all the shows he put on, so the townsfolk have a glossy image of him. She left him her house, and he's enjoying his layabout with some menial sorting of her belongings. And, lusting after the village handyman, Con. He even gets sucked into starring in the local amateur theatre play–one last go before he gives it all up, as it were.
Con is a big man, and he's dyslexic, though Tristan doesn't learn this until quite a bit into the book. Con struggles with reading, but he's still educated–mostly by audiobook. He volunteers with the local amateur theatre company making sets, and he had a rather nasty first acquaintance with priggish Tristan who was demonstrably upset by a rogue frog in his kitchen. Con was a bastard child, raised by his gran and generally neglected by his mom. His education was poor, due to his dyslexia, and he has a rather poor image of himself. He is used to being insulted, and is tender over it.
Tristan's fits are, to me, very humorous. His turns of phrase are so over-the-top dramatic, often snatches of a bit of Shakespeare, that he seems far older than 23. Also, he's a whirlwind of motion and mouth. He confuses poor Con, belittles him (often accidentally), and is ham-handed in his apologies–at first. Still, Con isn't so dull as to not know when he's being pursued, and he doesn't want anything to do with Tristan–because Con is a one-man-guy and he knows Tristan is only temporarily in town; he doesn't want to be heartbroken when Tristan leaves.
As fates would have it, there are issues with the new play, and Con's friends enlist Con to take a part–a big part. Not something he can do without help–and Tristan is eager to help, if it means he gets extra time alone with his fave burly handyman. There is a wager between Tristan and a pal regarding the likelihood of bedding Con, but I felt this was an aside to the plot. In short, Tristan didn't seem to be pursuing Con in any mercenary way–he was genuinely attracted to him.
I am an Anglophile so I adored the full-on Brit lingo, but the language was occasionally thick for me, especially delivered with Tristan's flair. I was rooting for Con and Tristan from the outset, and was constantly thwarted by Tristan's verbal idiocy. For such a well-educated man, he has no sense, whatsoever. He was a total flake, but I really liked him in spite of it–I think because he was not truly nasty. It's like being angry with a puppy for not being housebroken. I'm not quite sure why Tristan has no sense, but he seems to transcend it. When he recognizes his missteps, he does try to make amends. And he does develop some very strong feelings for Con–which are reciprocated. There's a bit of heat toward the end, but mostly, there is a lot of tenderness on the page before Con and Tristan ever become physical. Tristan goes above and beyond in his training of Con for the stage–and the mutual awe of performance was so fun to watch develop. I adored how kind both Con and Tristan are to the elderly folk in their community. And I really enjoyed the subplot regarding Con's grandfather's time in this town during WWII.
Interested? You can find PLAYED! on Goodreads, Samhain Publishing, Amazon, AllRomance and Barnes & Noble. I received a review copy of this book via NetGalley.
About the Author:
JL Merrow is that rare beast, an English person who refuses to drink tea. She read Natural Sciences at Cambridge, where she learned many things, chief amongst which was that she never wanted to see the inside of a lab ever again. Her one regret is that she never mastered the ability of punting one-handed whilst holding a glass of champagne.
She writes across genres, with a preference for contemporary gay romance and the paranormal, and is frequently accused of humour. Her novella Muscling Through was a 2013 EPIC Award finalist, and her novel Slam! won the 2013 Rainbow Award for Best LGBT Romantic Comedy. Her novel Relief Valve is a finalist in the 2015 EPIC Awards.
JL Merrow is a member of the UK GLBTQ Fiction Meet organizing team. Find JL Merrow online on her website, Twitter, and Facebook.
Thanks for popping in and keep reading my friends!