Hi there! Today I'm excited to share a newly released contemporary YA coming-of-age novel from M. Beth Bloom. It has a different take on the summer after graduation for Eva, a judgy, intransigent, intellectual girl on her way to a private, prestigious college in Boston who finally finds the way into living, not just absorbing, life.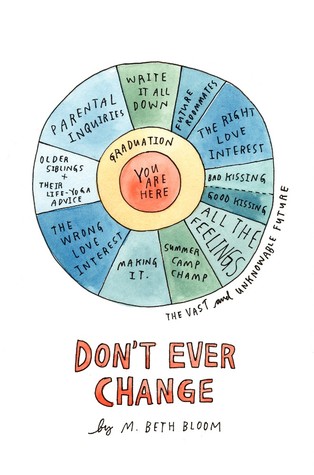 About the book:
Eva has always wanted to write a modern classic—one that actually appeals to her generation. The only problem is that she has realized she can't "write what she knows" because she hasn't yet begun to live. So before heading off to college, Eva is determined to get a life worth writing about.
Soon Eva's life encounters a few unexpected plot twists. She becomes a counselor at a nearby summer camp—a job she is completely unqualified for. She starts growing apart from her best friends before they've even left for school. And most surprising of all, she begins to fall for the last guy she would have ever imagined. But no matter the roadblocks, or writer's blocks, it is all up to Eva to figure out how she wants this chapter in her story to end.
Perfect for fans of E. Lockhart, David Levithan, and Rainbow Rowell, Don't Ever Change is a witty, snarky, and thought-provoking coming-of-age young adult novel about a teen who sets out to write better fiction and, ultimately, discovers the truth about herself.
How about a little taste?
AMERICA, I, AMERICA, is a play about freedom and being an American girl, and it's the first thing I ever wrote. I was in sixth grade. For my middle school's Fourth Of July celebration, I picked Erica Bordorfsky to play the lead role, which she accepted wit a bit too much humility, and made me question her star power. "You've got to sell it," was what I told her. "It's about America!"

But ultimately, the final producation turned out totally shallow and historically inaccurate and extremely disappointing. At that age, when we're still so young that we can do anything–be nurses or astronauts or princesses or cops–I chose to do this: write. So I began thinking of myself as a writer, but a frustrated one, because Erica insisted on mispronouncing her final line as "America, I Am Erica," over and over, to a confused assembly of students and teachers.

That's the first thing you learn: being misunderstood.

The second thing is all those old, "classic" books they make you read. They're all about the same themes–the Plight of Man, Man's Epic Nature, Man Versus Society, and whatever else–and there's always some depressing metaphor like a river or a war. The overall message I learned about Coming of Age is that if it's a true "classic," then only a boy is allowed to do it, and that's why I hate Holden Caulfield and I hate Huck Finn.

If I'm going to be left out because I'm a girl, or I'm going to be misunderstood, then I'd much rather be misunderstood; I'd rather have Erica Bordofsky bombing onstage, missing the entire point.

And I'd rather it be because I wrote it. Because it's my story.
My Review:
Eva was a fun character to get to know. She's prickly and sensitive and hides all her fears very well by keeping a figurative perimeter around her thin skin. She has two besties, Michelle and Steph, and all of them are getting different summer jobs. And going to different colleges. Eva wants to keep their friendship strong, by keeping them separate–not allowing "interlopers" into the group, and this causes natural levels of friction.
Plus, Eva's struggling with her writing. She's always excelled, but her most esteemed teacher has encouraged her to "write what she knows" and Eva must admit that she doesn't know much. In fact, in Eva's esteemed estimation she knows stunningly little. She seeks the counsel of her big sis, Courtney, who is working her way through yoga and meditation to achieve Enlightenment. Courtney is a great contrast to uptight Eva, and provides cryptic, yet sound, advice–and hooks Eva a job working at a summer camp as a youth counselor, too.
Eva's a terrible counselor. It's a sports and activities camp, and Eva strives to get her brood of 9 y/o girls…writing. It's comical, actually, that it works; the girls feel acknowledged and empowered. I had to give her credit, she is dynamic. Her intensity is, I believe, what draws people in despite her prickliness. The thing is, with each new experience, Eva's rough exterior seems to get ground down, sanded off. Her biggest competition at school, Foster, is a fellow counselor, and develops into a pseudo-boyfriend. Eva has sworn off dating with her impending departure so her single "illicit" (kissing in the counselor's office) interlude with Foster is well-beyond her self-imposed boundaries.
I loved Eva's willingness to change. I loved how she stretched herself to find out what she didn't know. Her steadfastness to developing her craft was so interesting. Her love of her few friends was touching and bittersweet, as those friendships fade and new ones crop up. It was also awesome how she inspired and worked with those girls–standing up for one (who is continually fat-shamed) was inspiring, too. Eva's a young girl, a work-in-revision, and she accepts that she is imperfect, and she attempts to re-write her flaws. I enjoyed that very much.
Do not expect a romance here. Eva has connections with three different boys in the course of her summer, but they are mostly platonic, with very little crossover. I was nervous there would be a love triangle, but it didn't manifest. Yay! I also liked that what didn't change about Eva was her love for herself. She is a proud feminist and I dug that. She could have given in on some of her other ideals–veganism, for instance–but didn't. Emotionally, she grew enough to allow for new experience without compromising her core beliefs. It was refreshing to have a solid, emotionally-stable, yet intransigent, character learn how to cope with the many changes of her shifting world. At times, I felt the prose bogged with an extended reflection, and then I was pleasantly rewarded with a full-circle moment that paid off my patience. This happened often enough that I was rarely bothered when Eva mined her experiences to help her deal with the new situation she faced. In essence, we learned together and I appreciated being part of the experience.
Interested? You can find DON'T EVER CHANGE on Goodreads, Amazon, Barnes & Noble, BookDepository, Kobo and iTunes.
****GIVEAWAY****
Click on the Rafflecopter link below for your chance to win a hardcover copy of DON'T EVER CHANGE (open internationally).
a Rafflecopter giveaway
About the Author:
M. Beth Bloom is a novelist and a screenwriter. Her fiction has appeared in StoryQuarterly and Dave Eggers's Best American Nonrequired Reading series. She is also the author of Drain You. M. Beth lives in Los Angeles.
You can catch up with Ms. Bloom online on Goodreads, Facebook and twitter.
Thanks for popping in and keep reading my friends!