Hi there! Way back when (last summer) I fell for a country-singer romance from an indie author, Caisey Quinn. GIRL WITH GUITAR really hit a lot of high notes for me and I'd recommend it. I also enjoyed KEEP ME STILL back around Thanksgiving. So, I was excited to come across LAST SECOND CHANCE, her most recent New Adult romance, on sale–and it's a keeper.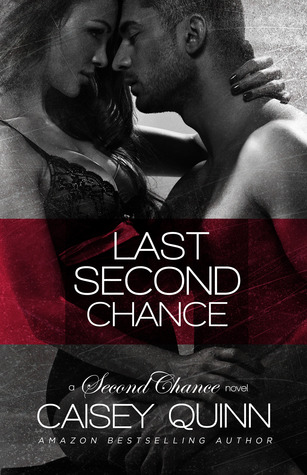 About the book:
When Stella Jo Chandler gets an offer to work at the Second Chance Ranch celebrity rehab facility right after graduating from Texas A&M, she's tempted to turn it down. She wants to help real people with real problems, not spoiled celebrities going on vacation for publicity. But growing up on her family's ranch left her with a love of horses that draws her to the opportunity. How bad can babysitting a bunch of strung out celebrities be?
What she didn't count on was being roped into a tangled mess with infamous rocker and three-time rehab drop out Van Ransom on her first day. And she sure didn't expect to feel the overwhelming attraction that pulls her to the man who has more issues than she can count on both hands. Like the hotel rooms and tour buses he's famous for trashing, the havoc he could wreak on Stella's heart would be irreparable.
Van isn't at Second Chance for publicity or because he's suffering from "exhaustion". He's on the brink of destruction, and he needs the kind of help Stella isn't sure she can give. But without her, he'll lose everything. Because he's on his last second chance.
My Review:
Stella Jo used to compete as a show jumper. Growing up on her family ranch, her mother pushed Stella to be perfect–and Stella pushed herself, too, hoping to gain some acknowledgment from her father, a taciturn man. In fact, the only love Stella felt growing up was the love she experienced with her horse. Then, Stella fell while competing and broke her leg badly. Her beloved horse was too injured, and put down. Stella's heart was broken, and she hadn't returned to her family's ranch since–she spent four years at college and just landed a job at a drug rehab facility in Dallas, a few hours from home.
On her first day there she meets "Mr. Walker" a celebrity client of the facility–one all the female staff are swooning for. Stella swoons, too, she's just not capable of processing her attraction–too many years of shutting down her emotions.
Lead singer Van Ransom is plagued by the demons of his childhood: his drug addict mother and too-young death of his older sister, Valerie. He's been in and out of rehab before, with no effect. But this time his record contract is on the line: he must shape up, or the band goes on. Without him.
He's prepared to say all the right things to get through, but meeting the aloof Stella Jo turns his head. Van's used to the attention of women–and some of the nurses at Second Chance Ranch aren't averse to a little "private therapy"–but the enigmatic care coordinator seems impervious to Van's charms. Or, is she….
This "rock romance" is unique in that, there is no rock–and the romance is rocky. I really enjoyed seeing Stella come to life. It seemed she was completely emotionally shut down–too busy looking for the next curve in her path to see the lush scenery in her view. She's scarred from too little love, and isn't sure she can even accept love from anyone. Yet, being around Van startles her into sensing her own passion.
Unfortunately she can't act on it. Being intimate with a patient is grounds for immediate termination–which would send Stella back to her family home. And that's a place she won't even visit, let alone move back to live.
Van is, however, relentless in his pursuit. He volunteers to work in the horse stables so he can spend time with Stella–who continually brushes him off. His mind is driven to distraction, so much so, he actually connects with his therapist and begins confessing his long-secret horrors of growing up in an addict's care, or lack thereof. While none of Van's friends or band mates believe Van will get clean and sober, Van goes the extra distance to entice Stella.
For this broken rocker and emotionally-vacant woman, a superficial connection is all one would expect, but the attraction develops into a mutual compassion, a desire to fill the others' needs. For the first time Van can remember, he acts unselfishly–both emotionally and as a lover. He doesn't want a quick hit from Stella–he wants…more.
Add the complications of surveillance by Stella's superiors and co-workers, a stalker ex-fiancé, and Van's buddies popping in with drugs (just in case) and it seems both Stella's job and Van's contract are set to implode. Good thing Stella's well-practiced at hiding her emotions and Van's self-control can tolerate this rarely-exercised application.
Here's what I loved about the book: it wasn't glossy. Stella and Van don't fall into bed the first day, or the first week. They stumble. They overreact. They blame and judge and make decisions 'for the good' of someone else.
Truly, I had a little trouble with the depth of their attraction following one chance encounter, but the romance was slow to develop, and the sexual tension was excruciating. Just when it looked like they were going to get it on, somebody would interrupt and complicate everything.
The writing is solid, and the romance steams. The progression of their relationship is well-paced and the smexytimes are stimulating, not sloppy. Van has a very filthy mouth, which makes for some fun dialogue. I really liked how Stella reconciled with her parents. Her newfound strength–acquired from beating off Van's advances–was interesting. At times I thought the superficiality of Stella's earlier relationships felt a bit exaggerated, but it was clear that she was making choices to connect with Van and new friends, Miranda and Jesse, in a way she never attempted before. The 'horse therapy' was a nice twist on the usual rehab tale.
Interested? You can find LAST SECOND CHANCE on Goodreads, Amazon and Barnes &Noble. It is currently priced at $.99, but that's gonna increase 5/13.
About the author:
Caisey Quinn lives in Birmingham, Alabama with her husband, daughter, and other assorted animals. She is the bestselling author of the Kylie Ryans series as well as several New Adult and Contemporary Romance novels featuring southern girls finding love in unexpected places. You can find her online at her website, GoodReads, Facebook, and Twitter.
Thanks for popping by, and keep reading my friends!