Hi there! Welcome one and all to the Cephalopod Coffeehouse, a cozy gathering of book lovers, meeting to discuss their thoughts regarding the tomes they enjoyed most over the previous month. Pull up a chair, order your cappuccino and join in the fun.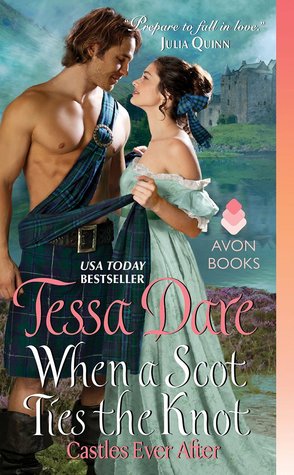 This month I'm reviewing an historical romance from Tessa Dare. I've enjoyed some of her books in the past and ran across a recommendation for this new release, WHEN A SCOT TIES THE KNOT, from a friend on Goodreads. I must say I enjoyed it.
I picked up this book on the review/recommendation of Khanh, who rarely finds a 5-Star gem, and gushed over this historical romance. Thanks, Khanh!
Madeline Gracechurch is a proper young Englishwoman whose stepmother and father wish to have settled favorably with a husband. At 16, Maddie is unable to mix in company, however, She suffers intense agoraphobia and knows that she will disgrace her family if pressed into London's social marriage network. She's a devoted penpal to her "afianced" however, one Captain Logan MacKenzie, A Highland Scot fighting the French–who happens to be entirely fictitious. She sends him letters and sketches, and arranges to have return letters from him delivered from him.
This charade continues for years, Maddie feeling bad, but not entirely. She expects that her letters are being trashed somewhere, entertainment for anonymous troops who think her a flighty girl. Remorse does set in when her godfather gifts her a Highland estate so that she and Captain MacKenzie will be comfortable upon his return. She decides to end this ruse, now some eight years old, by reporting the death of the valiant Captain. She mourns him properly, vows to never wed and decamps form her father's home to her Highland estate, in the company of her "ruined" spinster Aunt Thea.
Maddie has been comfortable in her estate for two years now. She has a tidy income from her scientific drawings and the working farm. She is a good mistress, knowing her tenants and ensuring their welfare. What she is not is a woman looking for a man, and one appears on her doorstep out of the bonny blue sky: Captain Logan MacKenzie.
Not just the good captain, he has brought some of his displaced soldiers with him. To stay. Yes, Logan exists, and he received many a letter from a foolish English lass he expected to be decrepit or club-footed or have some gross malformation that rendered her unsuitable for marriage. The young, delicate comely woman who is terrified by his brawn (and assertion that they be married posthaste) is not at all whom he expected to find.
Logan has has a bad time of life. Abandoned by his parents, left as an orphan and pressed into His Majesty's service by his "adoptive" family, Logan has never known a real home, nor real love. He doesn't believe in it, and figures that the spoils young Maddie received by conning her family ought to suit him and his cast-off men who have nowhere to live after all their sacrifices for the Crown.
Aunt Thea is overjoyed, and canny. She wants her Maddie to have a love-filled life, and this rugged Highlander seems to fit the bill. Maddie, for her part, is attracted and intrigued, but she agrees to handfast her captain only because he threatens to reveal her subterfuge to all of London's society.
It's a big mess, of Maddie's own creation as she acknowledges, and she womans up. She makes her vows, but allows herself some time to adjust to married life. In particular, she forestalls the consummation of their marriage in the hope that she can locate MacKenzie's cache of her letters and destroy the evidence thereby unsealing their deal. In the meantime, they spend quite a bit of time together, managing the estate. Maddie's even prepared to hand this over to Logan, in return for him letting her be, but Logan knows how the English change their minds and take back what they give in Scotland. So he won't be having any of her deals.
Plus, he's mighty attracted. His initial lust tempers into admiration when he sees how compassionate she is to all those around her estate. A true affection blossoms between Maddie and Logan, one that is fierce. It scares both Logan and Maddie, but Maddie takes steps to protect her heart–until she recognizes that Logan's armor guards him too closely for very good reason.
Maddie and Logan are two excellent characters. While Logan is a battle hardened man, he's not a brute. He's educated and appreciates Maddie's peculiarities. Maddie practically swoons when she find him reading her treasured copy of Pride and Prejudice, yet she can't allow herself to believe such a beautiful physical specimen could truly love her. In fact, she very much believes Logan when he tells her he cannot.
There are some delightful sexytimes. Maddie is a virgin, and Logan has been celibate ever since Maddie's letters began arriving. He lived a model life to give his men hope, and when the letters started he couldn't set a bad example of carousing when the men believed he had a steadfast sweetheart. It has created a serious (10 years!) back-up of lust for Logan to carry. The sexual tension is delicious with a constant build and excellent resolution. Logan's selflessness is a problem through the story–all the way to the very end, and yet, it's his most endearing quality.
Where can I find me one of those magic mirrors or circles of standing stones? I need me a sexy Highlander, toot sweet.
Interested? You can find WHEN A SCOT TIES THE KNOT on Goodreads, Amazon, All Romance, and Barnes & Noble. This is a mass market paperback so it's probably in Target and other convenience booksellers–and try the library, too.
Thanks for stopping in, and don't forget to dash in and see what all my fellow Coffeehouse readers picked as their fave book for the month. Oh, and Happy Halloween!