Hi there! Today I'm back to fangirling on Darynda Jones. I fell for Charley Davidson, her Grim Reaper PI main character of the Grave series a couple of years ago–and I especially fell for Reyes Alexander Farrow, Charley's love interest and, well, the son of Satan.
That's right. I love a demonspawn. If you haven't caught any of the series, you'll need to start at the beginning. It may seem like a lot of work, but it's worth it. Charley is hysterical, irreverent and charming, and Reyes is all that I could have dreamed for in a male lead, supernatural being or not. Check out my reviews for FIRST GRAVE, FIFTH GRAVE and SIXTH GRAVE, to see if the books pique your interest….but today I'm gonna talk about the latest release, SEVENTH GRAVE AND NO BODY.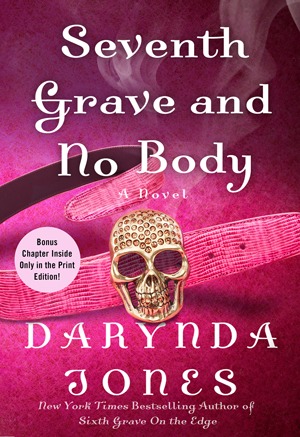 About the book:
Twelve. Twelve of the deadliest beasts ever forged in the fires of hell have escaped onto our plane, and they want nothing more than to rip out the jugular of Charley Davidson and serve her lifeless, mangled body to Satan for dinner. So there's that. But Charley has more on her plate than a mob of testy hellhounds. For one thing, her father has disappeared, and the more she retraces his last steps, the more she learns he was conducting an investigation of his own, one that has Charley questioning everything she's ever known about him. Add to that an ex-BFF who is haunting her night and day, a rash of suicides that has authorities baffled, and a drop-dead sexy fiancé who has attracted the attentions of a local celebrity, and Charley is not having the best week of her life.
A tad north of hell, a hop, skip, and a jump past the realm of eternity, is a little place called Earth, and Charley Davidson, grim reaper extraordinaire, is determined to do everything in her power to protect it.
We're doomed.
My Review:
I'm gonna try hard not to spoiler-ize.
I loved it. The end.
Just kidding! There's so much happening in the space of the few days that the books spans. but, to sum up:
Charley is in a delicate condition, for the first time in her life. She's being hunted by twelve hounds from Hell, and seemingly attacked by them, yet escapes twice with barely any injuries. Meanwhile, Reyes and his Deava compatriot, Osh, are brutalized. For me, it seems there's a missing link; everybody THINKS the beasts are out to kill Charley, but I expect we will learn the opposite is true. In the effort to defend against the twelve beasts, Charley embraces even more awesome powers, leading Reyes to believe that Charley's supernaturalness isn't limited to reaping.
Turns out that, in addition to being the light of Reyes life, Charley is part God. And her freaktastic ability to heal the gravely injured was not a fluke.
And, Charley's getting to be more than a bit jealous of Reyes and the way women swoon for him. (I'd like to apologize for all the gawking, Charley, really, but you know he's too sexy for just one glance…) At the heart of this book is a semi-psycho TV reporter who dogs Reyes at every turn. Reyes, naturally, wants nothing of this attention, and is too wrapped up trying to figure out how to keep Charley safe to form the best anti-stalker strategy.
There was a cold case, five unsolved murders, that Charley solves in the first scene, which seemed to set the stage for further drama–but that was superseded by the current unsolved mystery: four seemingly unrelated people have written similar suicide notes and then disappeared, leaving no bodies. And, unfortunately, when their connections are made, well, it lands Reyes back to the police precinct for questioning. Not good. Especially as Reyes and Charley come across a credible prediction that Charley's due to die, and soon.
That's all I'm gonna say, except that this book ends with as much of an HEA as any of the others do. And, Reyes is totally gone over Charley, and I'm totally gone over Reyes, which makes for an uncomfortable love triangle, but I'm willing to suffer for at least seven or eight more books.
Interested? You can find SEVENTH GRAVE AND NO BODY on Goodreads, Amazon, Barnes & Noble, probably Target, and definitely your local library.
About the Author:
NYTimes and USA Today Bestselling Author Darynda Jones has won numerous awards for her work, including a prestigious RITA, a Golden Heart, and a Daphne du Maurier. As a born storyteller, she grew up spinning tales of dashing damsels and heroes in distress for any unfortunate soul who happened by, annoying man and beast alike. She currently has two series with St. Martin's Press, the Charley Davidson Series and the Darklight Trilogy. Darynda lives in the Land of Enchantment, also known as New Mexico, with her husband of more than 25 years and two beautiful sons, the Mighty, Mighty Jones Boys. She can be found at www.daryndajones.com.
Thanks for popping by, and keep reading my friends!