I'm a bit late to the lovefest for Kami Garcia and Margaret Stohl–I've read some of their separate works, but not the BEAUTIFUL CREATURES series they co-wrote. One day I hope to go back and read forward, but, for now, I'm cool with starting their new DANGEROUS CREATURES spin-off.
If you haven't read the previous collaborations, well, it's a YA paranormal adventure/romance. All sorts magical supernatural creatures converge in (mainly) rural Georgia. There's Leah, she's a Caster–pretty much a witch. Her cousin, Ridley, is a Siren. In these stories there are two sides to magic, Light and Dark. Leah is Light. Ridley was claimed by the Dark side at age sixteen–which caused her parents to  shut her out, literally, from the family.
Since then, Ridley has struggled with her self-esteem. Oh, she's got tons of bravado, and her body thrums with the Power of Persuasion, but it's hard to accept if she's truly loved by anyone–including her "boyfriend" Link, or if it's simply her powers that draw him near.
And that's where this spinoff begins.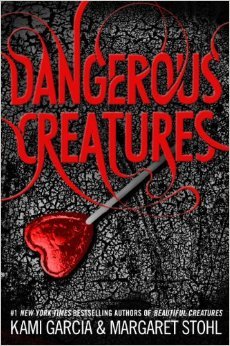 About the Book:
Some loves are cursed…others are dangerous.
Ridley Duchannes will be the first to tell you that she's a bad girl. She's Dark. She's a Siren. You can never trust her, or even yourself when she's around. Lucky for her, Wesley "Link" Lincoln can never seem to remember that; quarter Incubus or not, his heart is Mortal when it comes to Ridley.
When Link heads to New York City to start a music career, Ridley goes along for the ride-and she has her own reasons. As if leaving small-town Gatlin for the big city, trying to form a band, and surviving life with a partially reformed Siren isn't hard enough already, Link soon learns he has a price on his head that no Caster or Mortal can ever pay.

My Review:
Ridley, Leah, Link and the Gatlin Gang of partial mortals have finished high school and prepare to leave their small-town world behind. Ridley and Link head north to NYC so Link can find himself a band and get busy getting famous. Ridley, well, she's in a bit of hot water with a wager-gone-wrong. She has to provide a drummer for a Caster band in New York, or face the wrath of nightclub owner and Dark Caster Lennox Gates.
They arrive in NYC and meet up with the remnants of Devil's Hangmen, Sampson, Necro and Floyd. And, to Ridley's great chagrin, Link fits into the band too well. Floyd, who happens to be an adorable Illusionist, is not shy about sharing her attraction to Link…expect the usual salty exchanges and claw sharpening.
Bringing Link, a partial Incubus, to Lennox's Dark Caster club gets Ridley all tweaked out. She knows the danger he faces among full-blooded supernaturals and fears for his safety. It also doesn't help that Lennox is happy to insinuate himself between herself and her Shrinky Dink. (Yeah, these kids have a lotta 'pet names' for each other. I ain't going into Link's food-based song lyrics, but they help ground the story firmly in the YA category…)
Seems Lennox has a problem, a powerful adversary that is demanding to be avenged, and Lennox must collect the two people who ticked off his tormenter: Ridley and Link. He will, of course, except that he knows Ridley's fate. Part of his gift is Sight, and he has seen how Sirens are treated in Caster society. His mother was one, after all. Meanwhile, Lennox is drawn to Ridley–and hopes he can save her from his tormentor's captivity if only she'd drop Link. After all, that dude is a Dead Man Walking in the Caster realm.
The story is fast-paced with the usual juvenile misunderstandings and new adult wanderings for a life long-dreamed-for, but little-planned. I must say, I enjoyed Ridley. She is completely self-aware of her shallowness, insofar as she finds herself totally unlovable and isolates herself to protect her heart. She loves Link, but she can't bring herself to acknowledge this and risk further vulnerability. Link, on the other hand, is ecstatic over his new band–and their success–he's sure Ridley is just being mean when she tells him his adoring audience was being Charmed. Still, he loves her. He just can't deal with her fears–she's sure they are in great danger–and her manipulations–she totally lied about how he got hooked up with the band. Lennox is wealthy and sophisticated and everything Link is not, but will he win Ridley away in time to save her? Also, Link's execution is all but planned–and from the last Caster either Ridley or Link could have suspected. In fact, Lennox risks his own life in order to tip them off.
While the book has a resolution, the story is clearly unfinished. Without question Lennox will be made to pay for his (well-meant) treachery and Link and Ridley can't seem to get far enough out of the line of fire to prevent attack. I enjoyed the ride, and am sure that fans of earlier books will laud the "Link and Ridley" story for which they clamored. Considering all the romantic tension and simmering desire, the book is wholly innocent with only a few kisses to propel the love stories…so it's safe for all YA readers.
Having not read the BEAUTIFUL CREATURES books, I was still able to get into this spinoff series. All the main players are quickly introduced and all backstory details highlighted without bogging down the book.
Interested? You can find DANGEROUS CREATURES on Goodreads, Amazon, Barnes & Noble and probably retail outlets like Target and Walmart among other booksellers and libraries. I received a copy of this book via NetGalley for review.
There is a (short) linker story DANGEROUS DREAM available which describes Ridley's brief escape from Gatlin that brought her to the infamous card game in Lennox's club–the club which cost Ridley some of her powers and locked her into providing Devil's Hangmen with a new drummer–after she Charmed their current drummer out of his gift. Yeah. Well, the recap was a nice transition piece for me, as I had not read the previous BEAUTIFUL CREATURES novels. My review is here.
You can find DANGEROUS DREAM on Amazon and Barnes & Noble.
About the Authors:
Kami Garcia is the #1 New York Times, USA Today, Publishers Weekly, Wall Street Journal & international bestselling co-author of the Beautiful Creatures Novels (Beautiful Creatures, Beautiful Darkness, Beautiful Chaos & Beautiful Redemption). Beautiful Creatures has been published in 50 countries and translated in 39 languages. The Beautiful Creatures movie released in theaters in February 2013.
Kami is also the author of Unbreakable, the first book her paranormal solo series, THE LEGION. See my review here.
Margaret Stohl is the author of ICONS, the first book in the Icons Series.
A longtime veteran of the videogame industry, Margaret's work includes – to name a few – SPIDERMAN, FANTASTIC FOUR, DUNE 2000, THE PIRATES OF THE CARIBBEAN: THE LEGEND OF JACK SPARROW, DEFENDER, THE SOPRANOS, SLAVE ZERO, APOCALYPSE, ZORK NEMESIS, ZORK GRAND INQUISITOR, SPYCRAFT, COMMAND & CONQUER: RED ALERT RETALIATION, and COMMAND & CONQUER: TIBERIAN SUN.
After working with Activision (now Activision/Blizzard) and Westwood Studios (now EA), Margaret became a co-founder of 7 Studios with her husband, Lewis Peterson. She has previously been nominated for "Most Innovative Game Design" at the Game Developers Conference.
Thanks for popping in and keep reading my friends!