Hi there! Today I'm sharing an alt/history novel where slavery is legal and wealthy families buy companion slaves for their teen children as a symbol of status, and well, for companionship. A MOST PERSONAL PROPERTY by Darrah Glass is a gay novel, and though the characters are all 16 it is NOT YA.
I've read a few interesting iterations on this theme of male sexual slavery. Notably COUNTERPUNCH by Aleksandr Voinov, ANCHORED by Rachel Haimowitz, and AN UNUSUAL WHORE by Belinda McBride.
I'm not sure why this subgenre of gay romance is so compelling, but I find there's a lot of heart in these stories. And, especially in, perhaps irrationally, hoping that masters come to an arrangement with their intimate slaves that is more one of equity, than of superiority.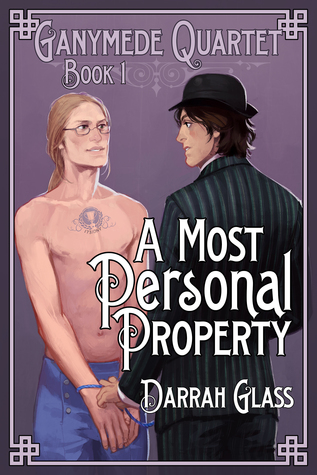 About the book:
In the heat of August 1900, Henry Blackwell—rich, handsome, and painfully shy—anticipates the purchase of his companion slave, that most personal of properties, with equal parts excitement and dread. There are limits to what a gentleman might do with his slave and still remain a gentleman, and what Henry craves goes far beyond what's allowed.
Martin, a slave from House Ganymede, is the most beautiful young man Henry's ever seen, and he's ready and willing to do as Henry commands, but Henry's afraid to ask him for what he really needs. A master needn't care what a slave thinks or how he feels, but Henry can't help wanting Martin to like him anyway. If Henry could be certain Martin wanted the same things he does, he might be bold enough to reveal his secrets.
Unfolding against a backdrop of progress, privilege and turn-of-the-century amusements, the four installments of the Ganymede Quartet present an erotic coming-of-age fantasy of Gilded Age New York in which young men from the richest families form intense bonds with the slaves who serve them.
My Review:
I loved this book. I read the FREE prequel, A SUPERIOR SLAVE, and adored Martin, the Top Boy of all the Ganymede Companion slaves up for sale in August 1900. (See my review here.) It oriented me to the alternate reality/Historical world in which these books are set.
In Martin's world, rich people buy slaves for their pubescent children to use as sex surrogates. So, a wealthy boy of sixteen would go to an auction of male Companions. He would purchase one who would become his valet, and trusted life-long Companion, meaning that sexual relations with his Companion was a socially acceptable alternative to low-class whores, unsavory working-class women, or self-polluting masturbation, well at least until he married. At that point his companion would become a personal secretary with no further sexual duties.
This story is told from the POV of Henry, a wealthy boy with a big secret. He's queer. He's always desired boys, mostly his best friend Louis's older brother James. He wishes for a Companion, not because he is anxious to have sex–as all his rich friends are–but because he doesn't wish to be different from them, left behind. His nouveau riche father is respected, but Henry recognizes that his social station is tenuous. And, while his friends have all been having chats with their fathers regarding slave ownership, Henry's father has made no mention of it–despite the fact of Henry's father having his own Companion.
How humiliating it would be to not have a companion slave! If Father wold not give him one, maybe he would at least allow Henry to go to a different school, some abolitionist institution where his companionless state would not be unusual or shameful.

But how would Henry get anywhere in life without a slave of his own? A man of their class without a companion might as well be no gentleman at all.
Turns out, Henry worried for naught. His father did in fact plan to purchase a Companion for him. Of course, there is that old chestnut: be careful what you wish for…
What Henry wanted out of life was to share something tender with another young man, to reveal his secret self and act out all his shameful fantasies with his precious friend, and he wanted to be able to do this without censure or reproof.

Although Henry would never be allowed to have this sort of relationship with another free boy, he could have some of what he wanted with a slave; he would be encouraged to have it, even…However there were limitations on what a gentleman could do with a slave and still remain a gentleman and everyone understood what they were. There would be no kissing, no caressing, no mutuality; such things were the province of fairies and queers, and Henry would not be allowed to become and invert.

He wasn't willing to concede he was a fairy, but he might well be queer.
Quite the conundrum when he meets Martin at the auction.
Every line of his body was taut and graceful. Again, he met Henry's eyes and gave him a shy, beguiling smile. Henry looked away to hide his blush. The boy was so beautiful he made Henry's heart ache.
Martin is won at the auction, after a furious bidding war, and Henry is at once elated and frightened.
"He belongs to you now." Father reminded him. "He'll attend you at school , of course and Timothy will want to teach him a few things. Beyond that, you may do with him as you see fit." Here, Father cleared his throat. "Within reason." Henry blushed and turned away as Father added in a low voice, "You'll remember what we've talked about. He's a handsome boy, and you're both of an age…" It was too mortifying for words and Henry hoped that Martin hadn't overheard.
Even the normal duties of Martin attending as a valet are fraught with troubles for Henry.
Martin helped him pull his shirt over his head and put it in the laundry basket with the collar and cuffs. Before Martin could put his hands on Henry's fly, Henry hurried to unbutton his own trousers and let them drop to his ankles; he did not want Martin touching his waist, his hips, his thighs. He did not trust his body to behave in proximity to Martin. He stood in his undershirt and drawers feeling miserably vulnerable and exposed.

Martin knelt at his feet, removing Henry's socks. He looked up at Henry and smiled. "Do you change your underthings with your dinner clothes, Sir?"

If he said yes, he'd have to be naked in front of Martin. "Uh, no," he said.
But none are more problematic as when Martin makes his other, more interesting, purposes plain.
"Is there anything I might do for you, Sir?" Martin asked. getting more slowly to his feet. "Anything at all?" When Henry did not immediately answer, he added, "I should be very happy to serve you. That is what I'm here for," in a low, intimate tone.
So, while Henry is totally gone for Martin, he's terrified of being found out a queer. While all Henry's friends make hard use of their Companions, Henry is a paragon of restraint. So much so, Henry is afraid Martin suspects something is wrong with him.
"Is there anything I might do for you, Sir? You've been so generous with me, Sir. I'd be pleased to be of service." He stood before Henry, hands behind his back, shifting from one foot to the other. He looked so hopeful. He had to be wondering what was wrong with Henry. Maybe he even guessed.
Fast forward to the HEA. Because there is one. Henry, slowly, learns to manage his fears–prodded on when one of Henry's classmates assaults Mertin. In the period between, from purchase to service, Henry and Martin develop a solid rapport. Martin is Henry's intimate confidante, and his closest friend. And the passion they later share is only more sweet for all the development.
Martin, though, seemed happy with Henry's paltry compliments. He ran his hands over Henry's body, such voracious hands. "You want to be a real lover to me, don't you, Henry?"
"Yes," Henry said fervently. "Yes, I do."
"Then we'll be lovers, Sir, and no one else need know."
No mistakes, this is a scorching read. Not suitable for kiddos, but truly enjoyable for those who like historical romance, and particularly gay romance. I loved the language. I loved the setting, and the period. I loved the long wait, as Henry worked through his fears. I ached for both him and Martin–who is totally smitten with Henry and can't understand why Henry recoils from his subtle advances. I eagerly await the next book in this series.
Interested? You can find A MOST PERSONAL PROPERTY on Goodreads, Amazon and Barnes & Noble. I read a review copy from NetGalley.
A MOST SUPERIOR SLAVE
is a FREE prequel novella which absolutely drew me into this world, and made me fall in love with Martin and his simple dream of being purchased by a good-looking young man who would be kind, honest and loving. Oh, and who might have younger siblings that he could play with. Oh, and who might become a discreet lover. Okay, perhaps Martin had pretty high ideals. For a slave, they're unrealistic, flighty and uppity desires. But, heck, those are the same dreams to which I think anyone might ascribe. This book is told from Martin's POV and involves a whole lot of polyamory. After all, companion slaves need to know how to have sex if they're going to be good companions. And Martin, well, Martin is the best.
You can find A MOST SUPERIOR SLAVE on Goodreads Barnes & Noble, and Amazon.
About the Author:
Darrah Glass is a writer and generally inquisitive person who likes her fantasies to be as historically accurate as possible. She loves research, sex scenes, and researching sex scenes. She's married and happily childless, does yoga, never cleans her house, likes shoes and toenail polish, and is vain about her hair. As far as her priorities are concerned, she'd rather write than do just about anything else, and she drives a 15-year-old car but carries really nice purses.
You can catch up with Darrah on Goodreads, her website and twitter.
Thanks for popping in, and keep reading my friends! 🙂