Hi there! Today I get to welcome a fave author to my blog! I've read and reviewed at least five M/M romances from Keira Andrews, and I've loved each one. FIGHT THE TIDE, her newest book, launches today! It's the sequel to KICK AT THE DARKNESS, one of my favorite books of 2015.
I had to reach out and get some comments from Keira on writing, her plans for the future, and Olympic opinions. Catch my interview and review below.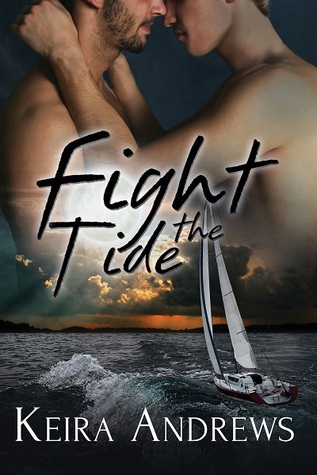 About the book:
Adrift in a post-apocalyptic world, they only have each other. Is it enough?
A virus that turns the infected into zombie-like killers spreads through a burning world thrown into lawless chaos. Lovers Parker and Adam have escaped to the open sea when they hear a message over the airwaves from a place called Salvation Island—a supposed safe haven.
Orphaned as a child, werewolf Adam has always longed for a pack. He's eager to investigate the island, but Parker doesn't think for a nanosecond that the voice on the radio can be believed. He doesn't trust anyone but Adam and is determined to keep it that way. They don't need anyone else complicating their struggle to survive. Or do they?
Danger on the high seas can surface in a heartbeat, and if Parker and Adam aren't careful, the current will drag them under.
This gay romance is a dystopian adventure featuring a werewolf, his boyfriend, and their struggle to find a place to call home.
Some fun thoughts from Author Keira Andrews…odd-ball questions provided by moi!
Kick At The Darkness and Fight the Tide are your first steps into paranormal fiction. Do you have plans to write more books in the genre?
I do! There's going to be a third book in this series about Parker and Adam, and then a fourth centered on a character you'll meet in Fight the Tide. I've really enjoyed writing paranormal, so will likely write supernatural books not connected to this series in the future as well.

What is your best tool keeping you happy and motivated as a full-time writer?
I truly love writing romance and although it's a job with pros and cons like any job, my genuine passion for it keeps me motivated. If I'm feeling particularly lazy or burned out, I think about how much I hated working in an office. Imagining myself back in a cubicle is an excellent inspiration to get my butt in gear!

From your social media, it seems you are a huge fan of Olympic sports. Being that you're Canadian, do you prefer Winter or Summer Games? What events are you most looking forward to watching in the 2016 Summer Games?
I am indeed a huge Olympic sports fan, and yep, as a Canadian (and a massive figure skating nut), the Winter Games are my fave. I do love the Summer Games as well, and I'm really looking forward to the diving, rowing, and gymnastics in particular. American gymnast Simone Biles is phenomenal, and I can't wait to see her crush it.

What is your favorite trope in romance writing? Older-younger? First love? Enemies-to-lovers?
So hard to choose, but I definitely have an affinity for an age difference. Looking at my backlist, it comes up a lot! So does hate to love, and I also really enjoy a virgin. 😀

If you could only have either Marilla or Matthew Cuthbert as your parent, who would you choose, and why?
Ohhh, that's a tough one. They're both so wonderful in their own way. This is like Thunderdome. I guess I'd have to choose Matthew since he's just so sweet and kind. And now that I've been pondering it, I really need to bust out my Anne of Green Gables DVDs!
My Review:
This is the second book in a series, and should be read after KICK AT THE DARKNESS. Some spoilers for KICK AT THE DARKNESS included.
It's contemporary times, but it's also the end of times. The world was infected with a virus that has decimated the population and turned the infected into mindless zombies. Adam and Parker were students at Stanford, Adam a 23 y/o films studies grad student, and Parker an 18 y/o freshman in Adam's class when everything went bananas. They escaped California on Adam's motorcycle and headed east, to see if Parker's family survived the carnage. Along the way they were attacked, fell for each other, confessed some startling secrets, got over themselves, were held hostage, escaped from real and present dangers–many times–and hit the coast. Only to discover Parker's family long gone.
They bundled up and took off for safety in a yacht, and that's where Fight the Tide picks up. Parker and Adam are making their way south along the east coast. Parker is a trained sailor; his family owned a yacht and he sailed regularly in his childhood. That said, he's never made such a long trip without more skilled partners–his father and elder brother–and he knows going into the open ocean is a very dangerous prospect. Staying close to shore isn't easy either. It's nearing the end of hurricane season, but storms could disable their boat, or send it crashing to the shore. Being near the coast allows them to drop into port now and again to scavenge supplies. Adam, who is a werewolf, always makes these trips as he's immune to the virus, and his heightened strength and senses allow him to avoid or overcome any zombies that attack. That doesn't help Parker, alone on the boat, when pirates board.
Despite Parker's general wariness, he helps rescue a boat in a storm, picking up two adults and their kids. This companionship is mostly welcome, especially by Adam, who is a drifter and grateful for any pack he can cobble together. Adam and the other adults want to make sail for Salvation Island, a place not on any of Parker's maps, yet whose beacons come across the radio frequencies every evening. Parker's sure it's another trap, and is adamantly against, but circumstances force even his will–when he needs to get help for one of his passengers.
There is constant action in this book. It's a rollicking ride, with danger lurking from page-to-page. Parker isn't good with people, and his suspicious nature is bolstered with each new tragedy. He's also haunted by the pirate attack, and he's ashamed that he can't move past it. Adam's a bulwark, but he can't be everything for Parker. Plus, the calls of Salvation Island prove to be a siren song he has trouble resisting. I think if Adam had the ability to sail that far, he'd have forced Parker's hand much sooner.
Despite the harrowing plot, there is still a strong romance here. Parker and Adam are two men in love, and they take great pleasure exploring their relationship in ways that were soopa-hawt. Serious. I had to stop and fan myself at times. As the book drew near it's end, I was glad to watch Parker and Adam make it to safety, even as the seeds for a third book were clearly sown. Safety shouldn't be the only goal, in Adam's mind, not when there are so many humans struggling. I foresee a werewolf invasion, one that liberates humans and hopefully helps eradicate the virus–but that's my own hope! Also, the author has mentioned a fourth, related, book, and I expect it will involve one of Parker's rescues–Jacob–who will *fingers crossed* find a safe haven and partner down the road.
For paranormal/post-apocalyptic stories, this one's really on the contemporary-realistic side of those genres. There's little shifting, and the zombie menace is easy to imagine. I liked the elements of sailing included here, and thought it reflected a wealth of carefully-collected and sparingly delivered knowledge of actual sailing. I never felt overwhelmed by it; and I grasped how dangerous it was–in a way I had never really expected. In short, it felt so real, I could nearly taste the salty ocean spray on my face. I'm so in on this series, I might need to take drastic measures to get book 3 as soon as possible. Highly recommend!
Interested? You can find FIGHT THE TIDE on Goodreads, Amazon, Barnes & Noble, iTunes, Kobo, AllRomance, and Smashwords.
About the Author:
After writing for years yet never really finding the right inspiration, Keira discovered her voice in gay romance, which has become a passion. She writes contemporary, historical, paranormal and fantasy fiction, and—although she loves delicious angst along the way—Keira firmly believes in happy endings. For as Oscar Wilde once said, "The good ended happily, and the bad unhappily. That is what fiction means."
You can catch up with Keira on her website, Facebook, twitter, and Goodreads.
Thanks for popping in and keep reading my friends!