Hi there. Today I'm sharing a review for a new contemporary BDSM M/M romance from Amelia C. Gormley. I really enjoyed her dystopian future books, JUGGERNAUT, STRAIN and BANE, and I jumped at the chance to read RISK AWARE. This one is a different type of kink, and I really enjoyed it.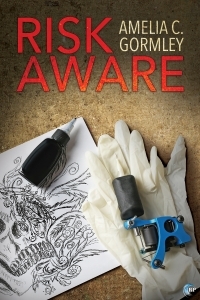 About the book:
Tattoo artist Geoff Gilchrest is convinced his life is some sort of cosmic joke. Why else would a hemophiliac also be a masochist? He's given himself more than one elbow bleed since puberty just doing what guys do when alone and bored, so forget about whips and chains. How many partners would contemplate playing with someone even a mild flogging could kill?
Gallery owner Robin Brady knows he can deliver what Geoff needs: to be taken to the edge of danger but never beyond. But Robin came to Saugatuck to get away from the leather scene and heal from a betrayal by his former sub, so he's not sure he should get involved with Geoff. His ambivalence isn't helped by the fact that Geoff's unwillingness to communicate about his well-being hits Robin in some very raw places.
Geoff's hemophilia isn't the obstacle he thinks it is. Instead, a lack of trust—on both their parts—is what could end them before they have a chance to begin.
My Review:
4.5 stars for this contemporary M/M BDSM story.
Geoff Gilchrist is an adult hemophiliac who is also gay. Hemophelia is a disorder of the blood which prevents clotting when a vessel is broken. Thus, even small cuts or bruises could lead to life-endangering medical problems. Years of his mother's extreme overprotectiveness, may have saved his life. Growing up in the 80s/90s before the blood supply was considered secure meant sure transmission of disease to people requiring transfusions. It's true that many hemophiliacs contracted HIV, Hepatitis, and other diseases as a result of receiving infected blood. Geoff's mother, who had recently died, urged him to stay closeted–because she was sure he'd end up being beaten in a hate crime and bleed to death.
Geoff's sexual desire is in BDSM, very rough sex, and kink. Not that he can have any of that, safely. Still, he craves it, and is fascinated by the idea of lashings that draw his hated, defective blood. He goes to a gay resort in Michigan with a good friend, and their vacation coincides with a Leather Man meet-up. There, experienced Dom Robin Brady is attracted to Geoff's gangly features and shameless want. Robin thinks that Geoff is just a newbie, but the reality is a wedge between them. Geoff is nearly so desperate to gain the sexual experience he desires that he doesn't tell Robin about his condition, at first. Robin can't consent to being Geoff's Dom if he doesn't understand what Geoff would require as a sub–and that includes his medical care, in this case.
See, it's all about RACK: Risk Aware Consensual Kink. Robin can't give consent if he doesn't understand how to safely play with Geoff. Robin does think he can give Geoff many of his desires, even if it's not the way Geoff originally envisioned them. I found it fascinating, truly, how Robin was able to conceive scenes that were safe for Geoff, and yet challenged him. This book has a lot of sex. It also has a lot of blood, pain, and misunderstandings. At different points, Geoff has to be honest–and not just about his disease. Then again, Robin has some damage from his most recent relationship debacle, and that causes him to pull back when he should reach forward.
It was interesting the different stigmas present. Geoff was shunned for being a hemophiliac as a child. He was assumed to be diseased (of the HIV variety) when he wasn't, and assumed to be gay if he had (even if he didn't) HIV. All of this faulty circular logic was prejudiced and ignorant and he struggled to be normal in a world that didn't accept him. He is loathe to accept help or solicitousness from anyone, as a result of his mother's extreme parenting. It takes him a while to really trust Robin, but Robin is awesome at pushing those boundaries and getting help when needed. Naturally, a hemophiliac is easily bruised. One who engages in rough BDSM play, like Geoff craves, is going to get hurt at some point. And, the medical/legal community is not especially keyed in to kink-related injury. I could full-well imagine how grimly they would look on the bruises Geoff considered preen-worthy badges.
I'm not a fan of blood play, but this is the first book I've read where I truly understood it. Geoff has a very love-hate relationship with his blood. He hates his condition, and wants to be normal. That the care of Geoff was clearly Robin's first consideration made all this easier to understand. They invested a lot of time to knowledge and training, so that Robin could give Geoff treatments to facilitate blood clotting, and prevent spontaneous bleeds. Robin invested himself so completely it was easy to expect that these guys were in it for the long run.
I've read a lot of BDSM in the last few years, but this one is different. I like that if features a character who is chronically ill, to the point of slight disability. I like that it addressed prejudices within, and outside of, the kink community. The sexytimes were really well written, and had kink that was believable for the characters. It's a book that's going to stay with me.
Interested? You can find RISK AWARE on Goodreads, Riptide Publishing, Amazon, Barnes & Noble and AllRomance. I received a review copy of this book via NetGalley.
About the Author:
Amelia C. Gormley published her first short story in the school newspaper in the 4th grade, and since then has suffered the persistent delusion that enabling other people to hear the voices in her head might be a worthwhile endeavor. She's even convinced her hapless spouse that it could be a lucrative one as well, especially when coupled with her real-life interest in angst, kink, social justice issues, and pretty men.
When her husband and son aren't interacting with the back of her head as she stares at the computer, they rely on her to feed them, maintain their domicile, and keep some semblance of order in their lives (all very, very bad ideas—they really should know better by now.) She can also be found playing video games and ranting on Tumblr, seeing as how she's one of those horrid social justice warriors out to destroy free speech, gaming, geek culture, and everything else that's fun everywhere.
You can find her self-published Impulse trilogy almost anywhere ebooks are sold, and check out her catalog of Riptide Publishing releases at their website.
You can contact Amelia on Twitter, Facebook, GoodReads.
Thanks for popping in, and keep reading my friends!