Hi there! Today I'm sharing a review for a fantastic YA magical suspense adventure from Jennifer Estep. BRIGHT BLAZE OF MAGIC is the third book in the Black Blades series. You'll remember that I loved DARK HEART OF MAGIC and it's the same for this one.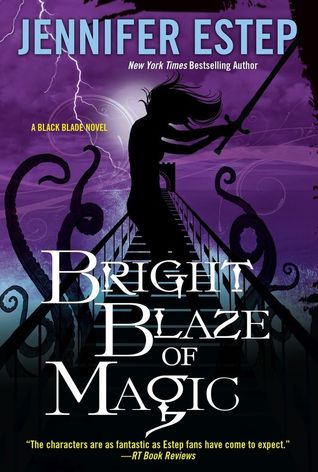 About the book:
Bad Things Always Come In Threes…
As a thief, I'm good at three things: hiding in the shadows, getting in and out unseen, and uncovering secrets. I put these skills to work for the Sinclair Family, one of the magical mobs that run the tourist town of Cloudburst Falls.
Everyone knows Victor Draconi wants to take over all the other Families–and kill every last Sinclair. What they don't know is that I'm on to him, and no way will I let the man who murdered my mom get away with hurting all the other people I care about. Especially when I've got places to break into, stuff to steal, and Devon Sinclair fighting right by my side…
My Review:
This is the third book in a series, and I'd encourage readers to read the previous books for best enjoyment.
Lila Sterling is an orphaned teen in a magical world. She's got plenty of magic herself, including the ability to sense magical power and transfer power used against her into magic she can use for herself. These are rare Talents, and she could find herself fighting for her life if power-hungry demagogues, like Victor Draconi, could get his lethal hands upon her. See, Victor has already killed Lila's father and mother, and he's the brutal leader of one of the four Families (think magic mafia) that control the power and commerce in Cloudburst Fall, NC.
Lila is employed by the Sinclair family as a bodyguard to Devon Sinclair, a beefy Bruiser, only son to Claudia Sinclair, head of the Family. Lila's mother had worked for the Sinclairs many years ago, and Lila feels safe in their world–except she'd discovered a cache of magic infused weapons that had been collected by Victor. These mark the capstone in Victor's plan to kill the other Families and seize all power in Cloudburst Falls, so Lila, Devon and Felix steal the majority of the weapons–with the help of Deah, Victor's daughter (and Lila's cousin)–and replace them with fakes.
It's not long before all-out war is declared. It's a bloody business and many lives are lost. It sould have been a massacre if Victor's minions had the magic-infused weapons, however. Lila has the ability to end the siege, and bargain for the release of captives, using the very blades she stole from Victor. Oh, and win also a magic duel to end all battles.
I love the tension in this book. So many life-or-death moments, and increasing suspense. It's a tough road for Lila, who wants to kill Victor, but needs to use her head, and plan the perfect revenge. When the time comes, she's still a girl, one fighting for her life–and those all whom she loves. She and Devon are a couple in the book series, and they have appropriate levels of affection, which are wholly clean. Expect Lila to be hurt, downtrodden, and nearly out of the game altogether, but to persevere against all expectations. The magical elements of this world are truly charming, with unique fauna that have deadly abilities. Who knew I'd love me some Lochness monster? Yes, even a tentacled beast of the deep had me going Aww!
The end of this book marks a hard break in the series, with some small plot threads left open for use in another book–though I have no idea if a fourth book is forthcoming. 😉 That said, I'd totally read on. Lila was one of my Kick-Ass Heroines of 2015, and she's a shoe-in to claim the title again in 2016. Between her thievery, her strength and her indomitable spirit, she's a gal who gets the job done. If the job is protection, theft and saving the day, that is…
Interested? You can find BRIGHT BLAZE OF MAGIC on Goodreads, Amazon, Barnes & Noble and libraries/bookstores everywhere. I received a review copy via NetGalley.
About the Author:
Jennifer Estep is the New York Times bestselling author of the Elemental Assassin urban fantasy series; the Black Blade young adult urban fantasy; the Mythos Academy young adult urban fantasy series; and the Bigtime paranormal romance series.
Her books are available in print, audio, and e-book formats from a variety of retailers, including the following: Amazon / Barnes & Noble / Books-A-Million / iTunes / Kobo / Audible / Brilliance Audio.
You can catch up to Jennifer on her website, Facebook and twitter.
Thanks for popping in and keep reading my friends!