Hi there! Today I'm sharing a review for a recently published contemporary M/M romance from Christine d'Abo. REBOUND REMEDY is a light-hearted fling between virtual strangers, that turns out to be WAAAAAY more.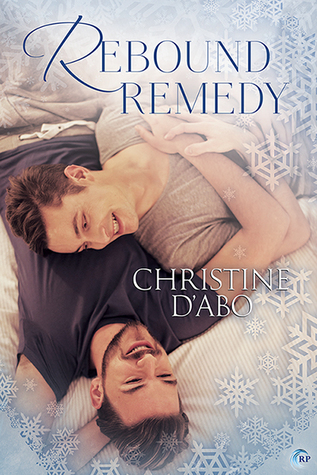 About the book:
The last thing Cole expects to get for the holidays is dumped. But there he is, in the airport on his way to Banff for a romantic getaway, helplessly watching as his boyfriend's ex declares undying love, proposes—and is accepted. With a few weeks to go until Christmas, Cole's mood dives from jolly to jaded. But instead of sitting at home alone and feeling sorry for himself, he goes to his favorite bar, McGregor's, for a pint and some company.
The moment Owen McGregor sets eyes on Cole, he knows there's something wrong. So he takes it upon himself to ensure that Cole has a happy holiday: twelve outings for the twelve days before Christmas. Even if he can't quite think up twelve activities that don't involve getting the forlorn hunk into his bed.
With each outing they take together, Cole realizes that the love he thought he'd shared with his ex was less than perfect. And that Owen might prove to be more than just his rebound remedy.
My Review:
This is a sweet M/M Christmas romance. It is being offered as a charity book, with 20% of profits given to the National GLBT Hotline.
Cole is a successful man who always seems to be the "Rebound Guy" in all his relationships. He's literally departing for a Christmas holiday with his boyfriend of the past 6 months when the guy's ex shows up to woo him back. At the airport. Down on love, he hits his neighborhood bar where he's engaged by the sexy bartender, Owen.
Owen isn't just a bartender, though. He's the owner of MacGregor's–ever since his dad's stroke three years ago. While Owen's a bisexual, he hasn't had a fling with a man since college. Still, he's intrigued and attracted to Cole.
They decide to start a fling to get Cole out of his rebound rut. Buddies with benefits, and it's working–a bit. Cole doesn't want to have a rebound guy, and he feels like he'd be taking advantage of Owen. Owen's got some family issues–namely his father, who is undergoing some emotional problems–and he doesn't want to burden Cole with all that.
Keep it light, breezy…
Yeah, not so much. Cole pulls back, only to dive back in. Owen has to open up if he's going to be fair at all to Cole.  They have a nice little romance, but it's a bit rushed at the end. Insta-lust I can buy, but it got a little too serious too quickly. That said, these guys are great. They are fun and friendly and just looking for the right person with whom to spend time. I bet they get it right in the New Year, as Christmas seemed to be the final reconciliation.
Interested? You can find REBOUND REMEDY on Goodreads, Riptide Books, Amazon, Barnes & Noble and iBooks. I received a review copy of this book via NetGalley.
About the Author:
A romance novelist and short story writer, Christine has over thirty publications to her name. She loves to exercise and stops writing just long enough to keep her body in motion too. When she's not pretending to be a ninja in her basement, she's most likely spending time with her family and two dogs.
Christine can be found on her website, twitter, Facebook and Goodreads.
Thanks for popping in and keep reading my friends!