Hi there! Today I'm sharing my review for a contemporary M/M romance from AM Arthur. FINDING THEIR WAY is the second book in the Restoration series. I really enjoyed GETTING IT RIGHT and this book is a great sequel.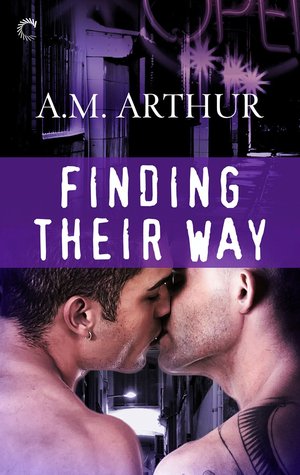 About the book:
Thanks to an abusive father and a string of bad relationships, Riley McCage learned the hard way that people are not kind without a reason. Now, after landing a job at popular gay bar Pot O Gold, Riley is on the right track–until the night Boxer finds him drunk and drugged in the back room of an exclusive sex party.
Donald "Boxer" Boxwood wasn't looking for anything beyond some casual kink until he peeled Riley off the floor and gave him a safe place to stay. But there's something compelling about the guy crashing on his couch, and the two forge an instant friendship that eases into unmistakable attraction. Despite Riley's hesitancy, Boxer knows one thing to be true: he needs Riley in his life.
Riley risked everything to run away and build a new life for himself, and his secrets aren't something he'd ever wish upon his kind, gentle new friend. But when the past comes to call, he'll have no choice but to put his trust in Boxer…and believe people can change enough to deserve a second chance.
My Review:
This is the second book in the Restoration series and can be read as a standalone, though I recommend reading in order.
Riley McGage has a secret–his identity is bought and paid for to keep his angry, gay-bashing alcoholic police detective of a father from ever laying hands on him again. Riley is a bartender at the Pot o Gold bar in Wilmington Delaware, and has met many a sexy man there. He's a no-go for penetrative sex, but his current boyfriend, Brett seems okay with it. Well, until he roofies Riley at a sex party and prepares to take what Riley won't offer. A party attendee, Boxer, sees what's going down and doesn't like it one bit. Used to taking in strays, Boxer, a hulking tattooed man who recognizes both Brett and Riley from the Pot O Gold (and other places) steps in at whisks Riley back to his place to sleep off the drugs.
Riley can't believe Brett almost raped him, but he REALLY can't believe that gentle giant Boxer is really as nice as he seems. They develop a tentative friendship, one based on mutual heartache and loneliness. Riley is grateful for Boxer's attention, especially when he's battered by Brett, when he needs someone to help rescue a stray, and when he needs a place to crash while his housemate's parents arrive for an extended visit.
Boxer is an exceptional man. He's had a hard life growing up, and his family is a shambles but he's always willing to help a new or old friend. In his own person, Boxer likes to be topped, and subtly dominated. Having Riley in his home brings the two men close enough to develop an attraction. And then some! I think I liked Riley's growth and exploration just as much as Boxer did.
This love story is tentative and lovely. People from the previous book end up spending time here, too. Tag, Nathan, Elliott and Detective Carey all make appearances–and it is Detective Carey who has Riley most on edge. Sure, all these guys say the man is stone cold sober and desperately looking for his runaway gay son, but what would the reality be if Riley were to break his cover?
There are really great connections here and fabulous communications between all parties. Riley may not have BELIEVED everything Boxer said straightaway, but he was never in doubt about how Boxer felt. The honesty was incredibly refreshing. The sexytimes were just yummy. I expect the next book will be Elliott's restoration, and I sure hope he find the right man for the job!
Interested? You can find FINDING THEIR WAY on Goodreads, Amazon, and Barnes & Noble. I received a review copy of this book via NetGalley.
About the Author:
No stranger to the writing world, A.M. Arthur has been creating stories in her head since she was a child and scribbling them down nearly as long. She credits an early fascination with male friendships and "bromance" (and "The Young Riders") with her later discovery of and subsequent affair with m/m romance stories. When not writing, she can be found in her kitchen, pretending she's an amateur chef and trying to not poison herself or others with her cuisine experiments. You can contact her at AM_Arthur(at)yahoo(dot)com