Hi there! Today I'm sharing my review for Anna Banks' new contemporary romance, JOYRIDE. This is a book that tells more than a Romeo and Juliet story–The main characters are different sides of the law, and the cultural divide, and yet, they find love and support in the least likely place, each other.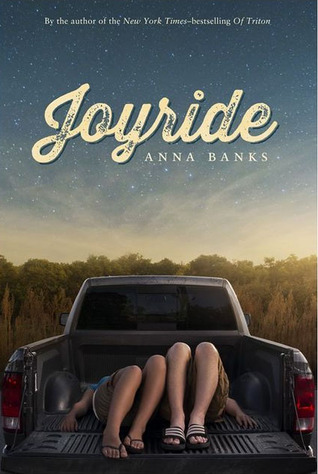 About the Book:
A popular guy and a shy girl with a secret become unlikely accomplices for midnight pranking, and are soon in over their heads—with the law and with each other—in this sparkling standalone from NYT-bestselling author Anna Banks.
It's been years since Carly Vega's parents were deported. She lives with her brother, studies hard, and works at a convenience store to contribute to getting her parents back from Mexico.
Arden Moss used to be the star quarterback at school. He dated popular blondes and had fun with his older sister, Amber. But now Amber's dead, and Arden blames his father, the town sheriff who wouldn't acknowledge Amber's mental illness. Arden refuses to fulfill whatever his conservative father expects.
All Carly wants is to stay under the radar and do what her family expects. All Arden wants is to NOT do what his family expects. When their paths cross, they each realize they've been living according to others. Carly and Arden's journey toward their true hearts—and one another—is funny, romantic, and sometimes harsh.
My Review:
This is a solid contemporary read that takes on issues present and potent today: immigration, racism, corrupt police, entrapment, and undocumented persons, all in a hot bed of politically conservative ideology: Florida.
Carly's parents were deported to Mexico three years ago. She and her brother, Julio, were born in the US, and stayed behind to work hard for the exorbitant fees charged by El Libratador, a known human smuggler, to bring their parents safely back across the border and Texas desert. She works the graveyard shift at a convenience store because it's quiet enough for her to also study at the same time. She has a favorite customer who comes in nightly, minutes before closing–Cletus Shackleford. One night, as Carly is closing for the night, she sees Cletus being held up by a masked gunman and she jumps into action.
Arden Moss, sheriff's son and general ne'er-do-well, hasn't had a good night's sleep in a year, not since his schizophrenic sister died. He balmes his father for hushing up her disease and denying her the healthcare that could have kept Amber happy and alive, for fear that it would have harmed his political career. Arden is a known prankster–but he only targets people that have more attitude than sense. He tries to scare his great-uncle Cletus off driving while intoxicated, but the feisty cashier is nearly more than he can handle.
It is that moment of kismet which brings this spheres into orbit–though Carly does reject ever overture that Arden makes to connect them. He's not physically attracted at first–what Arden wants is a co-conspirator in his pranks. This was something he had done with his sister, and he feels the lack.
Over the course of a few weeks, Arden helps Carly find a new, better paying job, and their friendship is tentative, but growing in strength. Carly has missed out and many elements of childhood living with her brother and working for her parents' transit fees. Just as things seem to be going well, Arden's racist father learns of their connection. His entire election platform was on deportation of undocumented immigrants, and his eagerness to separate his son from the (supposed) immigrant filth that is Carly is palpable.
Arden is intransigent, but he's also reckless, and when one of his pranks goes awry it is Carly who is under the sheriff's boot. Quick thinking saves her from incarceration, but her parents' transit is in jeopardy. And Carly's big brother is major league ticked off. The only bargain that can be arranged  is a "voluntary" separation, enforced by the "good" sheriff–but will a man of his power use it for good? Or, for his own good…
This book was quite a good ride, even if virtually none of it was joyful. Through her relationship with Arden, Carly sees herself the most clear as ever–her life is in service to others, namely her parents. She has sacrificed so much to bring them back, and the final analysis proves she has little to show for all that work. Arden is desperate to have his pain acknowledged. His mother is too tripped out on sedatives, not even sensing her grief after her daughter's death, to really care about Arden's troubles. And his dad is too busy proving to their community that he's a martyr for his office. He sweeps Arden's messes aside, but won't take responsibility for his own missteps. Plus, he's a bona fide racist.
Both Arden and Carly have grief to overcome, but the danger in their relationship is accessibility; the Sheriff seems to be fixed on removing Carly from Arden's equation–even if Arden has been better behaved under her diligent influence.
The resolution became cloak-and-dagger, and seemed a bit rushed, but the story was otherwise tight, with real issues discussed throughout. I totally loved elderly, ornery Uncle Cletus, his whiskey addiction notwithstanding. This is a solid contemporary teen read which is completely clean on the romance-side of it.
Interested? You can find JOYRIDE on Goodreads, Amazon, and Barnes & Noble.
About the Author: (In Anna's words…)
New York Times Bestselling author of The Syrena Legacy series.
Grew up in a town called Niceville. No, seriously. I graduated from Niceville High School. So did J Lo's second husband. And the guy that plays Aqua Man on Smallville dated my best friend.
Now I indulge my tendency to lie by writing the lies down and selling them to publishers. Well actually my agent sells it, so she's an accomplice to lies. One of my lies is called OF POSEIDON. The sequel is called OF TRITON. The last and final installment is OF NEPTUNE, and it released May 13, 2014. Be on the lookout for JOYRIDE, my YA Contemporary out June 2, 2015–Bonnie & Clyde meets Latina Pretty in Pink!
And um. I also write adult fiction under pen name Anna Scarlett. One of the adult lies is DEGREES OF WRONG. That is all.
You can catch up with Anna online on her website, Goodreads, Facebook and twitter.
Thanks for popping in, and keep reading my friends!