Hi all! Today's book is a contemporary YA mystery, with a hint of romance. HOW TO FALL by Jane Casey is a page turning whodunit…if there was a "dun" done, that is.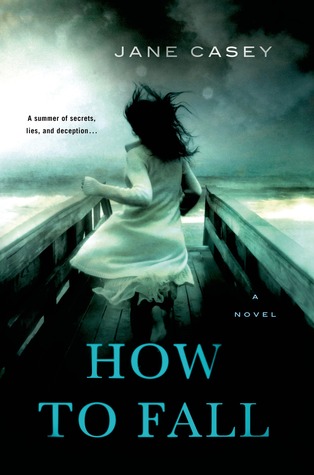 About the book:
Sixteen-year-old Jess Tennant has never met any of her relatives, until her mom suddenly drags her out of London to spend the summer in the tiny English town where her family's from. Her mom's decision is surprising, but even more surprising is the town's reaction to Jess. Everywhere she goes, people look at her like they've seen a ghost. In a way, they have—she looks just like her cousin Freya, who died shortly before Jess came to town.
Jess immediately feels a strange connection to Freya, whom she never got to meet alive. But the more Jess learns about the secrets Freya was keeping while she was alive, the more suspicious Freya's death starts to look. One thing is for sure: this will be anything but the safe, boring summer in the country Jess was expecting.
My Review:
You may recollect that l have, perhaps, on occasion shared my love of Nancy Drew? It was these novels, about a smart, tenacious teen girl taking on criminal masterminds that enthralled me to the point of being grounded…for reading. Yes, my father lamented that. Not that I gave him any choice; I was obsessed to the point of skipping my school work to devour one for the first (or tenth) time.
So, anywho, I'm a lifelong sucker for teen sleuths, which is why I loved this book. Also: Anglophile = ME!! Thus, a story of a London girl on holiday to visit her mother's sister and home town for the first time in her 16 years is pure catnip for me.
Here's the thing, the book didn't start out like a mystery. It started off like a girl helping her overwrought mother get over her divorce. Jess isn't bitter over her dad being a philanderer–she' bitter that he's moved on entirely, and she hopes that this extended visit to the small coastal town where her mother grew up will turn the tide of her mom's depression. Also, Jess is anxious to meet her cousins. She has no siblings and longs for a bigger family.
What she didn't anticipate was becoming her dead cousin Freya's doppleganger. On the drive Jess learns her resemblance to Freya is so strong, her mother opted to stay away from her niece's funeral, afraid having Jess there would be too shocking.
From the outset the reader knows something bad happened to Freya. (She fell off a cliff on page 5.) But, was she haunted, hunted or–maybe–pushed? The authorities, namely Jess' mum's high school sweetheart Dan Henderson, has ruled Freya's death an accident. (One reason I love British books…the actual classification was "death by misadventure," which sounds a whole lot more romantic…) Yes, Inspector Henderson is quite the enigma. He's creepily over-friendly to Jess and her mum, despite being married, and he's unduly harsh on his son, Will. Will is a town pariah for confessing some nasty business to his dad years ago; he's also Freya's closest friend. Does Will know what happened that night?
Through the weeks of visiting and working in the idyllic locale, Jess is befriended by Darcy, Freya's best girlfriend, and hated by the town bully–Natasha. Nats has a good deal of obsessive affection for pretty-boy Ryan, and Ryan likes Jess just the same as he admired Freya. After a few altercations, Jess is concerned that her cousin was being harassed. Did Natasha bully her into suicide?
Few people will talk openly about Freya, thinking that each may have played a role. Will feels guilty for not being a better friend. Ryan's miserable that Freya wasn't into him, but that she paid the price of Natasha's bullying. Darcy knows she let Freya down right as she needed her most. But, still the question remains–what sort of misadventure took place on that cliff? Natasha seems a likely target for blame, and yet Inspector Henderson's admonitions to "drop it already, or else…" seem far too sinister for comfort.
While the love triangle wasn't necessary, it was certainly handy to the plot. Jess is attracted to Will, whose tap runs lukewarm most of the time. Ryan's attracted to Jess, much to Natasha's psychotic dismay. In the midst we get some interesting interplays of characters. I liked Jess. She was sharp, and determined. She saw the suffering of her cousin's family and her entire thought-process was to bring them closure. The big showdown revealed the killer–who happened to make my shortlist but wasn't top three. I loved that I was fooled, a bit.
Pacing wise, the book cracks along. We don't get too bogged in Jess' head. We also don't spend too much time in Love Central. Jess knows she doesn't care much beyond friendship with Ryan, Natasha's antics notwithstanding. But, Jess is sharp enough to recognize that making allies where she can will get her the info she needs to lay Freya's ghost to rest. I really enjoyed and would recommend to any lovers of YA mystery. Just a touch of romance, but not enough to turn off the younger readers.
Interested? You can find HOW TO FALL on Goodreads, Amazon and Barnes & Noble. I obtained a copy of this book from NetGalley. This is my honest review.
About the Author:
Born and brought up in Dublin, Jane Casey has been twice shortlisted for the Irish Crime Novel of the Year Award. She is the author of The Missing and two previous Maeve Kerrigan novels The Burning and The Reckoning.
Married to a criminal barrister, Jane lives in south-west London.  You can find Jane on her Goodreads page, her website and twitter.
Thanks for popping in, and keep reading my friends. 🙂