Hi there! Today's book is a YA romance by Jennifer E Smith. I adored THE STATISTICAL PROBABILITY OF LOVE AT FIRST SIGHT, so I couldn't resist a second effort. THE GEOGRAPHY OF YOU AND ME is another quiet romance about two lonely kids who connect in a New York black out–and then spend very little time together.
So much for romance! you say? Don't worry, HEA…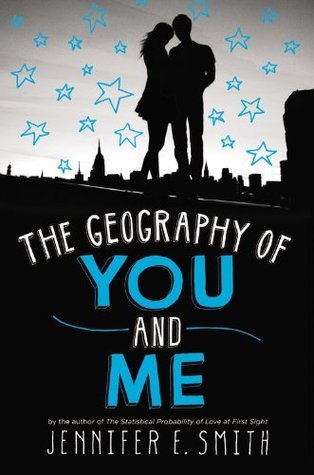 About the book:
Lucy and Owen meet somewhere between the tenth and eleventh floors of a New York City apartment building, on an elevator rendered useless by a citywide blackout. After they're rescued, they spend a single night together, wandering the darkened streets and marveling at the rare appearance of stars above Manhattan. But once the power is restored, so is reality. Lucy soon moves to Edinburgh with her parents, while Owen heads out west with his father.
Lucy and Owen's relationship plays out across the globe as they stay in touch through postcards, occasional e-mails, and — finally — a reunion in the city where they first met.
A carefully charted map of a long-distance relationship, Jennifer E. Smith's new novel shows that the center of the world isn't necessarily a place. It can be a person, too
My review:
Okay, so, this review needs some theme music. And, as I'm a hip reviewer, I'm up on all the crazy beats these kids bang these days. (Tongue-in-cheek humor aside, I'm a fan of the Arctic Monkeys). The book, at it's core, is about trepidation. Fear that the one person you *think* you might like won't "Like Like" you back. It's about: Do I Wanna Know?

(Well, to me, anyhow…)
Now, in light of that auditory experience, we can fully appreciate the kind of emotional tension that exists between Lucy–a rich gal with absent parents–and Owen–a poor boy who just lost his mother and home and has to support his grieving, broken dad.
Lucy has had the privilege of a good life, a private school education, and a bunch of nannies. She's 16 and hardly been anywhere her jet set parents have visited. They're in Paris when Manhattan goes dark and Lucy's caught in an elevator with the new super's teenaged son, Owen. Lucy is an optimistic introvert. She longs for life to begin, but isn't sure how it should start. Not trapped in the dark with a boy, most likely….
Owen's 17 and angry. His mother died just over a month ago in a car wreck. His father is a train wreck of grief and unemployment. They moved from a house in Small Town Pennsylvania to a basement apartment to take the building super job. In the posh building, Owen knows he's second class, and he detests how the city sounds overwhelm and the lights consume the starlight. This is a serious problem for Owen–his passion is astronomy. When the power goes down Owen knows two things: he hates New York, and his dad is in big trouble. His " field trip" to leave flowers at Coney Island to memorialize their anniversary, has left him miles away from a building in crisis. Still, Owen's distracted from his grief and fear by the girl whose cheerful nature and love of her city is effusive.
After they are rescued from the elevator they have no one to report to, and no way of reporting–the whole eastern seaboard has no power–so they hang out together all night on the roof of the building. It's a warm, clear night and the stars are brilliant. Chatting, they give away pieces of theirselves they have never given away before. It's a little bit serendipity, little bit longing, and wholly innocent. Lucy reveals her deep desire to travel, and her inner hurt that her parents never include her. Is she so unimportant? Owen talks about his mother, and his desire to go to college, but his fear of leaving his dad completely alone in the world. Can he?
In the days that follow, Lucy's flown to London to join her parents, who are heartsick that she was alone so long in such dire straights. Owen's father loses his job, and their apartment, and he and Owen decide to go the vagabond route exploring America together.
Their paths separate, but they connect via postcards, and emails. For a bit. See, Lucy's dad relocates them to Scotland where she's suddenly more than the bookish lonely girl–she makes friends and snags a delectable beau, but somehow he doesn't quite "get" her as Owen had. Owen, plagued with a dad who is rootless, settles infrequently and for little time. When they take up in Lake Tahoe he finds a job and meets a girl he likes, but the feelings are superficial and temporary. Meanwhile, he wonders about Lucy and her new life…
A christmastime reconnection with Owen and Lucy is a disaster, and the communication ceases.
For a bit…I'm not telling more, but this is a romance, and there is an HEA. So, there.
I really enjoyed the lyrical language of this book. The kids are human without being stereotypical. The parents are subject to whimsy, which I hadn't expected, and yet the kids are relatively stable, learning that geography means very little when your heart gets involved. And that's why Christmas was a bust. They had developed feelings in absencia using the other as a barometer for each new connection.
Their reticence to commit to those feelings, or even divulge them, (see: Do I wanna Know? Above) is classic teen behavior, even if it's a distance of 7000 miles, instead of a cafeteria, that separates them. I truly enjoyed this introspective, teen read. Again, it's innocent–the barest of kisses occur–and yet, it somehow felt very intimate. Both Lucy and Owen tell the story, and I thought both characters were well-described, likable and interesting. The build of anticipation is palpable even if the characters wander, muddle, and ponder a lot, so I didn't trouble over the pace, which seemed almost ethereal.
Like contemporary YA romance? This book is for you.
Interested? You can find at Goodreads, Amazon and Barnes & Noble. Or, try your library. This is a shoe-in for the teen section. I received a review copy of this book via NetGalley.
About the author:
Jennifer E. Smith is the author of The Statistical Probability of Love at First Sight, The Storm Makers, You Are Here, and The Comeback Season. She earned her master's degree in creative writing from the University of St. Andrews in Scotland, and currently works as an editor in New York City. Her writing has been translated into 28 languages.
You can find her on Goodreads and twitter.

Thanks for popping in and keep reading my friends!