Hi there! Welcome one and all to the Cephalopod Coffeehouse, a cozy gathering of book lovers, meeting to discuss their thoughts regarding the tomes they enjoyed most over the previous month.  Pull up a chair, order your cappuccino and join in the fun.
This month I chose a YA Romance–because, basically, I had THE WORST book hangover after reading it. THE STATISTICAL PROBABILITY OF LOVE AT FIRST SIGHT by Jennifer E Stein carved my heart into mincemeat, no joke.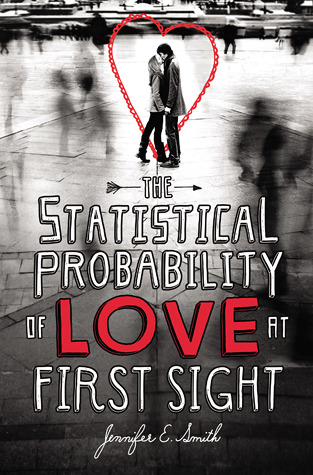 About the Book:
Who would have guessed that four minutes could change everything?
Today should be one of the worst days of seventeen-year-old Hadley Sullivan's life. Having missed her flight, she's stuck at JFK airport and late to her father's second wedding, which is taking place in London and involves a soon-to-be stepmother Hadley's never even met. Then she meets the perfect boy in the airport's cramped waiting area. His name is Oliver, he's British, and he's sitting in her row.
A long night on the plane passes in the blink of an eye, and Hadley and Oliver lose track of each other in the airport chaos upon arrival. Can fate intervene to bring them together once more?
Quirks of timing play out in this romantic and cinematic novel about family connections, second chances, and first loves. Set over a twenty-four-hour-period, Hadley and Oliver's story will make you believe that true love finds you when you're least expecting it.
My Review:
To get right down to it: Hadley's family was unexpectedly torn apart by love. That's right. Her dad went on a four-month sabbatical to London and he didn't return. He's alive, and well, and currently completely divorced from Hadley's mother. In fact, he's marrying the woman who stole her father away. And Hadley's a bridesmaid. She's never met his bride, and she hasn't seen her dad in more than a year. In fact, Hadley wouldn't be staring at her plane pushing back from the jetway right now if her mother hadn't pushed her into accepting the wedding invitation.
So, Hadley's not keen on love. She thought her parents had it–everyone seemed so happy–but love pretty much sucks if it rips your dad away to a new country and life. At least, it does in Hadley's opinion. She gets rescheduled to the next flight, and encounters Oliver in the terminal. He's a quiet, unassuming young English man–he's nearly 19 and a college student returning home for a family event. They strike up a conversation that spans the flight. It's a purge. All the misery Hadley had bottled up in the past year and half since her dad took his trip to London is spent out.
Oliver is an excellent sounding board–and distraction. Especially when he kisses her and the seeds of attraction blossomed into a budding love.
Then he's gone–and Hadley's still got to face her father and the wedding she wishes wasn't occurring. It is a twisted experience, to see one's parent so happy–knowing the misery this happiness created for one's self and one's loved ones. Having rid herself of her anger, Hadley is able to experience her father's abounding joy in a way she hadn't predicted. And, she's able to give the one thing she never fathomed:  forgiveness.
That isn't the end of the story however, and Hadley learns that Oliver had kept a pretty large secret to himself aboard that long flight. Can they find the common ground they had in transit or is the L-word a statistical impossibility?
Normally, I'm no huge fan of instalove, but this book–while the time frame is two days–unfolds so seamlessly it feels genuine. I was wrung out in Hadley's point of view. What an overwhelming experience she's had with the devastation of her parent's marriage. Often kids know there are problems–but in this case, there hadn't been any warning signs. Her parents were happy. Fun. Planned big vacations touring the US. Hadley and her mother were going to visit London at the end of the sabbatical. And then everything changed.
Hadley's abandonment is a palpable presence in her life. She develops panic attacks, and spends months caretaking for her shell-shocked mother. She never has a chance to breathe, to grieve the loss of her previous life before it's all gone. Wracked by anger, Hadley plans to cut her dad out of her new life–and had been rather successful at it–until the wedding. Understandably, Hadley wants nothing to do with the woman who caused so much heartache–who, by the by is not a step-monster. Still, after over a year's separation seeing her dad is a knife wound to the chest. She has missed him terribly. And she comes to realize that having a relationship with him means accepting terms she couldn't have previously considered.
See, there is no cliche here. There is pain. There is love. There is loss. There is gain. There is human life unfolding in a way that voids all plans and cancels all debts. I seriously ached for Hadley–over and over again. Her mom has moved on–met a man who adores her, yet the child in Hadley holds a serious grudge. I would have, too. Watching her let go of that pain, however, was excruciating. My heart had to stop feeling in order to not be overwhelmed. Oliver was a spectacular love interest. And the promise that these two might find love, together, was the jump start I needed to get past the strong emotions I'd suffered in the course of reading. (Disclaimer: I didn't even hate Hadley's dad when all was said and done–which is saying quite a lot about how well this story was told.)
Interested? You can find TSPoLaFS at Goodreads, Amazon, Barnes & Noble and likely in your neighborhood library. I picked up a reviewer's copy from NetGalley.
About the author:
Jennifer E. Smith is the author of The Statistical Probability of Love at First Sight, The Storm Makers, You Are Here, and The Comeback Season. She earned her master's degree in creative writing from the University of St. Andrews in Scotland, and currently works as an editor in New York City. Her writing has been translated into 28 languages.
You can find her on Goodreads and twitter.

Thanks for popping by my friends. Don't forget to hit the rest of the blogs on the Coffeehouse. I know I find some great suggestions this way! 🙂