Hi all! Thought I'd share with you my thoughts on a New Adult Horror/Romance from Stacey Rourke. I really liked her Gryphon series, and wanted to get her latest books so bad, I went to, perhaps, extremes.
Yessss….that's me donning my "Crane-face" in support of the book's release a few weeks back and to win some swag. I'm a goof, I freely admit that.
CRANE is a modern reimagination of The Legend of Sleepy Hollow. Stacey Rourke is "bringing it back" and, yes, heads do roll…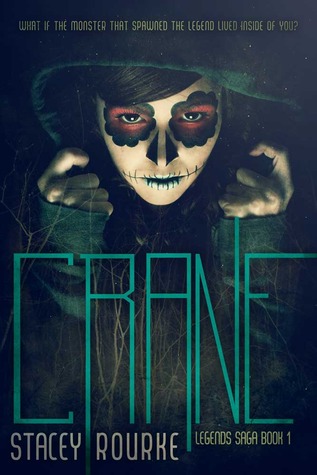 About the book:
The Horseman is unending,
his presence shan't lessen.
If you break the curse,
you become the legend.
Washington Irving and Rip Van Winkle had no choice but to cover up the deadly truth behind Ichabod Crane's disappearance. Centuries later, a Crane returns to Sleepy Hollow awakening macabre secrets once believed to be buried deep.
What if the monster that spawned the legend lived within you?
Now, Ireland Crane, reeling from a break-up and seeking a fresh start, must rely on the newly awakened Rip Van Winkle to discover the key to channeling the darkness swirling within her. Bodies are piling high and Ireland is the only one that can save Sleepy Hollow by embracing her own damning curse.
But is anyone truly safe when the Horseman rides?
My Review:
Ireland Crane has just taken a job in Tarrytown. She's a high school counselor escaping her former lover–a rich, egotistical, cheating jack wagon named Brantley. So, she's not really keen on a new romance with her delicious landlord/neighbor Noah Van Tassel. They opt for "friendship" which is good, because life is about to get very complicated for Ireland.
Ichabod Crane is looking for a fresh start. Joined by his fellow Revolutionary War veterans, Rip Van Winkle and Washington Irving, Ichabod is set to become schoolmaster in Tarrytown. He's totally attracted to Katrina Van Tassel, but knows he could never woo such a wealthy beautiful girl. Plus, she's spoken for.
These two stories intersect. When Ichabod and Ireland arrive in Tarrytown so does The Headless Horseman and his fearsome sword and axe.
Weeks following Ireland's arrival a Van Tassel is killed, the name "Crane" carved into his chest. Instant suspect, anyone? And, when Ireland finds a squatter in her home, she's more than freaked. Yes, waking a real-live Rip Van Winkle after a 200+ year sleep would give any modern gal quite a turn.
Ichabod experiences a different horror–the woman he admires greatly seems to be the target of the Horseman's hunt. Katrina loses her father, her stepmother and a servant, before we learn who is pulling the Horseman's reins–but it is Ichabod's heroism that ends the cycle of violence in his time.
For Ireland, she's losing time. Periods of it, usually at night, seem to disappear in a haze of night terrors–until Rip finds the cause. Meanwhile, one of Ireland's students is killed, and D-bag Brantley is attacked, too. It soon becomes clear that someone is using Ireland's blood to call the Horseman forth and, before long, Noah's life is on the block. Rip's steadfast desire to save Ireland is only matched by his humor and his narcolepsy–the dude passes out cold whenever he gets spooked leading to some laugh-worthy moments. With Ichabod's history repeating in Ireland's present, can she gain control of the monster within, or will she replace Ichabod in a tragic horrific turn?
The story is fast-paced and chock full of quick humor–at times I felt like I was reading a Mel Brooks screenplay–all the deadpan digs just cut me up. There are lots of breadcrumbs left behind to be woven into the sequel, RAVEN, but this story ends with a satisfactory resolution. RAVEN will be a new journey, for Ireland, Rip and a love interest. All romantic interludes are conducted behind closed doors, so it's YA-safe…
Interested? You can find CRANE on Goodreads, Amazon and Barnes & Noble.
About the Author:
RONE Award Winner for Best YA Paranormal Work of 2012 for Embrace, a Gryphon Series Novel.
Young Adult and Teen Reader voted Author of the Year 2012.
Stacey Rourke is the author of the YA Fantasy Gryphon Series and the nonfiction autobiographical I'm Not Crazy, I'm on Lupron; a Journey Through Infertility. She lives in Michigan with her husband, two beautiful daughters, and two giant, drooly dogs. Stacey loves to travel, has an unhealthy shoe addiction and considers herself blessed to make a career out of talking to the imaginary people that live in her head. She is currently hard at work on the continuations of the Gryphon Series as well as other literary projects.
Thanks for stopping in! And, keep reading my friends! 🙂